Political News
Details

Category: Political News
Last Updated on

Thursday, 04 October 2018 11:35
Party time for many politicians to avoid tax
Political Services Download latest voter list Booth wise
Hyderabad: Data from Election Commission of India revealed that the number of recognised and registered but unrecognised political parties have increased twofold during election years, in the last decade. There are more than 2,000 political parties in India. A majority of them were registered in the election years 2014 and 2016, however over 31 per cent of them did not contest. Data indicates that not even a third of these parties participated in the 2014 Lok Sabha elections. It looks like political parties are registered to take advantage of tax benefits rather than to contest elections.
The data released by the EC shows that one unrecognised party was registered in 2014, 10 in 2016 and two in 2018 from the two Telugu-speaking states. Out of these 13 unrecognised parties, the office address of three (All Indian Party — Assam gardens, Visakhapatnam, All India Sadguna Party, Chittoor, Anna YSR Congress Party, Kadapa, have been registered in Andhra Pradesh and the rest have their party office in Hyderabad-Secunderabad. Some of these parties with offices in Hyderabad are: Mahajana Socialist Party, Balamrai Rasool-Pura, Andhra Nadu Party, Masab Tank, Bahujan Republican Party, Ramnagar, Bharatiya Seva Dal, Somasunderam Street, Secunderabad, Jai Telangana Party Srinagar, Hyderabad, Telangana Praja Party, Chudi Bazaar Dargah, Satyayug Party, Mekala Mandi Road, Bholakpur, National Citizens Party - Maruti Tower, Kukatpally.
D. Rakesh Reddy, founder of Factly (the public information portal) says that the parties registered in Telangana state and Andhra Pradesh are all unrecognised. "The only benefit they enjoy is tax exemption. Donations to these parties are 100 per cent tax-free, however, the parties have to submit an audit report to the EC defining their income (donations) and expenditure."
It is alleged that political parties are floated before elections to launder black money. For example, if unaccounted cash of Rs 1 lakh is to be donated, one can create names of contributors and below Rs 2,000 can be donated in form of cash. The party founders can show expenses in the name of public meetings.
"Other facilities like government providing support in the form of land at discounted prices for a party office and other perks are only for recognised parties, added Dr Reddy.
This correspondent spoke to members of two unrecognised parties. Baldhir Singh, the founder of Bharatiya Seva, a party registered in 2014, explained why they did not contest in 2014 elections.
"Candidates failed to spend for election thus no contestant announced by the party came forward to fight elections, thus BSD did not participate," he said.

Jai Simha, the founder of the National Citizens' Party registered with the EC in 2016, said, "The party candidates will contest in 2018 Assembly elections from a few constituencies in Secunderabad."
SOURCE: Deccan Chronicle
Details

Category: Political News
Last Updated on

Thursday, 04 October 2018 11:15
Governing BJP in Panchayat by-elections in Tripura
Political Services Download latest voter list Booth wise
State Election Commissioner GK Rao on Wednesday said that ruling BJP entered into Panchayat by-election in Tripura by winning 113 out of 130 gram panchayat seats. He said that BJP also won five out of seven Panchayat Samiti seats.
The Indigenous Peoples Front of Tripura (IPFT), an ally of BJP won nine gram panchayat seats, the SEC said.
Rao said that opposition Congress and CPI-M won four gram panchayat seats respectively.
The by-election for the 132 gram panchayat seats and seven Panchayat Samiti seats was held on September 30. The state election commission declared for re-polling in two gram panchayat seats in Khowai block of Khowai district on October 5 and results would be announced on October 7, Rao told.
State Election Commissioner had announced the by-elections for 3,207 Gram Panchayat seats, 161 Panchayat Samiti seats and 18 seats of Zilla Parishad on 1 September 2018.
The by-election was necessitated as a large number of Panchayat Samiti members resigned after the BJP-IPFT government assumed office on March 3.
Officials said that the BJP had won more than 96 percent of the seats, where the by-election was announced without the election as the opposition parties did not file any nomination papers in those seats.
Details

Category: Political News
Last Updated on

Saturday, 08 September 2018 12:10
BJP, IPFT to face each other in bypolls
Political Services Download latest voter list Booth wise
Agartala: Tripura's ruling allies Bharatiya Janata Party (BJP) and Indigenous Peoples Front of Tripura (IPFT) are set to contest against each other in the bye-elections in the three-tier panchayats on September 30.
The BJP Panchayat Election Committee Chairman and Parliamentary Affairs Minister Ratan Lal Nath announced on Thursday evening the first list of 3,155 candidates for the bye-elections. Of them, 2,980 candidates will contest the elections in Gram Panchayat seats, 157 in Panchayat Samitis seats and the remaining 18 candidates will contest the Zilla Parishad.
Reacting to the candidate list, IPFT general secretary Mangal Debbarma said his party will contest the panchayat bypolls separately.
"The BJP didn't advise us regarding alliance for panchayat bypolls. They discussed with our president N.C. Debbarma on Thursday. We have decided to contest separately and shall field candidates against each other," Mangal said.
Earlier on September 1, state election commissioner G. Kameswara Rao announced byelections in 3,207 seats of gram panchayats, 161 panchayat Samiti seats and 18 seats of Zilla parishads.
The Opposition Congress earlier said it would contest all seats of three-tier panchayats on September 30 and the CPM said it would try to contest in as many seats as possible.
BJP leader Pitambar Acharya slammed the ruling party saying there has been no official discussion on advancing Lok Sabha polls. "The ECI takes a call on election schedule keeping in mind a number of factors. I can't understand the logic behind approaching the ECI with a memorandum," said Acharya.
Details

Category: Political News
Last Updated on

Saturday, 29 September 2018 11:38
Voters in shock as names disappear from revised rolls
Political Services Download latest voter list Booth wise
HYDERABAD: Many residents of the city were shocked to get their names disappeared from the revised electoral roll.
Before the amendment of Electronic Rolls (IER) on September 9, 2016, the total number of voters was 40,39,638 and on September 10, 2018, the number of revised rolls was 38,61,009. On January 20 this year, after taking the IER, a voter list was published, in which the number of voters was 38,06,819.
Environment activist Lubna Saravat, who contested from Hyderabad parliamentary constituency in 2014, said that her name was removed without his consent.
Authorities attributed the decline in the number of voters on the electoral rolls in the city to the deletion of double entries and said the revision of rolls was being done as per Election Commission of India (ECI) guidelines.
"Duplicate voters are being processed with proper care and after making enquires. Even the names of people who have died have been removed after giving notices to their families," said GHMC commissioner M Dana Kishore.
Former minister Marri Shashidhar Reddy said "Many voters have been deleted in parts of the city. In every election, there is a steady increase in new enrolments but this year the increase is not as expected".
The list of voters deleted in each constituency will be released on October 8.
Details

Category: Political News
Last Updated on

Saturday, 11 August 2018 11:21
Indian high commissioner to Pakistan congratulates Imran Khan on election win
Political Services Download latest voter list Booth wise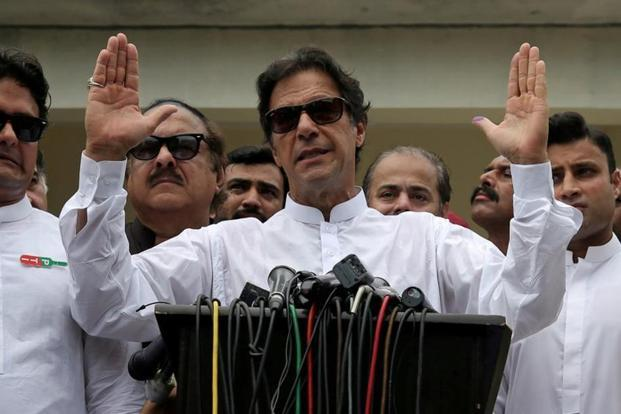 NewDelhi: Indian high commissioner to Pakistan, Ajay Bisaria, on Friday called on Imran Khan, seen as Pakistan's prime minister-designate after his Tehreek e Insaf (PTI) party scooped up the largest number of seats in the 25 July national elections.
This was the first call on Khan by Bisaria and the Indian high commission termed the meeting as "candid" in which Bisaria put forth India's concerns on terrorism and cross-border infiltration, according to the text of a statement by the Indian high commission posted on Twitter. Bisaria also gifted Khan a bat autographed by the entire Indian cricket team, the statement said.
India accuses Pakistan of pushing in terrorists across the line of control (LoC) in Kashmir to stoke terrorism in Kashmir and other parts of India, a charge Pakistan denies though it admits to supporting a "freedom movement" in Kashmir.
"Indian HC Ajay Bisaria called on Mr Imran Khan, Chairperson & senior leadership of PTI. HC congratulated @ImranKhanPTI on his electoral success, discussed a range of issues, prospects of India-Pak relationship. HC gifted a cricket bat autographed by the entire Indian cricket team," said a Twitter post by the Indian High Commission to Islamabad.
Besides Khan, party colleagues Makhdoom Shah Mehmood Qureshi (Pakistan's former foreign minister in the previous Asif Ali Zardari government before he switched sides to join Imran Khan) and Shireen Mazari—seen as the PTI's possible pick for Pakistan's next foreign minister—were also present at the meeting with Bisaria, pictures posted on PTI's Twitter account showed.
Khan who was to take oath on 11 August, is now expected to take up the office of prime minister on 18 August, according to Pakistani media reports quoting PTI senator Faisal Javed. The PTI on Monday formally announced Khan as the new Pakistan prime ministerial candidate.
Bisaria's call on Khan comes after a telephone conversation between Khan and Prime Minister Narendra Modi on 30 July, in which the latter congratulated Khan on his electoral success. During the conversation, Modi expressed hope that democracy would take deeper roots in Pakistan while sharing his vision for peace and development in the entire neighbourhood.
Pakistan went to polls on 25 July and the PTI had emerged as the single largest party with 116 seats after the Election Commission of Pakistan released results for 270 of 272 National Assembly constituencies.
In a statement on 28 July, India's foreign ministry said that New Delhi desired a "prosperous and progressive Pakistan at peace with its neighbours." The statement had also added that India welcomed that the fact that the "people of Pakistan have reposed their faith in democracy through general elections," adding that New Delhi hoped the newly elected government would work constructively to build a safe, stable, secure and developed South Asia, free of terrorism and violence.
India's comments followed remarks by Khan on 26 July in which he said he wanted to have good relations with India and work to resolve all outstanding issues through dialogue.
"We should sit across and resolve the issues instead of we blaming India for problems in Balochistan and they blame us for problems in Kashmir. I can say that if you (India) will take one step forward, we will take two steps forward," Khan had said.
SOURCE: LIVEmint
Subcategories
Parliamentary Constituencies

Article Count:

567

UpComing Election Schedule

Upcoming election schedule 2017 India, Assembly Election Schedule 2017, By Election 2017 Dates, Municipal Corporation Election 2017, Panchayat election Dates 2017, Latest Election schedule India, Municipal Corporation schedule, Gram Panchayat elections schedule Date, By election schedule dates 2017, MLC Election dates

Here we are tracking all kind of elections be it Assembly, Lok Sabha/Parliamentary, Bye election, MLC election, Gram Panchayat election, Municipal Corporation election which are going to take place all over India in 2016.

UpComing MLC Elections Schedule 2017


Andhra Pradesh, Bihar, Telangana MLC election Dates: 9th March Voting, Results on 15th March.Details here

UpComing Municipal Elections Schedule 2017

February 13, 15, 17, 19 and 21- Odisha Zilla Parishad Election Schedule 2017. Read More

February 16, 21- Maharashtra Zilla Parishad Election Schedule 2017. Read More

MCD Election 2017- 23rd April, Results on - 25th April

---

Upcoming Assembly Election Schedule

---

Election Dates: 18 Dec : Counting of Votes: 20 Dec

Election Dates: 27 Dec : Counting of Votes: 30 Dec

Election Dates: 27 Dec : Counting of Votes: 29 Dec

Bye Elections 2016 November Schedule for MP, Assam, WB, Arunachal, TN

Election Dates: 19 Nov : Counting of Votes: 22 Nov


Maharashtra MLC Biennial Elections 2016 Schedule

Election Dates: 16 Nov Read More : Counting of Votes: 22 Nov Read More

Maharashtra Municipal Corporation Elections 2017 Schedule

Election Dates: In 4 Phases 27 Nov, 14 Dec, 18 Dec and 08 Jan Read More

Counting of Votes: On Same day of election 27 Nov, 14 Dec, 18 Dec and 08 Jan Read More

Maharashtra GRAM PANCHAYAT Election schedule/dates 2016 2017

Election Dates: In 4 Phases 27 Nov, 14 Dec, 18 Dec and 08 Jan Read More

Maharashtra Zilla parishad and panchayat samiti Election schedule 2016 2017

Election Dates: In 4 Phases 27 Nov, 14 Dec, 18 Dec and 08 Jan Read More

Maharashtra Municipal council and Nagar panchayat Election schedule 2016 2017

Election Dates: In 4 Phases 27 Nov, 14 Dec, 18 Dec and 08 Jan Read More

Election Dates: In 4 Phases 27 Nov, 14 Dec, 18 Dec and 08 Jan Read More

---

Andhra Pradesh civic polls....Read More

Election Dates: TBA

Read More

Counting of Votes: TBA

Read More

---

Assembly Election Schedules:

Assam Election Schedule:-

Assam Assembly Election Schedule 2016, has not been announced yet but is expected to take place by April 2016 - May 2016 and Notification is expected to come out by March 2016. Read More..>>

Tamil Nadu Election Schedule:-

Assembly elections in Tamil Nadu,is not yet declared but tantative dates are considered as June-May 2016. Read More..>>

Bye Election Schedule:-

Upcoming Bye Election Schedule. :-

Recently Bye Election has been announed for Lok Sabha as well as few Assembly Seats in Madhya Pradesh, Telangana, Jharkhand, Manipur, Mizoram and Meghalaya.

Election Date: 14-Dec-2015

Voting for all states will take place on21-Nov-15and results will be declared on24-Nov-15.

Municipal Corporation Election Schedule:-

Upcoming civic poll schedule, Municipal corporation election schedule, Upcoming Civic poll in India, Civic poll schedule, Nagar Nigam election schedule, upcoming civic poll schedule.

Kerala municipal election Schedule...Read More... Date of poll: 2-Nov 15 ,5-Nov 15 ...Read More
Goa municipal council polls...Read More Date of poll: 25-Oct-15 ...Read More Goa Municipal Council/Municipality Polls election 2015 Results
Maharashtra Municipal council elections Date..Read More Date of poll: 1-Nov 15 ..Read More
Sikkim Municipal council elections Date..Read More Date of poll: 9-Oct 15....Read More

Upcoming Panchayat Polls :-

1. UP. Ghaziabad Panchayat elections ...Read More

Election Date: 9th, 13th, 17th & 29th of October

Counting of Votes : November 1

2. Jharkhand Panchayat/ Zila Parishads polls 2015...Read More

Election Date: 22 Nov ,28 Nov,5 Dec ,12 Dec

3. Haryana panchayat polls..Read More

4. Maharashtra gram panchayats polls...Read More

Date of poll: 28-Oct-15, 1-Nov-2015 ,6-Nov-2015 ..Read More

MLC Election Schedule:

Upcoming MLC Election Schedule, MLC Election, Member of legislative council election schedule, MLC Poll schedule, Legislative council schedule, MLC Poll schedule, MLC election 2015

Upcoming New- Bihar MLC Election Schedule 2015, Andhra Pradesh MLC Election Schedule 2015

Telangana MLC Election Schedule..Read More

Maharashtra MLC Election Schedule..Read More

Karnataka MLC Election Schedule..Read More

Article Count:

33

Candidate List

Article Count:

208

Opinion Poll

Bihar Assembly election opinion Poll

Bihar Election Opinion Poll, Bihar Opinion poll 2018, Who will win in Bihar polls, Bihar Election Survey Result, Bihar Exit poll, Aaj Tak opinion/Exit poll, ABP News-Nielsen opinion/Exit poll, India Today cicero opinion/Exit poll.. Read More..>>

Assam Assembly election opinion Poll

Assam Election Opinion Poll, Assam Opinion poll 2018, Who will win in Assam polls, Assam Election Survey Result, Assam Exit poll, Aaj Tak opinion/Exit poll, ABP News-Nielsen opinion/Exit poll.. Read More..>>

Article Count:

69

Telangana News

Telangana Election Result, Telangana Assembly Wise Election Result, Telangana Assembly Constituency List, Telangana MLA List, Telangana MP List, Telangana Party Constituency wise election result, Telangana Elections, Telangana Results, Telangana MCD Results, Telangana Voting pattern, Telangana Winner Runner up Votes polled margin.

Here is Telangana Election Result Assembly and Party Wise. Telangana Assembly Constituency List, Telangana MLA List, Telangana MP List, Telangana Party Constituency wise election result, Telangana Elections, Telangana Results, Telangana MCD Results, Telangana Voting pattern, Telangana Winner Runner up Votes polled margin.

For Detailed Election Result of Telangana Click below for Constituency Wise detailed Results with Vote Margin and Runner Up results

Click on individual constituencies to know to get compiled Past election Results ,swing Margin, Candidates Details, MLA details , Polling Station, Voter List of each assembly.

---

Telangana Political News, Telangana Political parties, Telangana Assembly Constituency List, Telangana News, Telangana Bye Election, Telangana parliament Constituency, Telangana Election Result, Telangana MLA List, Telangana MLC List, Telangana cabinet Minister, CEO Telangana, Telangana Opinion poll Exit poll, Telangana candidate List, List of Telangana Member of parliament (MP), Telangana Polling Booth List, Telangana Polling Station

Telangana Government

CEO Website

State Political Parties

List of Assembly Constituency

Lok Sabha Election Result

List of MPS

Parliament Constituency

Assembly Election Result- Party Wise

List of MLAs

List Polling Station List

Assembly Election Result- Cons Wise

List of Governor

List Rajya Sabha Member

Opinion Poll/Exit Poll

Telangana Bye Election


A by-election (also spelled as "bye-election"), also known as a special election, is an election held to fill a political office that has become vacant between general elections. Usually, a by-election occurs when the incumbent has died or resigned. It may also occur when the incumbent becomes ineligible to continue in office, for example because of a recall, ennoblement, a serious criminal conviction, failure to maintain a minimum attendance, bankruptcy or mental incapacity.

Telangana Political Parties

| | | | | |
| --- | --- | --- | --- | --- |
| Name | Abb | Symbol | Foundation Year | Current leader |
| All India Majlis-e-Ittehadul Muslimeen | AIMIM | Kite | 1927 | Asaduddin Owaisi |
| Telangana Rashtra Samithi | TRS | Car | 2001 | Kalvakuntla Chandrashekar Rao |
| Telugu Desam Party | TDP | Bicycle | 1982 | N. Chandrababu Naidu |
| YSR Congress Party | YSRCP | Fan | 2009 | Y. S. Jaganmohan Reddy |

List of Telangana assembly Constituency

Following is the list of the constituencies of the Telangana Vidhan Sabha since the delimitation of legislative assembly constituencies in 2008. At present, 34 constituencies are reserved for the candidates belonging to the Scheduled castes and 25 are reserved for the candidates belonging to the Scheduled tribes:

Assembly Constituency Name


AC Name

AC Name

AC Name

AC Name

1

Sirpur

61

Jubilee Hills

2

Chennur

62

Sanathnagar

3

Bellampalli

63

Nampalli

4

Mancherial

64

Karwan

5

Asifabad

65

Goshamahal

6

Khanapur

66

Charminar

7

Adilabad

67

Chandrayangutta

8

Boath

68

Yakutpura

9

Nirmal

69

Bahdurpura

10

Mudhole

70

Secunderabad

11

Armur

71

Secunderabad Cantonment

12

Bodhan

72

Kodangal

13

Jukkal

73

Narayanpet

14

Banswada

74

Mahbubnagar

15

Yellareddy

75

Jadcherla

16

Kamareddy

76

Devarkadra

17

Nizamabad Urban

77

Makthal

18

Nizamabad Rural

78

Wanaparthy

19

Balkonda

79

Gadwal

20

Koratla

80

Alampur

21

Jagtial

81

Nagarkurnool

22

Dharmapuri

82

Achampet

23

Ramagundam

83

Kalwakurthy

24

Manthani

84

Shadnagar

25

Peddapalli

85

Kollapur

26

Karimnagar

86

Devarakonda

27

Choppadandi

87

Nagarjuna Sagar

28

Vemulawada

88

Miryalguda

29

Sircilla

89

Huzurnagar

30

Manakondur

90

Kodad

31

Huzurabad

91

Suryapet

32

Husnabad

92

Nalgonda

33

Siddipet

93

Munugode

34

Medak

94

Bhongir

35

Narayankhed

95

Nakrekal

36

Andole

96

Thungathurthy

37

Narsapur

97

Alair

38

Zahirabad

98

Jangaon

39

Sangareddy

99

Ghanpur Station

40

Patancheru

100

Palakurthi

41

Dubbak

101

Dornakal

42

Gajwel

102

Mahabubabad

43

Medchal

103

Narsampet

44

Malkajgiri

104

Parkal

45

Quthbullapur

105

Warangal West

46

Kukatpally

106

Warangal East

47

Uppal

107

Wardhannapet

48

Ibrahimpatnam

108

Bhupalpalle

49

Lal Bahadur Nagar

109

Mulug

50

Maheshwaram

110

Pinapaka

51

Rajendranagar

111

Yellandu

52

Serilingampally

112

Khammam

53

Chevella

113

Palair

54

Pargi

114

Madhira

55

Vikarabad

115

Wyra

56

Tandur

116

Sathupalli

57

Musheerabad

117

Kothagudem

58

Malakpet

118

Aswaraopeta

59

Amberpet

119

Bhadrachalam

60

Khairatabad

List of Chief Ministers of Telangana
The Chief Minister of Telangana is the chief executive of the south Indian state of Telangana. As per the Constitution of India, the governor is a state's de jure head, but de facto executive authority rests with the chief minister. Following elections to the Telangana Legislative Assembly, the state's governor usually invites the party (or coalition) with a majority of seats to form the government. The governor appoints the chief minister, whose council of ministers are collectively responsible to the assembly. Given that he has the confidence of the assembly, the chief minister's term is for five years and is subject to no term limits. Click here for Complete list of Telangana CM


Article Count:

146

Lok Sabha Election 2014 News

Article Count:

211

UTs News

Puducherry Political News Updates, Political parties, Assembly Constituency List, Bye Election, parliament Constituency, Election Result, MLA List, MLC List, cabinet Minister, CEO Puducherry, Opinion poll Exit poll, candidate List, Member of parliament (MP), Polling Booth List, Polling Station

Puducherry Assembly Elections 2016 will be held in single phase. Date of Polling 16thMay 2016. The results of Puducherry Assembly Elections will be declared on May 19.

Puducherry Elections Imp Updates - Inside the Page

---

---

Puducherry Summary of Opinion/Exit Polls 2016

According to Various Opinion Polls to be published by Various Survey agencies and TV Channels Following are the Opinion Polls for Pondicherry Assembly Elections 2016...Clickhere

---

Puducherry Assembly Election Schedule

S. No.

Poll Event

Dates

( All 234 ACs)

1

Issue of Notification

22.04.2016 (FRI)

2

Last date for making Nominations

29.04.2016 (FRI)

3

Scrutiny of Nominations

30.04.2016 (SAT)

4

Last date for withdrawal of candidature

02.05.2016 (MON)

5

Date of Poll

16.05.2016 (MON)

6

Counting of Votes

19.05.2016 (THU)

7

Date before which election process shall be completed

21.05.2016

---

Puducherry Election Candidate Lists

Party Wise Contesting Candidate Lists:

Complete Details of Candidate Lists Here..

---

Puducherry Assembly Constituency Wise Election Results 2016

---

List of Chief Ministers of Puducherry

Click here for Complete list of Puducherry CM

---

List of Governor of Puducherry The governors and lieutenant-governors of the states and union territories of India have similar powers and functions at the state level as that of the President of India at Union level. Governors exist in the states while lieutenant-governors exist in union territories and in the National Capital Territory of Delhi. The governor acts as the nominal head whereas the real power lies in the hand of the chief ministers of the states and the chief minister's Council of Ministers.Click here for Complete list of Puducherry Governor

---

List of member of Puducherry Rajya Sabha

Puducherry

No

Name

Party

Date of Appointment

Date of Retirement

1

P. Kannan

Indian National Congress

07-Oct-09

06-Oct-15

Complete List of

Puducherry Rajya Sabha members

Article Count:

51

Haryana News

Haryana Political News, Haryana Political parties, Haryana Assembly Constituency List, Haryana News, Haryana Bye Election, Haryana parliament Constituency, Haryana Election Result, Haryana MLA List, Haryana MLC List, Haryana cabinet Minister, CEO Haryana, Haryana Opinion poll Exit poll, Haryana candidate List, List of Haryana Member of parliament (MP), Haryana Polling Booth List, Haryana Polling Station

Haryana Government

State Political Parties

List of Assembly Constituency

List of Governor

List Rajya Sabha Member

Haryana Bye Election


A by-election (also spelled as "bye-election"), also known as a special election, is an election held to fill a political office that has become vacant between general elections. Usually, a by-election occurs when the incumbent has died or resigned. It may also occur when the incumbent becomes ineligible to continue in office, for example because of a recall, ennoblement, a serious criminal conviction, failure to maintain a minimum attendance, bankruptcy or mental incapacity. Click here for bye election Result..>>


Haryana Political Parties

| | | | | |
| --- | --- | --- | --- | --- |
| Name | Abbreviation | Symbol | Foundation Year | Current leader(s) |
| Haryana Janhit Congress(BL) | HJC(BL) | Tractor | 2007 | Kuldeep Bishnoi |
| Indian National Lok Dal | INLD | Spectacles | 1999 | OM Prakash Chautala |
| Haryana Nayay Party | HNP | | | |
| Haryana Republican Party | HRP | | | |
| Haryana State Akali Dal | HSAD | | | |
| Manav Samaj Seva Party | MSSP | | | |
| Samajik Ekta Party | SEP | | | |

List of Haryana assembly Constituency

The number of constituencies of Assam Legislative Assembly at the time of its inception on 7 April 1937 was 108. In 1957 it was reduced to 105. In 1962, the number of constituencies was enhanced to 114 and since 1972, it is 126. Since 1976, 8 constituencies are reserved for the Scheduled castes candidates and 16 constituencies are reserved for Scheduled tribes candidates

Assembly Constituency Name


| | | | |
| --- | --- | --- | --- |
| Const. No. | Constituency | Const. No. | Constituency |
| 1 | Kalka | 46 | Ellenabad |
| 2 | Panchkula | 47 | Adampur |
| 3 | Naraingarh | 48 | Uklana (SC) |
| 4 | Ambala Cantt. | 49 | Narnaund |
| 5 | Ambala City | 50 | Hansi |
| 6 | Mulana (SC) | 51 | Barwala |
| 7 | Sadhaura (SC) | 52 | Hisar |
| 8 | Jagadhri | 53 | Nalwa |
| 9 | Yamunanagar | 54 | Loharu |
| 10 | Radaur | 55 | Badhra |
| 11 | Ladwa | 56 | Dadri |
| 12 | Shahbad (SC) | 57 | Bhiwani |
| 13 | Thanesar | 58 | Tosham |
| 14 | Pehowa | 59 | Bawani Khera (SC) |
| 15 | Guhla (SC) | 60 | Meham |
| 16 | Kalayat | 61 | Garhi Sampla-Kiloi |
| 17 | Kaithal | 62 | Rohtak |
| 18 | Pundri | 63 | Kalanaur (SC) |
| 19 | Nilokheri (SC) | 64 | Bahadurgarh |
| 20 | Indri | 65 | Badli |
| 21 | Karnal | 66 | Jhajjar (SC) |
| 22 | Gharaunda | 67 | Beri |
| 23 | Assandh | 68 | Ateli |
| 24 | Panipat Rural | 69 | Mahendragarh |
| 25 | Panipat City | 70 | Narnaul |
| 26 | Israna (SC) | 71 | Nangal chaudhry |
| 27 | Samalkha | 72 | Bawal (SC) |
| 28 | Ganaur | 73 | Kosli |
| 29 | Rai | 74 | Rewari |
| 30 | Kharkhauda (SC) | 75 | Pataudi (SC) |
| 31 | Sonipat | 76 | Badshahpur |
| 32 | Gohana | 77 | Gurgaon |
| 33 | Baroda | 78 | Sohna |
| 34 | Julana | 79 | Nuh |
| 35 | Safidon | 80 | Ferozepur Jhirka |
| 36 | Jind | 81 | Punahana |
| 37 | Uchana kalan | 82 | Hathin |
| 38 | Narwana (SC) | 83 | Hodal (SC) |
| 39 | Tohana | 84 | Palwal |
| 40 | Fatehabad | 85 | Prithla |
| 41 | Ratia (SC) | 86 | Faridabad NIT |
| 42 | Kalawali (SC) | 87 | Badkhal |
| 43 | Dabwali | 88 | Ballabhgarh |
| 44 | Rania | 89 | Faridabad |
| 45 | Sirsa | 90 | Tigaon |

List of Chief Ministers of Haryana
The Chief Minister of Haryana is the chief executive of the north Indian state of Haryana. As per the Constitution of India, the governor is a state's de jure head, but de facto executive authority rests with the chief minister. Following elections to the Haryana Legislative Assembly, the state's governor usually invites the party (or coalition) with a majority of seats to form the government. The governor appoints the chief minister, whose council of ministers are collectively responsible to the assembly. Given that he has the confidence of the assembly, the chief minister's term is for five years and is subject to no term limits.Click here for Complete list of Haryana CM


Article Count:

140

Odisha Political News

Odisha Political News, Odisha Political parties, Odisha Assembly Constituency List, Odisha News, Odisha Bye Election, Odisha parliament Constituency, Odisha Election Result, Odisha MLA List, Odisha MLC List, Odisha cabinet Minister, CEO Odisha, Odisha Opinion poll Exit poll, Odisha candidate List, List of Odisha Member of parliament (MP), Odisha Polling Booth List, Odisha Polling Station

Odisha Government

State Political Parties

List of Assembly Constituency

List of Governor

List Rajya Sabha Member

Opinion Poll/Exit Poll

Odisha Bye Election Result


A by-election (also spelled as "bye-election"), also known as a special election, is an election held to fill a political office that has become vacant between general elections. Usually, a by-election occurs when the incumbent has died or resigned. It may also occur when the incumbent becomes ineligible to continue in office, for example because of a recall, ennoblement, a serious criminal conviction, failure to maintain a minimum attendance, bankruptcy or mental incapacity.

Kandhamal Parliamentary Constituency bye electtion Result 2014


| | | | | |
| --- | --- | --- | --- | --- |
| Year | Party | status | Candidate Name | votes |
| 2014 | BJD | Winner | Pratyusha Rajeshwari Singh | 477529 |

Odisha (Orissa) Political Parties

| | | | | |
| --- | --- | --- | --- | --- |
| S.No. | Name | Symbol | Year of Foundation | Current leader(s) |
| 1 | Biju Janata dal | conch | 1997 | Naveen Patnaik |

Other Political Parties

Aama Odisha Party

Biju Sena
Gana Abhiyan Orissa
Nikhil Utkal Adivasi Congress
Odisha Communist Party
Odisha Gana Parishad
Odisha Jan Morcha
Samata Kranti Dal
Samruddha Odisha

Utkal Bharat

List of Odisha (Orissa) assembly Constituency

The following is the list of Vidhan sabha Constituencies of Odisha and the Elected Members

Assembly Constituency Name


| | | | |
| --- | --- | --- | --- |
| AC. No | AC Name | AC. No | AC Name |
| 1 | Padampur | 75 | Nabarangpur |
| 2 | Bijepur | 76 | Dabugam |
| 3 | Bargarh | 77 | Lanjigarh |
| 4 | Attabira | 78 | Junagarh |
| 5 | Bhatli | 79 | Dharmgarh |
| 6 | Brajarajnagar | 80 | Bhawanipatna |
| 7 | Jharsuguda | 81 | Narla |
| 8 | Talsara | 82 | Baliguda |
| 9 | Sundargarh | 83 | G. Udayagiri |
| 10 | Biramitrapur | 84 | Phulbani |
| 11 | Raghunathpali | 85 | Kantamal |
| 12 | Rourkela | 86 | Boudh |
| 13 | Rajgangapur | 87 | Baramba |
| 14 | Bonai | 88 | Banki |
| 15 | Kuchinda | 89 | Athagarh |
| 16 | Rengali | 90 | Barabati-Cuttack |
| 17 | Sambalpur | 91 | Choudwar-Cuttack |
| 18 | Rairakhol | 92 | Niali |
| 19 | Deogarh | 93 | Cuttack Sadar |
| 20 | Telkoi | 94 | Salipur |
| 21 | Ghasipura | 95 | Mahanga |
| 22 | Anandapur | 96 | Patkura |
| 23 | Patna | 97 | Kendrapara |
| 24 | Keonjhar | 98 | Aul |
| 25 | Champua | 99 | Rajanagar |
| 26 | Jashipur | 100 | Mahakalapada |
| 27 | Saraskana | 101 | Paradeep |
| 28 | Rairangpur | 102 | Tirtol |
| 29 | Bangriposi | 103 | Balikuda-Ersama |
| 30 | Karanjia | 104 | Jagatsinghpur |
| 31 | Udala | 105 | Kakatpur |
| 32 | Badasahi | 106 | Nimapara |
| 33 | Baripada | 107 | Puri |
| 34 | Morada | 108 | Bramhagiri |
| 35 | Jaleswar | 109 | Satyabadi |
| 36 | Bhograi | 110 | Pipili |
| 37 | Basta | 111 | Jayadev |
| 38 | Balasore | 112 | Bhubaneswar Central (Madhya) |
| 39 | Remuna | 113 | Bhubaneswar North (Uttar) |
| 40 | Nilgiri | 114 | Ekamra-Bhubaneswar |
| 41 | Soro | 115 | Jatani |
| 42 | Simulia | 116 | Begunia |
| 43 | Bhandaripokhari | 117 | Khurda |
| 44 | Bhadrak | 118 | Chilika |
| 45 | Basudevpur | 119 | Ranpur |
| 46 | Dhamnagar | 120 | Khandapada |
| 47 | Chandabali | 121 | Daspalla |
| 48 | Binjharpur | 122 | Nayagarh |
| 49 | Bari | 123 | Bhanjanagar |
| 50 | Barchana | 124 | Polasara |
| 51 | Dharmasala | 125 | Kabisuryangar |
| 52 | Jajpur | 126 | Khalikote |
| 53 | Korei | 127 | Chhatrapur |
| 54 | Sukinda | 128 | Aska |
| 55 | Dhenkanal | 129 | Surada |
| 56 | Hindol | 130 | Sanakhemundi |
| 57 | Kamakhyanagar | 131 | Hinjili |
| 58 | Parjanga | 132 | Gopalpur |
| 59 | Pallahara | 133 | Berhampur |
| 60 | Talcher | 134 | Digapahandi |
| 61 | Angul | 135 | Chikiti |
| 62 | Chhendipada | 136 | Mohana |
| 63 | Athamallik | 137 | Paralakhemundi |
| 64 | Birmaharajpur | 138 | Gunupur |
| 65 | Sonepur | 139 | Bissam cuttack |
| 66 | Loisingha | 140 | Rayagada |
| 67 | Patnagarh | 141 | Laxmipur |
| 68 | Bolangir | 142 | Kotpad |
| 69 | Titlagarh | 143 | Jeypore |
| 70 | Kantabanji | 144 | Koraput |
| 71 | Nuapada | 145 | Pottangi |
| 72 | Khariar | 146 | Malkangiri |
| 73 | Umarkote | 147 | Chitrakonda |
| 74 | Jharigam | | |

List of Chief Ministers of Odisha
The Chief Minister of Odisha, an eastern Indian state, is the head of the Government of Odisha. As per the Constitution of India, the governor is the state's de jure head, but de facto executive authority rests with the chief minister. Following elections to the Odisha Legislative Assembly, the governor usually invites the party (or coalition) with a majority of seats to form the government. The governor appoints the chief minister, whose council of ministers are collectively responsible to the assembly. Given that he has the confidence of the assembly, the chief minister's term is for five years and is subject to no term limits.. Click here for Complete list of Odisha CM


Article Count:

60

J&K News

Jammu Kashmir Political News, Jammu Kashmir Political parties, Jammu Kashmir Assembly Constituency List, Jammu Kashmir News, Jammu Kashmir Bye Election, Jammu Kashmir parliament Constituency, Jammu Kashmir Election Result, Jammu Kashmir MLA List, Jammu Kashmir MLC List, Jammu Kashmir cabinet Minister, CEO Jammu Kashmir, Jammu Kashmir Opinion poll Exit poll, Jammu Kashmir candidate List, List of Jammu Kashmir Member of parliament (MP), Jammu Kashmir Polling Booth List, Jammu Kashmir Polling Station

Jammu Kashmir Government

State Political Parties

List of Assembly Constituency

List of Governor

List Rajya Sabha Member

Jammu Kashmir Bye Election


A by-election (also spelled as "bye-election"), also known as a special election, is an election held to fill a political office that has become vacant between general elections. Usually, a by-election occurs when the incumbent has died or resigned. It may also occur when the incumbent becomes ineligible to continue in office, for example because of a recall, ennoblement, a serious criminal conviction, failure to maintain a minimum attendance, bankruptcy or mental incapacity. Click here for bye election Result..>>


Jammu Kashmir Political Parties

| | | | | |
| --- | --- | --- | --- | --- |
| Name | Abbreviation | Symbol | Foundation | Current leader(s) |
| Jammu & Kashmir National Conference | JKNC | Plough | 1932 | Omar Abdullah |
| Jammu & Kashmir National Panthers Party | JKNPP | Bicycle | 1982 | Bhim Singh |
| Jammu and Kashmir People's Democratic Party | JKPDP | Ink Pot & Pen | 1998 | Mufti Mohammed Sayeed |

Other Delhi Political parties

| | |
| --- | --- |
| All Jammu and Kashmir Patriotic Peoples Front | Democratic Janata Dal (Jammu and Kashmir) |
| Jamaat-e-Islami Kashmir | Jammu and Kashmir Democratic Freedom Party |
| Praja Parishad Jammu and Kashmir | Mallah Insaf Party |

List of Jammu Kashmir assembly Constituency

The Legislative Assembly of Jammu and Kashmir (also known as the Jammu and Kashmir Vidhan Sabha) is the lower house of the bicameral legislature of the Indian state of Jammu and Kashmir, which is known as the Jammu and Kashmir State Legislature. It has 87 members.

Assembly Constituency Name


| | | | | | |
| --- | --- | --- | --- | --- | --- |
| A.C No. | AC_Name | A.C No. | AC_Name | A.C No. | AC_Name |
| 1 | Karnah | 30 | Charari Sharief | 59 | Gool Arnas |
| 2 | Kupwara | 31 | Tral | 60 | Udhampur |
| 3 | Lolab | 32 | Pampore | 61 | Chanani |
| 4 | Handwara | 33 | Pulwama | 62 | Ramnagar |
| 5 | Langate | 34 | Rajpora | 63 | Bani |
| 6 | Uri | 35 | Wachi | 64 | Basohli |
| 7 | Rafiabad | 36 | Shopian | 65 | Kathua |
| 8 | Sopore | 37 | Noorabad | 66 | Billawar |
| 9 | Gurez | 38 | Kulgam | 67 | Hiranagar |
| 10 | Bandipora | 39 | Homeshalibugh | 68 | Samba |
| 11 | Sonawari | 40 | Anantnag | 69 | Vijaypur |
| 12 | Sangrama | 41 | Devsar | 70 | Nagrota |
| 13 | Baramulla | 42 | Dooru | 71 | Gandhinagar |
| 14 | Gulmarg | 43 | Kokernag | 72 | Jammu East |
| 15 | Pattan | 44 | Shangus | 73 | Jammu West |
| 16 | Kangan | 45 | Bijbehara | 74 | Bishnah |
| 17 | Ganderbal | 46 | Pahalgam | 75 | R.S. Pura |
| 18 | Hazratbal | 47 | Nobra | 76 | Suchetgarh |
| 19 | Zadibal | 48 | Leh | 77 | Marh |
| 20 | Idgah | 49 | Kargil | 78 | Raipur Domana |
| 21 | Khanyar | 50 | Zanskar | 79 | Akhnoor |
| 22 | Habbakadal | 51 | Kishtwar | 80 | Chhamb |
| 23 | Amirakadal | 52 | Inderwal | 81 | Nowshera |
| 24 | Sonawar | 53 | Doda | 82 | Darhal |
| 25 | Batamaloo | 54 | Bhaderwah | 83 | Rajouri |
| 26 | Chadoora | 55 | Ramban | 84 | Kalakote |
| 27 | Badgam | 56 | Banihal | 85 | Surankote |
| 28 | Beerwah | 57 | Gulabgarh | 86 | Mendhar |
| 29 | Khansahib | 58 | Reasi | 87 | Poonch Haveli |

List of Chief Ministers of Jammu Kashmir
The Chief Minister of Delhi is the head of government of the National Capital Territory of Delhi in north India. Chief Minister is head of the Council of Ministers and the leader of the majority party in the Delhi assembly. The Chief Minister leads the executive branch of the Government of Delhi. Arvind Kejriwal is the incumbent Chief Minister. He took up the position on 14th February 2015. Click here for Complete list of Jammu Kashmir CM..>>


Article Count:

352

Rajasthan News

Rajasthan Political News, Rajasthan Political parties, Rajasthan Assembly Constituency List, Rajasthan News, Rajasthan Bye Election, Rajasthan parliament Constituency, Rajasthan Election Result, Rajasthan MLA List, Rajasthan MLC List, Rajasthan cabinet Minister, CEO Rajasthan, Rajasthan Opinion poll Exit poll, Rajasthan candidate List, List of Rajasthan Member of parliament (MP), Rajasthan Polling Booth List, Rajasthan Polling Station

Rajastha Government

State Political Parties

List of Assembly Constituency

Assembly Election Result- Party Wise

Assembly Election Result- Cons Wise

List of Governor

List Rajya Sabha Member

Rajasthan Bye Election Result


A by-election (also spelled as "bye-election"), also known as a special election, is an election held to fill a political office that has become vacant between general elections. Usually, a by-election occurs when the incumbent has died or resigned. It may also occur when the incumbent becomes ineligible to continue in office, for example because of a recall, ennoblement, a serious criminal conviction, failure to maintain a minimum attendance, bankruptcy or mental incapacity.

Rajasthan Assembly By Poll 2014

State

Seats

Party

Rajasthan

(4/4)

BJP (1)

Cong (3)

Rajasthan Political Parties

| | | | | |
| --- | --- | --- | --- | --- |
| S.No. | Name | Symbol | Year of | Current leader(s) |
| 1 | Bharatiya Janata Party | Lotus | 1980 | Amit Shah |
| 2 | Indian National Congress | Hand | 1885 | Sonia Gandhi |
| 3 | Communist Party of India (Marxist) | Hammer, Sickle and Star | 1964 | Prakash Karat |
| 4 | Communist Party of India | Ears of Corn and Sickle | 1925 | Suravaram Sudhakar Reddy |
| 5 | Bahujan Samaj Party | Elephant | 1984 | Mayawati |
| 6 | Nationalist Congress Party | Clock | 1999 | Sharad Pawar |

Other Political Parties

Kisan Janata Sanyukta Party
National Unionist Zamindara Party
Rajasthan Vikas Party

List of Rajasthan assembly Constituency

Following is the list of the constituencies of the Rajasthan Vidhan Sabha since the delimitation of legislative assembly constituencies in 2008. At present, 34 constituencies are reserved for the candidates belonging to the Scheduled castes and 25 are reserved for the candidates belonging to the Scheduled tribes:

Assembly Constituency Name


| | | | | | | | |
| --- | --- | --- | --- | --- | --- | --- | --- |
| AC No | AC Name | District | LK Cons | AC No | AC Name | District | LK Cons |
| 1 | Sadulshahar | Ganganagar | Ganganagar | 101 | Ajmer South | Ajmer | Ajmer |
| 2 | Ganganagar | Ganganagar | Ganganagar | 102 | Nasirabad | Ajmer | Ajmer |
| 3 | Karanpur | Ganganagar | Ganganagar | 103 | Beawar | Ajmer | Rajsamand |
| 4 | Suratgarh | Ganganagar | Ganganagar | 104 | Masuda | Ajmer | Ajmer |
| 5 | Raisinghnagar | Ganganagar | Ganganagar | 105 | Kekri | Ajmer | Ajmer |
| 6 | Anupgarh | Ganganagar | Bikaner | 106 | Ladnun | Nagaur | Nagaur |
| 7 | Sangaria | Hanumangarh | Ganganagar | 107 | Deedwana | Nagaur | Nagaur |
| 8 | Hanumangarh | Hanumangarh | Ganganagar | 108 | Jayal | Nagaur | Nagaur |
| 9 | Pilibanga | Hanumangarh | Ganganagar | 109 | Nagaur | Nagaur | Nagaur |
| 10 | Nohar | Hanumangarh | Churu | 110 | Khinvsar | Nagaur | Nagaur |
| 11 | Bhadra | Hanumangarh | Churu | 111 | Merta | Nagaur | Rajsamand |
| 12 | Khajuwala | Bikaner | Bikaner | 112 | Degana | Nagaur | Rajsamand |
| 13 | Bikaner West | Bikaner | Bikaner | 113 | Makrana | Nagaur | Nagaur |
| 14 | Bikaner East | Bikaner | Bikaner | 114 | Parbatsar | Nagaur | Nagaur |
| 15 | Kolayat | Bikaner | Bikaner | 115 | Nawan | Nagaur | Nagaur |
| 16 | Lunkaransar | Bikaner | Bikaner | 116 | Jaitaran | Pali | Rajsamand |
| 17 | Dungargarh | Bikaner | Bikaner | 117 | Sojat | Pali | Pali |
| 18 | Nokha | Bikaner | Bikaner | 118 | Pali | Pali | Pali |
| 19 | Sadulpur | Churu | Churu | 119 | Marwar Junction | Pali | Pali |
| 20 | Taranagar | Churu | Churu | 120 | Bali | Pali | Pali |
| 21 | Sardarshahar | Churu | Churu | 121 | Sumerpur | Pali | Pali |
| 22 | Churu | Churu | Churu | 122 | Phalodi | Jodhpur | Jodhpur |
| 23 | Ratangarh | Churu | Churu | 123 | Lohawat | Jodhpur | Jodhpur |
| 24 | Sujangarh | Churu | Churu | 124 | Shergarh | Jodhpur | Jodhpur |
| 25 | Pilani | Jhunjhunu | Jhunjhunu | 125 | Osian | Jodhpur | Pali |
| 26 | Surajgarh | Jhunjhunu | Jhunjhunu | 126 | Bhopalgarh | Jodhpur | Pali |
| 27 | Jhunjhunu | Jhunjhunu | Jhunjhunu | 127 | Sardarpura | Jodhpur | Jodhpur |
| 28 | Mandawa | Jhunjhunu | Jhunjhunu | 128 | Jodhpur | Jodhpur | Jodhpur |
| 29 | Nawalgarh | Jhunjhunu | Jhunjhunu | 129 | Soorsagar | Jodhpur | Jodhpur |
| 30 | Udaipurwati | Jhunjhunu | Jhunjhunu | 130 | Luni | Jodhpur | Jodhpur |
| 31 | Khetri | Jhunjhunu | Jhunjhunu | 131 | Bilara | Jodhpur | Pali |
| 32 | Fatehpur | Sikar | Jhunjhunu | 132 | Jaisalmer | Jaisalmer | Barmer |
| 33 | Lachhmangarh | Sikar | Sikar | 133 | Pokaran | Jaisalmer | Jodhpur |
| 34 | Dhod | Sikar | Sikar | 134 | Sheo | Barmer | Barmer |
| 35 | Sikar | Sikar | Sikar | 135 | Barmer | Barmer | Barmer |
| 36 | Danta Ramgarh | Sikar | Sikar | 136 | Baytoo | Barmer | Barmer |
| 37 | Khandela | Sikar | Sikar | 137 | Pachpadra | Barmer | Barmer |
| 38 | Neem Ka Thana | Sikar | Sikar | 138 | Siwana | Barmer | Barmer |
| 39 | Sri Madhopur | Sikar | Sikar | 139 | Gudha Malani | Barmer | Barmer |
| 40 | Kotputli | Jaipur | Jaipur Rural | 140 | Chohtan | Barmer | Barmer |
| 41 | Viratnagar | Jaipur | Jaipur Rural | 141 | Ahore | Jalore | Jalore |
| 42 | Shahpura | Jaipur | Jaipur Rural | 142 | Jalore | Jalore | Jalore |
| 43 | Chomu | Jaipur | Sikar | 143 | Bhinmal | Jalore | Jalore |
| 44 | Phulera | Jaipur | Jaipur Rural | 144 | Sanchore | Jalore | Jalore |
| 45 | Dudu | Jaipur | Ajmer | 145 | Raniwara | Jalore | Jalore |
| 46 | Jhotwara | Jaipur | Jaipur Rural | 146 | Sirohi | Sirohi | Jalore |
| 47 | Amber | Jaipur | Jaipur Rural | 147 | Pindwara–Abu | Sirohi | Jalore |
| 48 | Jamwa Ramgarh | Jaipur | Jaipur Rural | 148 | Reodar | Sirohi | Jalore |
| 49 | Hawa Mahal | Jaipur | Jaipur | 149 | Gogunda | Udaipur | Udaipur |
| 50 | Vidhyadhar Nagar | Jaipur | Jaipur | 150 | Jhadol | Udaipur | Udaipur |
| 51 | Civil Lines | Jaipur | Jaipur | 151 | Kherwara | Udaipur | Udaipur |
| 52 | Kishan Pole | Jaipur | Jaipur | 152 | Udaipur Rural | Udaipur | Udaipur |
| 53 | Adarsh Nagar | Jaipur | Jaipur | 153 | Udaipur | Udaipur | Udaipur |
| 54 | Malviya Nagar | Jaipur | Jaipur | 154 | Mavli | Udaipur | Chittorgarh |
| 55 | Sanganer | Jaipur | Jaipur | 155 | Vallabhnagar | Udaipur | Chittorgarh |
| 56 | Bagru | Jaipur | Jaipur | 156 | Salumber | Udaipur | Udaipur |
| 57 | Bassi | Jaipur | Dausa | 157 | Dhariawad | Pratapgarh | Udaipur |
| 58 | Chaksu | Jaipur | Dausa | 158 | Dungarpur | Dungarpur | Banswara |
| 59 | Tijara | Alwar | Alwar | 159 | Aspur | Dungarpur | Udaipur |
| 60 | Kishangarh Bas | Alwar | Alwar | 160 | Sagwara | Dungarpur | Banswara |
| 61 | Mundawar | Alwar | Alwar | 161 | Chorasi | Banswara | Banswara |
| 62 | Behror | Alwar | Alwar | 162 | Ghatol | Banswara | Banswara |
| 63 | Bansur | Alwar | Jaipur Rural | 163 | Garhi | Banswara | Banswara |
| 64 | Thanagazi | Alwar | Dausa | 164 | Banswara | Banswara | Banswara |
| 65 | Alwar Rural | Alwar | Alwar | 165 | Bagidora | Banswara | Banswara |
| 66 | Alwar Urban | Alwar | Alwar | 166 | Kushalgarh | Banswara | Banswara |
| 67 | Ramgarh | Alwar | Alwar | 167 | Kapasan | Chittorgarh | Chittorgarh |
| 68 | Rajgarh–Laxmangarh | Alwar | Alwar | 168 | Begun | Chittorgarh | Chittorgarh |
| 69 | Kathumar | Alwar | Bharatpur | 169 | Chittorgarh | Chittorgarh | Chittorgarh |
| 70 | Kaman | Bharatpur | Bharatpur | 170 | Nimbahera | Chittorgarh | Chittorgarh |
| 71 | Nagar | Bharatpur | Bharatpur | 171 | Bari Sadri | Chittorgarh | Chittorgarh |
| 72 | Deeg–Khumer | Bharatpur | Bharatpur | 172 | Pratapgarh | Pratapgarh | Chittorgarh |
| 73 | Bharatpur | Bharatpur | Bharatpur | 173 | Bhim | Rajsamand | Rajsamand |
| 74 | Nadbai | Bharatpur | Bharatpur | 174 | Kumbhalgarh | Rajsamand | Rajsamand |
| 75 | Weir | Bharatpur | Bharatpur | 175 | Rajsamand | Rajsamand | Rajsamand |
| 76 | Bayana | Bharatpur | Bharatpur | 176 | Nathdwara | Rajsamand | Rajsamand |
| 77 | Baseri | Dholpur | Karauli–Dholpur | 177 | Asind | Bhilwara | Bhilwara |
| 78 | Bari | Dholpur | Karauli–Dholpur | 178 | Mandal | Bhilwara | Bhilwara |
| 79 | Dholpur | Dholpur | Karauli–Dholpur | 179 | Sahara | Bhilwara | Bhilwara |
| 80 | Rajakhera | Dholpur | Karauli–Dholpur | 180 | Bhilwara | Bhilwara | Bhilwara |
| 81 | Todabhim | Karauli | Karauli–Dholpur | 181 | Shahpura | Bhilwara | Bhilwara |
| 82 | Hindaun | Karauli | Karauli–Dholpur | 182 | Jahazpur | Bhilwara | Bhilwara |
| 83 | Karauli | Karauli | Karauli–Dholpur | 183 | Mandalgarh | Bhilwara | Bhilwara |
| 84 | Sapotra | Karauli | Karauli–Dholpur | 184 | Hindoli | Bundi | Bhilwara |
| 85 | Bandikui | Dausa | Dausa | 185 | Keshoraipatan | Bundi | Kota |
| 86 | Mahuwa | Dausa | Dausa | 186 | Bundi | Bundi | Kota |
| 87 | Sikrai | Dausa | Dausa | 187 | Pipalda | Kota | Kota |
| 88 | Dausa | Dausa | Dausa | 188 | Sangod | Kota | Kota |
| 89 | Lalsot | Dausa | Dausa | 189 | Kota North | Kota | Kota |
| 90 | Gangapur | Sawai Madhopur | Tonk-Sawai Madhopur | 190 | Kota South | Kota | Kota |
| 91 | Bamanwas | Sawai Madhopur | Tonk-Sawai Madhopur | 191 | Ladpura | Kota | Kota |
| 92 | Sawai Madhopur | Sawai Madhopur | Tonk-Sawai Madhopur | 192 | Ramganj Mandi | Kota | Kota |
| 93 | Khandar | Sawai Madhopur | Tonk-Sawai Madhopur | 193 | Anta | Baran | Jhalawar-Baran |
| 94 | Malpura | Tonk | Tonk-Sawai Madhopur | 194 | Kishanganj | Baran | Jhalawar-Baran |
| 95 | Niwai | Tonk | Tonk-Sawai Madhopur | 195 | Baran–Atru | Baran | Jhalawar-Baran |
| 96 | Tonk | Tonk | Tonk-Sawai Madhopur | 196 | Chhabra | Baran | Jhalawar-Baran |
| 97 | Deoli–Uniara | Tonk | Tonk-Sawai Madhopur | 197 | Dag | Jhalawar | Jhalawar-Baran |
| 98 | Kishangarh | Ajmer | Ajmer | 198 | Jhalarapatan | Jhalawar | Jhalawar-Baran |
| 99 | Pushkar | Ajmer | Ajmer | 199 | Khanpur | Jhalawar | Jhalawar-Baran |
| 100 | Ajmer North | Ajmer | Ajmer | 200 | Manohar Thana | Jhalawar | Jhalawar-Baran |

List of Chief Ministers of Rajasthan
The Chief Minister of Rajasthan, a north Indian state, is the head of the Government of Rajasthan. As per the Constitution of India, the Governor of Rajasthan is the state's de jure head, but de facto executive authority rests with the chief minister. Following elections to the Rajasthan Legislative Assembly, the governor usually invites the party (or coalition) with a majority of seats to form the government. The governor appoints the chief minister, whose council of ministers are collectively responsible to the assembly. Given that he has the confidence of the assembly, the chief minister's term is for five years and is subject to no term limits. Click here for Complete list of Rajasthan CM


Article Count:

120

Chhattisgarh News

Chhattisgarh Political News, Chhattisgarh Political parties, Chhattisgarh Assembly Constituency List, Chhattisgarh News, Chhattisgarh Bye Election, Chhattisgarh parliament Constituency, Chhattisgarh Election Result, Chhattisgarh MLA List, Chhattisgarh MLC List, Chhattisgarh cabinet Minister, CEO Chhattisgarh, Chhattisgarh Opinion poll Exit poll, Chhattisgarh candidate List, List of Chhattisgarh Member of parliament (MP), Chhattisgarh Polling Booth List, Chhattisgarh Polling Station

Chhattisgarh Government

State Political Parties

List of Assembly Constituency

Assembly Election Result- Party Wise

Assembly Election Result- Cons Wise

List of Governor

List Rajya Sabha Member

Chhattisgarh Bye Election Result


A by-election (also spelled as "bye-election"), also known as a special election, is an election held to fill a political office that has become vacant between general elections. Usually, a by-election occurs when the incumbent has died or resigned. It may also occur when the incumbent becomes ineligible to continue in office, for example because of a recall, ennoblement, a serious criminal conviction, failure to maintain a minimum attendance, bankruptcy or mental incapacity.

| | | | | |
| --- | --- | --- | --- | --- |
| Constituency | status | candidate name | party | Votes |
| Antagarh | Winner | Bhoj Raj Nag | BJP | 63616 |

Chhattisgarh Political Parties

| | | | | |
| --- | --- | --- | --- | --- |
| S.No. | Name | Symbol | Year of Foundation | Current leader(s) |
| 1 | Bharatiya Janata Party | Lotus | 1980 | Amit Shah |
| 2 | Indian National Congress | Hand | 1885 | Sonia Gandhi |
| 5 | Bahujan Samaj Party | Elephant | 1984 | Mayawati |

List of Chhattisgarh assembly Constituency

The Following are the list of Constituencies in the Legislative Assembly of Chhattisgarh:

Assembly Constituency Name


| | | | |
| --- | --- | --- | --- |
| AC. No. | AC Name | AC. No. | AC Name |
| 1 | Manendragarh (ST) | 46 | Bhatapara |
| 2 | Baikunthpur | 47 | Baloda Bazar |
| 3 | Premnagar (ST) | 48 | Palari (SC) |
| 4 | Rajpur (ST) | 49 | Kasdol |
| 5 | Pal (ST) | 50 | Bhatgaon (SC) |
| 6 | Samri (ST) | 51 | Rajim |
| 7 | Lundra (ST) | 52 | Bindranawagarh (ST) |
| 8 | Pilkha (ST) | 53 | Saraipali |
| 9 | Ambikapur (ST) | 54 | Basna |
| 10 | Sitapur (ST) | 55 | Khallari |
| 11 | Bagicha (ST) | 56 | Mahasamund |
| 12 | Jashpur (ST) | 57 | Sihawa (ST) |
| 13 | Tapkara (ST) | 58 | Kurud |
| 14 | Pathalgaon (ST) | 59 | Dhamtari |
| 15 | Dharamjaigarh (ST) | 60 | Bhanupratappur (ST) |
| 16 | Lailunga (ST) | 61 | Kanker (ST) |
| 17 | Raigarh | 62 | Narayanpur (ST) |
| 18 | Kharsia | 63 | Keshkal (ST) |
| 19 | Saria | 64 | Kondagaon (ST) |
| 20 | Rampur,chhattisgarh (ST) | 65 | Bhanpuri (ST) |
| 21 | Korba | 66 | Jagdalpur (ST) |
| 22 | Katghora | 67 | Keshlur (ST) |
| 23 | Tanakhar (ST) | 68 | Chitrakot (ST) |
| 24 | Marwahi (ST) | 69 | Dantewada (ST) |
| 25 | Kota | 70 | Konta (ST) |
| 26 | Lormi | 71 | Bijapur (ST) |
| 27 | Mungeli (SC) | 72 | Maro (SC) |
| 28 | Jarhagaon (SC) | 73 | Bemetara |
| 29 | Takhatpur | 74 | Saja |
| 30 | Bilaspur | 75 | Dhamdha |
| 31 | Bilha | 76 | Durg |
| 32 | Masturi (SC) | 77 | Bhilai Nagar (Constituency) |
| 33 | Sipat | 78 | Patan |
| 34 | Akaltara | 79 | Gunderdehi |
| 35 | Pamgarh | 80 | Khertha |
| 36 | Champa | 81 | Balod |
| 37 | Sakti | 82 | Dondi Lohara (ST) |
| 38 | Jaijaipur (SC) | 83 | Chowki (ST) |
| 39 | Chandrapur | 84 | Khujji |
| 40 | Raipur Town | 85 | Dongargaon |
| 41 | Raipur Rural | 86 | Rajnandgaon |
| 42 | Abhanpur | 87 | Dongargarh (SC) |
| 43 | Mandirhasod | 88 | Khairagarh |
| 44 | Arang (SC) | 89 | Birendranagar |
| 45 | Dharsiwa | 90 | Kawardha |

List of Chief Ministers of Chhattisgarh
The Chief Minister of Chhattisgarh is the chief executive of the central Indian state of Chhattisgarh. As per the Constitution of India, the Governor of Chhattisgarh is a state's de jure head, but de facto executive authority rests with the chief minister. Following elections to the Chhattisgarh Legislative Assembly, the state's governor usually invites the party (or coalition) with a majority of seats to form the government. The governor appoints the chief minister, whose council of ministers are collectively responsible to the assembly. Given that he has the confidence of the assembly, the chief minister's term is for five years and is subject to no term limits. Click here for Complete list of Chhattisgarh CM


Article Count:

83

MP News

Madhya Pradesh (MP) Political News, Madhya Pradesh (MP) Political parties, Madhya Pradesh (MP) Assembly Constituency List, Madhya Pradesh (MP) News, Madhya Pradesh (MP) Bye Election, Madhya Pradesh (MP) parliament Constituency, Madhya Pradesh (MP) Election Result, Madhya Pradesh (MP) MLA List, Madhya Pradesh (MP) MLC List, Madhya Pradesh (MP) cabinet Minister, CEO Madhya Pradesh (MP), Madhya Pradesh (MP) Opinion poll Exit poll, Madhya Pradesh (MP) candidate List, List of Madhya Pradesh (MP) Member of parliament (MP), Madhya Pradesh (MP) Polling Booth List, Madhya Pradesh (MP) Polling Station

Madhya Pradesh Government

State Political Parties

List of Assembly Constituency

List of Governor

List Rajya Sabha Member