Tamil Nadu Assembly Election BJP Candidate List 2016, Tamil Nadu BJP Vidhan Sabha Contesting Candidate, Tamil Nadu Election candidate list, Complete BJP candidate List 2016, Tamil Nadu election ticket declared, Tamil Nadu election Complete Candidate List 2016, BJP releases candidate List for Tamil Nadu, BJP Tamil Nadu Election Candidates List Constituency Wise, Tamil Nadu Vidhan sabha election 2016, Tamil Nadu assembly election candidate list 2016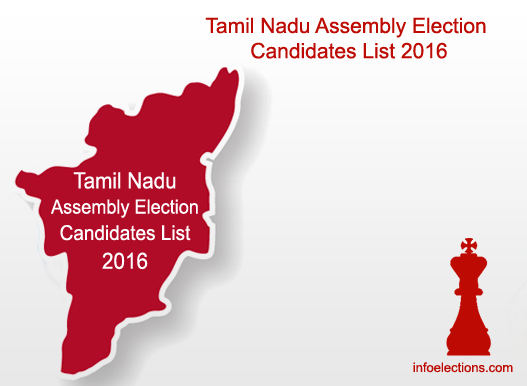 Find list of BJP candidates who are contesting in Tamil Nadu Vidhan Sabha Election 2016 from the different assembly constituencies of Tamil Nadu.
Also Read:
1. Click here -- for Congress Candidate List
2. Click here -- for BJP Candidate List
3. Click here -- for AIADMK Candidate List declared
4. Click here -- for DMK Candidate List
5. Click here -- for CPI(M)Candidate List
6. Click here -- for DMDK Candidate List
Out of the 234 Assembly constituencies of Tamil Nadu at stake this election, the BJP is going to allot 45 to its ally Indiya Jananayaga Katchi, 24 to Akila Indiya Makkal Kalvi Munnetra Kazhagam and one to Muslim Munnetra Kazhagam. The BJP will contest the remaining 164. It has already announced its candidates for 141 seats. Tamilisai Soundararajan, chief of BJP's Tamil Nadu unit, will contest the elections from Virugampakkam. Puratchi Kavidasan, who merged his party Makkal Thamizhagam with BJP, will be contesting from the reserved constituency of Gandarvakottai.
Tamil Nadu Election BJP Fourth 4th Candidate List 2016 Click Here (Total 168 declared)
Compile Tamil Nadu BJP First, Second, Third and fourth Candidate List 2016(168 declared)

Other Important Links:
Click on Individual Assemblies to see comparitive analysis of past 4 elections held in Tamil Nadu Assembly Wise, Party Wise and Margin of win. There is a detailed analysis of Changing trends of each party in each past elections.