Uttarakhand Parliament constituency list, Uttarakhand, Uttarakhand, Parliament Constituency, Lok sabha Constituency, Parliament constituency list with vote margin, Assembly constituency, parliament constituency list of Uttarakhand, Uttarakhand Parliament,
Details

Parent Category: Political News
Last Updated:

Saturday, 05 December 2015 17:43
Uttarakhand Parliament constituency list:-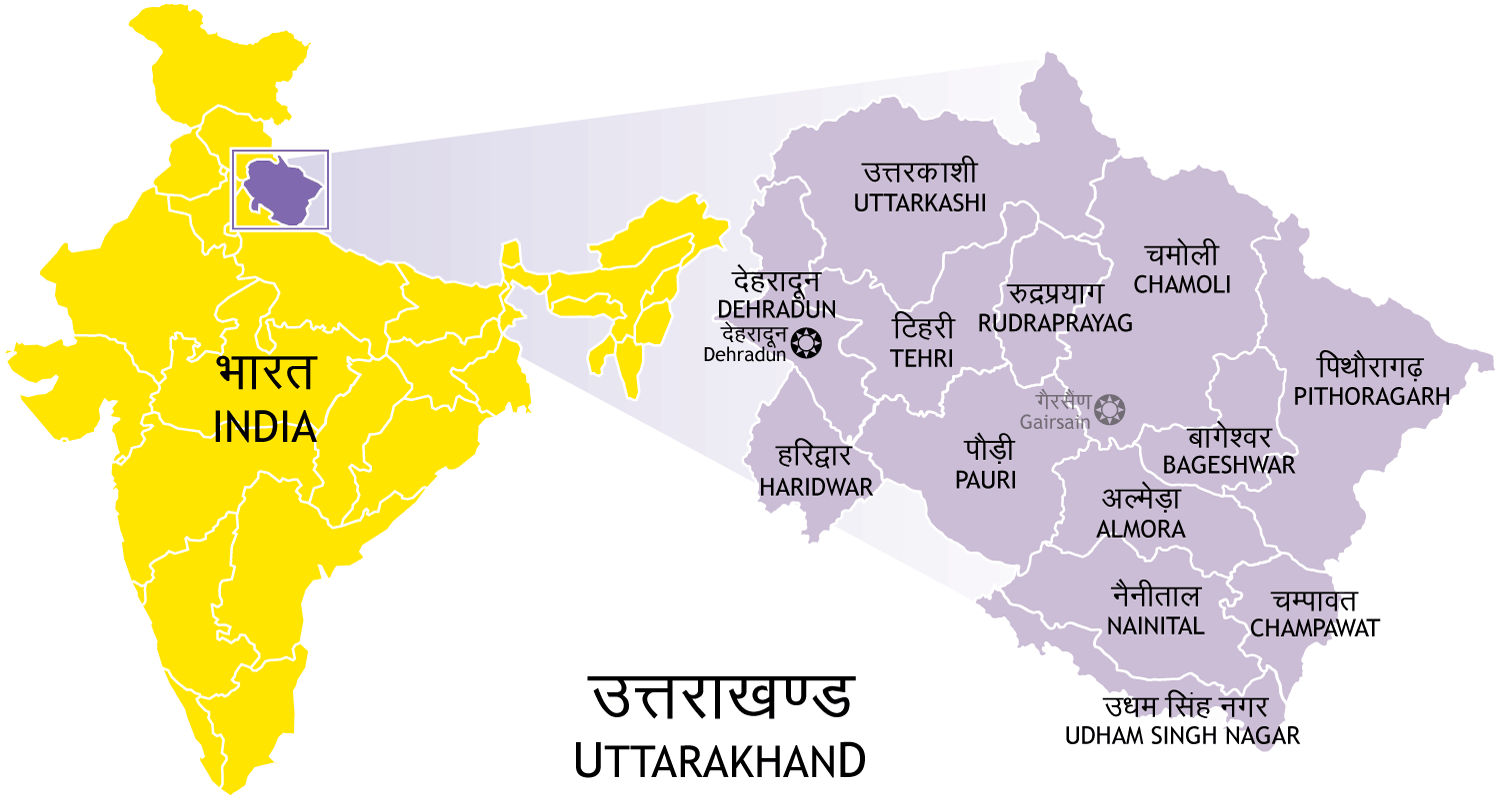 Lok Sabha, the lower house of the Parliament of India is made up of Members of Parliament (MPs). There are currently 543 constituencies. The maximum size of the Lok Sabha as outlined in the Constitution of India is 550 members made up of up to 530 members representing people of the states of India and Uttarakhand comprises of 5 parliamentary constituencies.
Uttarakhand (5)

Constituency

Constituency

Assembly constituency

1

Tehri Garhwal

Tehri Garhwal1. Purola 2. Yamunotri 3. Gangotri 4. Ghanshali 5. Pratapnagar 6. Tehri 7. Dhanaulti 8. Chakrata 9. Vikasnagar 10. Sahaspur 11. Raipur 12. Rajpur 13. Dehradun Cantt 14. Mussoorie

2

Garhwal

Garhwal4. Badrinath 5. Tharali 6. Karnaprayag 7. Kedarnath 8. Rudraprayag 10. Devprayag 11. Narendranagar 36. Yamkeshwar 37. Pauri 38. Srinagar 39. Chaubattakhal 40. Lansdowne 41. Kotdwar 61. Ramnagar

3

Almora

Almora42. Dharchula 43. Didihat 44. Pithoragarh 45. Gangolihat 46. Kapkot 47. Bageshwar 48. Dwarahat 49. Salt 50. Ranikhet 51. Someshwar 52. Almora 53. Jageshwar 54. Lohaghat 55. Champawat

4

Nainital-Udhamsingh Nagar

56. Lalkuan 57. Bhimtal 58. Nainital 59. Haldwani 60. Kaladhungi 62. Jaspur 63. Kashipur 64. Bazpur 65. Gadarpur

Nainital-Udhamsingh Nagar56. Lalkuan 57. Bhimtal 58. Nainital 59. Haldwani 60. Kaladhungi 62. Jaspur 63. Kashipur 64. Bazpur 65. Gadarpur66. Rudrapur 67. Kichha 68. Sitarganj 69. Nanak Matta 70. Khatima

5

Haridwar

31. Roorkee 33. Manglaur 30. Piran Kaliyar 32. Khanpur 34. Laksar 28. Bhagwanpur (SC) 29. Jhabrera (SC)

Haridwar31. Roorkee 33. Manglaur 30. Piran Kaliyar 32. Khanpur 34. Laksar 28. Bhagwanpur (SC) 29. Jhabrera (SC)26. BHEL Ranipur 27. Jwalapur (SC) 25. Haridwar 35. Haridwar Rural 18. Dharampur 23. Doiwala 24. Rishikesh