Chandigarh Municipal Corporation Elections 2016 Dates Results Ward List News Candidate Lists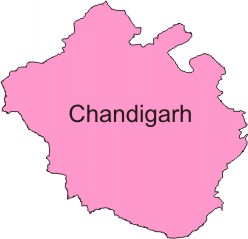 Municipal elections are supposed to be held in Chandigarh on 18th December and the counting of votes would be done on 20th December. The Election Commissioner of Chandigarh Shri Rakesh Mehta announed the elections date.
---
Chandīgarh Municipal Corporation election results (CMC) live Counting
| | |
| --- | --- |
| Party | 26/26 Seats |
| BJP | 21 |
| BSP | 0 |
| Congress | 4 |
| Others | 1 |
#Chandigarh Municipal Corporation election results 2016:


BJP won 20, INC-4 , Akali dal-1, IND-1; out of the total of 26 seats

BJP Wins 4/26 wards till now

HS Lucky lost ward no 1. BJP Candidate Mahesinder Singh Sidhu won Ward No 1

Anil Dubey won ward no 24,

BJP councillor Asha Jaswal wins ward no 17 and

Gurpreet Singh Dhillon won from ward no 21.

Heera Negi from BJP won by a margin of 1716 votes from Ward 13.
Read More: Chandigarh Municipal Council Ward Wise Winner List 2016
---
About Chandigarh Municipal Corporation Live Voting 2016
Voter Turnout: 57.19%

Voting started today for CMC. Time of voting: 8 am to 5 pm. Highest voters in Ward 23 -33,113

Lowest No. of voters in Ward 3-12,668

4,000 police personnel will remain on duty.

122 candidates from 26 wards

Counting on December 20
1 Dec 16: Punjab civic polls: Candidates of BJP & Congress file nomination papers
Read More:BJP SAD Candidates List for 26 Ward Chandigarh MC 2016
Read More:INC Candidates List for 26 Ward for Chandigarh MC Elections 2016
Read More: CPI(ML) Candidate List & BSP Candidate List & CMC Ward List
Chandigarh Municipal Corporation Elections Schedule

2017 Announced:
Chandigarh Local Body Election Dates 2017

Event

Dates

Filling of Nomination

22 Nov to 29 Nov

Scrutiny of Nomination

30 Nov

Last Day of candidates Withdrawl

3rd Dec

Voting

18th Dec

Results

20th Dec
About Chandigarh Municipal Corporation Elections 2016
Campaigning would be allowed till 5 PM on December 17.

There are 26 wards in Chandigarh in which the elections will be held. There are 5,07,190 voters in the city, out of whom 2,70,358 are male and 2,36,819 are female and 13 of them are third gender. There are about 460 polling booths.

All the 26 wards have been divided between seven returning officers before whom nominations will be submitted. The nominations will be filed between 11 am and 3 pm on all the working days.

A security of Rs 6,000 for each candidate will be deposited in cash with the returning officer at the time of filing nomination papers and Rs 3,000 in case of a Scheduled Caste candidate.

There will be three election observers and three election expenditure observers.

If a contesting candidate has to hold meetings, the party or the candidate will have to inform the local police authorities about the venue and time for any proposed meeting well in time. No mikes or speakers will be allowed after 10 pm. If a procession has to be taken out, the party or candidate will have to inform the police about it.
Chandigarh Municipal Corporation Elections 2016 Ward List
Ward No.

Name of the Councillor

((Elected)

Sector & Other Areas

1

Smt Raj Bala Malik

1,2,3,4,5,6,7,8,9,10,11

2

Sh. Saurabh Joshi

12,14 and 15 and Khuda Lahora Colony

3

Sh. Pradeep Chhabra

16,17 and 22

4

Smt. Asha Kumari Jaswal

23 and 24 and 36

5

Mr Subhash Chawla

25, Kumhar Colony, Janta Colony, Sector 25 (West),LIG Colony Dhanas, Milkman Colony & Housing EWS Dhanas, Site & Service Dhanas, (Aman, Chaman & Ambedkar Colony)

6

Sh.Sat Parkash Aggarwal

Dadu Majra Colony, Dadu Majra and Shah Pur

7

Smt Poonam Sharma

Maloya, EWS Colony, Maloya, West of Sector 39 and Grain Market

8

Mr Arun Sood

37,38 and 38 (West)

9

Smt Gurbax Rawat

39 and 40

10

Sh. Hardeep Singh

41, Buterla,42 and Attawa

11

Sh.Darshan Kumar

53 (Nehru Colony),54,55(Housing Board), 55 Indira, Kamal and Adarsh Colomy, Furniture Shops Sector 56, Rehablilitation Colony Palsora and Village Palsora

12

Smt. Sheela Devi

43,52, EWS LIG Colony, 61 and Kajheri

13

Sh. Harphool Chander Kalyan

49,50,51 (Nizam Pur Burail), Colony No.5 Secctor 51 Brick-Kilin, Nizampur Kumbra, Sector 51, Sub Jail, Nimpur Kumbra and Sector 63

14

Smt. Kashmiri Devi

45 and Burail

15

Smt.Harjinder Kaur

34,35 and 44

16

Sh. Rajesh Kumar Gupta

20 and 33

17

Sh. Mukesh Bassi

18,19 and 21

18

Sh. Satinder Singh

27,28 and 30

19

Sh. Naresh Kumar

26,26-E Bapudham Trangt Camp II PhaseII, Sector 26-E, Transport Area, Sector 26-E,EWS Housing Board, Bapudham Trangt, Camp I, Phase I, Bapudham Trangt, Camp III Phase III and Madarsi Colony (HUTS)

20

Sh. Satish Kumar

29, Industrial Area Phase I, Industrial Area, Phase-I Sanjay Colony (SLUM), Industrial Area Phase I and Industrial Area(Phase I Colony No.4)

21

Smt. Heera Negi

32 and 46

22

Sh. Davesh Moudgil

31,47,48, Industrial Area and Phase-II Entire

23

Smt. Jannat Jahan Ul-Haq (Naina)

Karson Colony, Phase II Ramdarbar, Indira Awas Colony, Hallo Majra, Bair-Majra, Faidan-Burail and Char-Taraf-Burail.

24

Smt. Rajinder Kaur

Mauli Complex (Railway Colony), Ambedkar Avas Yojna, Mauli Complex (Charan Singh Colony), Bhagat Singh Colony, Vikas Nagar, Shivalik Enclave and Mauli Complex (Housing Board).

25

Sh. Gurcharan Dass

Old Manimajra (NAC), Shanti Nagar, Mari Wala Town, Thakur Dwara, Chandigarh Housing Complex) and Mohalla Govindpura.

26

Sh. Des Raj Gupta

Dhilon complex, Motor Market Pocket No. 8, Darshani Bagh, Subhash Nagar, Adarsh Nagar, Pipli Wala Town, Gawala Colony, Indira Colony(Rehabilitation), Old Indira Colony Race Course and I.T. Park.
Chandigarh Nominated Councllors
| | |
| --- | --- |
| Sr No. | Nominated Councillors |
| 1 | Mr Anoop Sunny Gill |
| 2 | Prof. Aruna Goel |
| 3 | Prof. Dr. (Mrs.) Amrit Tewari |
| 4 | Sh. Babu Lal, IAS (Retd.) |
| 5 | Maj. (Retd) D.S. Sandhu |
| 6 | Sh. M.P. Kohli |
| 7 | Sh. Sat Paul Bansal |
| 8 | Smt Shagufta Parveen |
| 9 | Sh. Surinder Bahga |
---