Karnataka Council of Ministers, Karnataka Cabinet Minister 2013, 2014, 2015, 2016, 2017, 2018 Karnataka Cabinet Minister Portfolio List, Who is who Karnataka government, Karnataka Cabinet Ministers, Portfolio of Karnataka 2013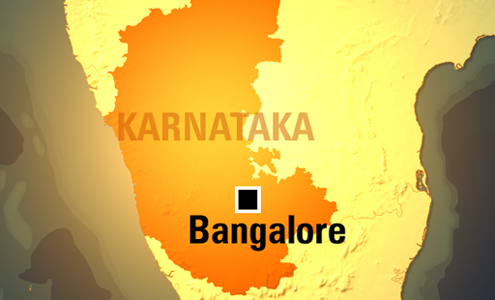 Veteran Congress leader Kagodu Thimmappa has been made the speaker of the Assembly. Siddaramaiah, who took the charge as the chief minister of the state on Monday, went to Delhi after the swearing in ceremony to meet the party leadership to finalise on his cabinet.
The Congress came to power in Karnataka after seven years by defeating the Bharatiya Janata Party (BJP) in the recent state Assembly elections. The BJP suffered a humiliating defeat in the assembly elections with the Congress winning 121 in the 224-member Assembly. The polling of the Periyapatna constituency in Mysore district has been postponed to 28 May due to the demise of BJP candidate Sannamoge Gowda.
Twenty were made Cabinet Ministers and eight Ministers of State.
They were administered oath of office by Governor HR Bhardwaj at a ceremony at Glass House at Raj Bhavan. Here is the complete list of CM Siddaramaiah's Cabinet:
Cabinet Minister of State

NAME

PORTFOLIOS

ROOM

EXTN

OFFICE

RES

Shri Siddaramaiah(Chief Minister)

a)DCA b)Department of Personnel & Administrative Reforms c)Finance Department d)HOME(Intelligence) e)Urban Development(B'LORE CITY) f)MINES & GEO g)SERICULTURE h)INDUSTRIES(L&M) i)Excise

323A

3261

22253414 22253424

Cauvery: 22252634 22205277Fax: 22343740

Shri R.V. Deshpande

a)Higher Education b)Tourism

314 314A

3448

22250637

23335988 22251575 22255972

Shri Qamar ul Islam

a)Municipalities & Local Administration b)Bodies (CMCs, TMC & TPs) c)Public Enterprises d)Minorities Welfare

317 3I7A

3234

22253835

22343098

Shri T.B. Jayachandra

a)Law b)Justice & Haman Rights c)Parliamentary Affairs & Legislation d)Muzrai

327 327A

3439

22254661

23412101 23413743

Shri B. Ramanatha Rai

a)Forest b)Ecology & Environment

305 305A

3564

222550

22254967

Shri H.K. Patil

Rural Development & Panchayat Raj

329 329A

3492

22258094

22200642 23513662

Shri Ramalinga Reddy

Transport

141 Vks

4010

22371240

22237240

Shri Shamanur Shivashankarappa

a)Agriculture Marketing b)Horticulture

342 341A

3413

22253751

Shri V. Srinivasa Prasad

Revenue

315 315A

450

22252536

222537257

Dr. H.C. Mahadevappa

Public Works

330 330A

3405

22258489

23511655

Shri K.J. George

Home

316 316A

3489

22251798

40406508

Shri H.S. Mahadeva Prasad

Co-operation & Sugar

328 328A

3719

22251176

22259186

Shri M.H. Ambareesh

Housing

262 262A

3897

22253631

26592791

Shri Vinay Kumar Sorke

a)Urban Development (City Corporations) b)KUWD & DB c)KUIDFC d)Town Planning e)Land Transport

442 443vks

5090

2225728

Shri M.B. Patil

Major & Medium Irrigation

344 344A

3426

22251568

23611924

Shri Satish Laxmamarao Jarkiholi

Small Scale Industries

343 343A

3475

22259183

22252448 22281022

Shri U.T. Khader

Health & Family Welfare

344 345

4783

22383418

Shri Baburao Chinchansur

Textiles, Ports & Inland Transport

339 339A

3167

22253578

Shri Shivaraj Sangappa Tangadagi

Minor Irrigation

337

3228

22253651

Shri H. Anjaneya

a)Social Welfare b)Backward Classes Welfare

340 341

3988

22353104

23335978

Shri S.R. Patil

a)Planning b)IT-RTT

444 445

4568

22250388

2220063

Shri D.K. Shivakumar

Energy

336

3496

22258004

23617700 23619000 23617000

Shri R. Roshan Baig

a)Infrastructure Development b)Information & Public Relations c)Haj

38 39 Vks

4264

22252292

25360050

State Ministers of state

NAME

PORTFOLIOS

ROOM

EXTN

OFFICE

Shri K. Abhayachandra Jain

a)Youth Services b)Fisheries

207

3501

22259181

Shri Dinesh Gundu Rao

Food, Civil Supplies & Consumer Affairs

242 243

4647

2225896

Shri Krishna Byre Gowda

Agriculture

244 vks

4439

22256093

Dr. Sharan Prakash Rudrappa Patil

Medical Education

231 232

3032

22259182

Shri Kimmane Ratnakar

Primary & Secondary Education

244 245A

3009

22251639

Smt. Umashree

a)Women & Child Development b)Empowerment of Differently Abled &Senior Citizens c)Kannada & Culture

252 253A

3469

22255282

Shri P.T. Parameshwara Naik

Labour

237 238A

3454

22258583