Tamil Nadu Assembly Election INC Candidate List 2016, Tamil Nadu Congress Vidhan Sabha Contesting Candidate, Tamil Nadu Election candidate list, Complete Congress candidate List 2016, Tamil Nadu election ticket declared, Tamil Nadu election Complete Candidate List 2016, Congress releases candidate List for Tamil Nadu, INC Tamil Nadu Election Candidates List Constituency Wise, Tamil Nadu Vidhan sabha election 2016, Tamil Nadu assembly election candidate list 2016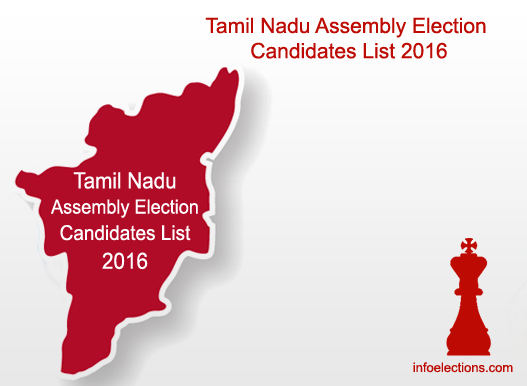 Find list of Congress candidates who are contesting in Tamil Nadu Vidhan Sabha Election 2016 from the different assembly constituencies of Tamil Nadu.
Also Read:
Congress released the names of 33 out of 41 seats it is contesting as part of the DMK-led coalition, a list that has a mix of known faces and loyalists.
Congress gets 41 seat.

The number of seats allocated to the other allies in the DMK led front: Congress (41)IUML (5) MMK (5), Puthiya Thamizhagam (4) and Makkal DMDK (3).
Here's the Tamil Nadu congress first & second candidate list:
AC No.

AC Name

Name of Candidates

3

Tiruttani

A.G. Chidambaram

8

Ambattur

Hasan Maulana

17

Royapuram

A. Mano

39

Sholingur

A.M. Munirathinam

55

Hosur

K. Gopinath

65

Kalasapakkam

Chengam G. Kumar

82

Attur

S.K. Arthanari

87

Sankari

T.K. Rajeswaran

94

Namakkal

Dr. R. Cheziyan

101

Dharapuram (SC)

V.S. Kalimuthu

106

Gobichettipalayam

S.V. Saravanan

116

Sulur

V.M.C. Manokaran

120

Coimbatore (South)

Mayura S. Jayakumar

133

Vedasandur

R.Sakthivel Gaunundar

135

Karur

K. Subramanian

141

Tiruchirappalli (East)

G. Jerome Arokiyaraj

145

Musiri

S.Vijaya Babu

150

Jayankondam

G.Rajendran

159

Kattumannar koil (SC)

Dr.K.J. Manirathnam

165

Vedaranyam

P.V. Rajendran

169

Nannilam

S.M.P. Dhuraivelan

172

Papanasam

T.R. Loganathan

176

Pattukkottai

K. Mahendran

183

Aranthangi

S.T. Ramachandran

184

Karaikudi

K.R. Ramasamy

191

Madurai North

V. Karthikeyan

196

Thirumangalam

R. Jayaram

212

Mudukulathur

S. Pandy

222

Tenkasi

Palani Nadar

227

Nanguneri

H. Vasanthkumar

231

Colachel

J.G. Prince

233

Vilavancode

Vijaydharani

Tamil Nadu Congress Secod candidate list

7

Maduravoyal

Nasey R Rajesh

25

Mylapore

Karate R Thiyagarajan

35

Sriperumbudur (SC)

K Selvaperunthagai

68

Cheyyar

Dr M K Vishnuprasad

107

Kangayam

P Gopi

205

Sivakasi

Sreeraj Chokkar

216

Srivaikuntam

Rani Venkatesan

234

Kiliyoor

S Rajeshkumar
Click on Individual Assemblies to see comparitive analysis of past 4 elections held in Tamil Nadu Assembly Wise, Party Wise and Margin of win. There is a detailed analysis of Changing trends of each party in each past elections.
Click here for Complete Assembly Wise Tamil Nadu Election Result ...
Tamil Nadu Congress Secod candidate list

7

Maduravoyal

Nasey R Rajesh

25

Mylapore

Karate R Thiyagarajan

35

Sriperumbudur (SC)

K Selvaperunthagai

68

Cheyyar

Dr M K Vishnuprasad

107

Kangayam

P Gopi

205

Sivakasi

Sreeraj Chokkar

216

Srivaikuntam

Rani Venkatesan

234

Kiliyoor

S Rajeshkumar