Candidate list for Assembly, Municipal, Panchayat, By(Bye) election India 2016 2017, BJP INC AAP BSP SP CPI(M) NCP Candidate list
Details

Category: Candidate List
Last Updated:

Tuesday, 29 March 2016 19:07
Assam Assembly Election BJP Candidate List 2016, Assam BJP Vidhan Sabha Contesting Candidate, Assam Election candidate list, Complete BJP candidate List 2016, Assam election ticket declared, Assam election Complete Candidate List 2016, BJP releases candidate List for Assam, BJP Assam Election Candidates List Constituency Wise, Assam Vidhan sabha election 2016, Assam assembly election candidate list 2016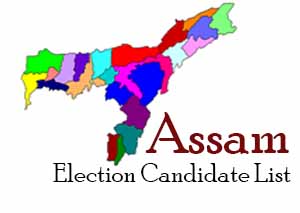 Find list of BJP candidates who are contesting in Assam Vidhan Sabha Election 2016 from the different assembly constituencies of Assam.
In Assam INC has been ruling for last 15 years and this time there are fair chances of BJP winning with BJP making startegic alliances with AGP and other parties and making all possible moves to win the elections.
Out of 126 constituencies, BJP would contest in 84 and leave 42 for its four allies:-
AGP (24), BPF (16) , Rabha Jatiya Aikya Manch (1) and Tiwa Jatiya Aikya Manch (1).

In six constituencies, BJP would go for 'friendly contest' with its allies AGP and BPF. There are 20 candidates whose ages are below 40 years," said Himanta Biswa Sarma.
Jorhat MP, Kamakhya Prasad Tasa, will contest against Congress stalwart and chief minister Tarun Gogoi in Titabar constituency. Elections will be held in two phases; the first phase will include 65 constituencies and will begin on April 4. The second phase will include 61 constituencies and the will begin on April 11.
Find Complete Compiled BJP First Candidate List of 88 Candidates below
Read Assam Election Opinion Poll to know who is winning this time in Assam Assembly Elections 2016.
Also Read : Assam Assembly Election Schedule Released.
Other Party Candidate Lists
Also Read on Assam Assembly Election :
Click on Individual Assemblies to see comparitive analysis of past 4 elections held in Assam Assembly Wise, Party Wise and Margin of win.

Following Below is Complete BJP Candidate List for Assam Assembly Elections 2016