Kerala Assembly Election Schedule 2016, Kerala State Election 2016 Announced, Kerala Vidhan Sabha Election Dates, Kerala Election Schedule 2016, Kerala Assembly Election Phase Dates, Voting Election Result Date 2016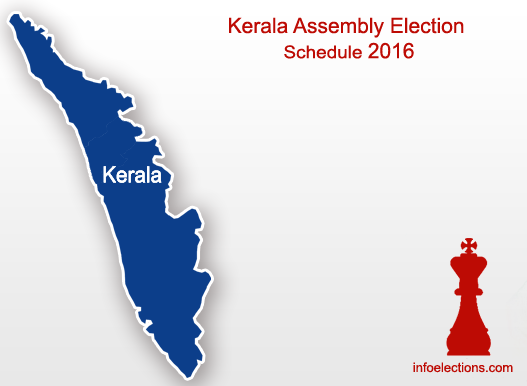 Assembly elections in kerala, where BJP is set for a battle against a united INC, are likely to be held sometime in Apr - May 2016.
Kerala Assembly Election Polling to be held in single phase

Live Updates: Kerala Assembly Election 2016
KeralaPolls2016: 71.7% total voter turnout recorded.
Polling Date: 16th May
The Election Commission of India is expected to make a formal announcement about the schedule after the Budget session of Parliament ends on February 29.
The Election Commission is likely to declare the dates along with the poll schedule of the four other states headed for Assembly polls this summer — Kerala, Tamil Nadu, Pondicherry and Assam. Read More here
Also Read:
The Schedule Would be Published here in the below table. The Schedule should come out by March 2016 end.
Election Commission of India (ECI) is likely to release in the first week of March the schedule for conducting Assembly polls in five States including Tamil Nadu, Kerala, West Bengal, Assam and Puducherry.
Click here to read more on Election Schedule News.
S. No.

Poll Event

Dates

( All 234 ACs)

1

Issue of Notification

22.04.2016 (FRI)

2

Last date for making Nominations

29.04.2016 (FRI)

3

Scrutiny of Nominations

30.04.2016 (SAT)

4

Last date for withdrawal of candidature

02.05.2016 (MON)

5

Date of Poll

16.05.2016 (MON)

6

Counting of Votes

19.05.2016 (THU)

7

Date before which election process shall be completed

21.05.2016 (SAT)
Click on Individual Assemblies to see comparitive analysis of past 4 elections held in Kerala Assembly Wise, Party Wise and Margin of win. There is a detailed analysis of Changing trends of each party in each past elections.