Rahul Gandhi Fight against BJP candidate Smriti Irani From Amethi in General election 2014, Indian general election, 2014, Amethi, Indian general election, 2009: Amethi, Rahul Gandhi, Rahul Gandhi in Election Fray, BJP Vs Congress in Amethi, Amethi Vote
Details

Parent Category: Political News
Last Updated:

Thursday, 22 January 2015 20:57
Rahul Gandhi:-
---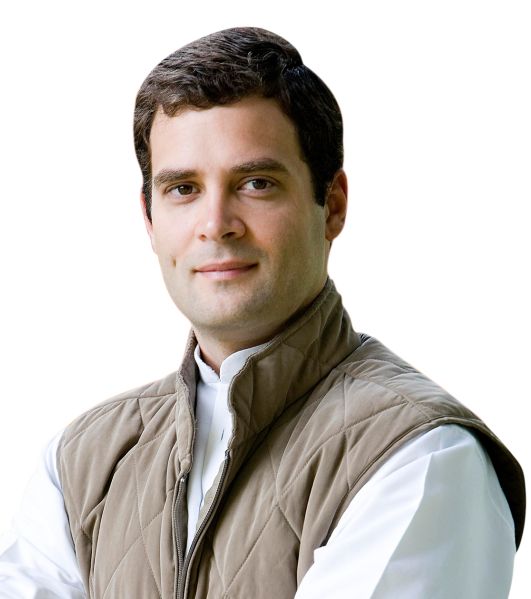 Indian general election, 2014: Amethi


Party

Candidate

%

AAP

Kumar Vishwas

 

INC

Rahul Gandhi

 

BJP

Smriti Irani

 

BSP

Dharmendra Pratap Singh

 
---
Rahul Gandhi questions source of funds for Narendra Modi's campaign
Amethi (UP): Attacking BJP and Narendra Modi over election expenditure, Rahul Gandhi on Saturday alleged that corporates were pumping money into the saffron party's campaign and asked it come clean on the source of funds. "They (BJP) do politics of two-three corporates as they gift them 'mota paisa' (hefty money). From where is the money for big cutouts and posters coming," Gandhi, who arrived in his constituency for a two-day campaign, said at an election rally.
Cowards distributing dirty material about my family: Priyanka Gandhi
The BJP has decided to go all guns blazing against Congress vice president Rahul Gandhi and is leaving no stone unturned to defeat the Gandhi family scion.

 

Senior BJP leader and Leader of Opposition in Lok Sabha Sushma Swaraj will campaign for party colleague Smriti Rani, who is contesting against Rahul from the Amethi Lok Sabha constituency.
Indian general election, 2009: Amethi

Party

Candidate

Votes

%

INC

Rahul Gandhi

4,64,195

71.78

 

BSP

Asheesh Shukla

93,997

14.54

 

BJP

Ashok Kumar Singh

37,570

5.81

 

Independent

Sri Ram

12,320

2.09

 

AD

Udai Raj Maurya

11,280

1.91

 

Majority

3,70,198

57.24

Turnout

6,46,650