Tamil Nadu Assembly Election Schedule 2019, Tamil Nadu State Election 2019 Announced, Tamil Nadu Vidhan Sabha Election Dates, Tamil Nadu Election Schedule 2019, Tamil Nadu Assembly Election Phase Dates, Voting Election Result Date 2019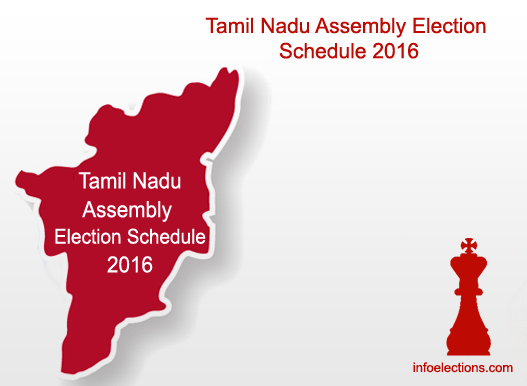 This Year TamilNadu Elections have been scheduled to be held in a single Phase. Date of Voting is 16th May, Last date to submit nomination is 29 April and Last date of Withdrawl of nomination is 2nd May 2016 and counting of votes in 19th May 2016.

Tamil Nadu assembly elections in 1 phase :
Polling on May 16, 2016
Assembly elections in Tamil nadu, where AIADMK is set for a battle against a united DMK+ and DMDK+ are to be held on 16th May 2016 and the results would be announced on 19th May 2016.
The Election Commission has declared the dates along with the poll schedule of the four other states headed for Assembly polls this summer — West Bengal, Kerala, Tamil Nadu, Pondicherry and Assam. The Election Commission of India has made formal announcement about the schedule that us confirmed to be on 16th May. All 234 Contituencies will go on polls on same day. And Results would be announced on 19th May.
Read : Watch Live Updates of Tamil Nadu Assembly Election voting updates
Tamil Nadu Assembly Elections: 73.76% total voter turnout
Read: Tamil Nadu Polls 2016 Candidates Details Facts Background
Read: List of Constituencies and Candidates party wise for Tamil Nadu election 2016
Important Highlights in Elections this year
The photographs of all candidates will be included along with their name and the symbol on the EVMs. This has been done to eliminate confusion for voters, Mr. Zaidi said.
For the first time a symbol, NOTA (None of the above) option will be placed at the bottom of the list of candidates.
All booths will have seven basic facilities and there will also be all-women polling booths.
Click here to read more on Election Schedule News.
S. No.

Poll Event

Dates

( All 234 ACs)

1

Issue of Notification

22.04.2016 (FRI)

2

Last date for making Nominations

29.04.2016 (FRI)

3

Scrutiny of Nominations

30.04.2016 (SAT)

4

Last date for withdrawal of candidature

02.05.2016 (MON)

5

Date of Poll

16.05.2016 (MON)

6

Counting of Votes

19.05.2016 (THU)

7

Date before which election process shall be completed

21.05.2
Other Tamil Nadu Election Related Links:
Know all Tamil Nadu MLA Details
Click on Individual Assemblies to see comparitive analysis of past 4 elections held in Tamil Nadu Assembly Wise, Party Wise and Margin of win.
Here's the Compile Tamil Nadu Candidate List Party wise for Assembly Polls 2016
| | | | | | | | |
| --- | --- | --- | --- | --- | --- | --- | --- |
| AC No. | AC Name | AIADMK | DMK | BJP | CONGRESS | DMDK | MDMK |
| 28 | Alandur | Panruti S Ramachandan | Anbarasan | Shri Sathyanarayanan DR | -- | Chandran | -- |
| 182 | Alangudi | Gnana Kalaiselvan | Dr. Satish | -- | -- | -- | Chandrasekaran |
| 223 | Alangulam | FC Karthikeyan | Dr. Poonkothai aladi Aruna | Shri Anburaj SV | -- | Rajendran | -- |
| 225 | Ambasamudram | R Murugaiah Pandian | Aavudaiyappan | -- | -- | -- | -- |
| 8 | Ambattur | V Alexander | -- | -- | Hasan Maulana | Kaanstalandan | -- |
| 48 | Ambur | R Balasubramani | -- | Venkadesan KO | -- | -- | -- |
| 44 | Anaikattu | M Kalai Arasu | Nadhakumar | -- | -- | -- | -- |
| 198 | Andipatti | Thanga Tamilselvan | S.mukkaiya | Shri Chakkaravarthi. S.R | -- | Krishnamoorthy | -- |
| 21 | Anna Nagar | S Gokula Indira | Mohan | Shri Suresh Karuna | -- | -- | Malaika |
| 105 | Anthiyur | EMR Raja alias Raja Krishnan | A.G.venkatacalam | Shri Mohankumar PG | -- | -- | -- |
| 38 | Arakkonam (SC) | S Ravi | S.Bavani | Shri Vijayan C | -- | -- | -- |
| 67 | Arani | Sevur S Ramachandran | S.Babu | Shri Gopi P | -- | Babu Murugavel | -- |
| 183 | Aranthangi | EA Rathina Sabapathi | -- | -- | S.T. Ramachandran | -- | -- |
| 134 | Aravakurichi | V Senthil Balaji | K.C.Palanisamy | -- | -- | -- | Kalaiyarasu |
| 42 | Arcot | KV Ramadoss | -- | -- | -- | -- | Udhayakumar |
| 149 | Ariyalur | Thamarai S Rajendran | Sivasankar | -- | -- | Jayavel | -- |
| 207 | Aruppukkottai | Mr Vaigaiselvan | Ramachandran | Shri Vetrivel R | -- | -- | -- |
| 129 | Athoor | Natham R Viswanathan | -- | Shri Ilanchelian SP | -- | -- | -- |
| 82 | Attur (SC) | RM Chinnathambi | Periyasami | -- | S.K. Arthanari | -- | -- |
| 6 | Avadi | Ma Foi K Pandiyarajan | Nasar | Loganathan J | -- | -- | Andhiridass |
| 112 | Avanashi (SC) | P Dhanapal | Anantan | Shri Perumal. C | -- | -- | -- |
| 52 | Bargur | C Vee Rajendran | E.C.Govindarajan | -- | -- | -- | -- |
| 104 | Bhavani | KC Karuppanan | Sivakumar | Sidhivinayagam | -- | -- | -- |
| 107 | Bhavanisagar (SC) | S Easwaran | R.sattiya | Palanichamy Nr | -- | -- | -- |
| 157 | Bhuvanagiri | Selvi Ramajayam | Durai Saravanan | -- | -- | -- | -- |
| 200 | Bodinayakanur | O Panneerselvam | Lachmanan | Venkadeswaran V | -- | -- | -- |
| 32 | Chengalpattu | R Kamalakannan | M.Varalakshmi madhu sudan | -- | -- | Murugeshan | -- |
| 62 | Chengam (SC) | M Dinakaran | Giri | -- | -- | -- | -- |
| 19 | Chepauk-Thiruvallikeni | A Noorjahan | J.Anbalagan | Shri Thamarrai Gajendran | -- | -- | -- |
| 68 | Cheyyar | Thoosi K Mohan | -- | Baskaran B | Dr M K Vishnuprasad | Saravanan | -- |
| 34 | Cheyyur (SC) | A Munusamy | R.D.Arasu | Shri Sampathraj P | -- | -- | -- |
| 158 | Chidambaram | KA Pandiyan | K.R.Sentilkumar | Shri Manimaran. G | -- | -- | -- |
| 118 | Coimbatore (North) | PRG Arun Kumar | Meena logu | Shri Kannan (A)Devaraj S | -- | -- | -- |
| 120 | Coimbatore (South) | Amman K Arjunan | -- | Smt. Vanathi Seenivasan | Mayura S. Jayakumar | -- | -- |
| 231 | Colachal | KT Pachaimal | -- | Ramesh. P | J.G. Prince | -- | Sampath Chandra |
| 110 | Coonoor | A Ramu (Santhi A Ramu) | Mumuparak | Shri Kumaran B | -- | Chidambaram | -- |
| 155 | Cuddalore | MC Sampath | Pugalenthi | Shri Selvam P | -- | -- | -- |
| 201 | Cumbum | STK Jakkaiyan | Ramakrishnan | Shri Prabaharan | -- | -- | -- |
| 101 | Dharapuram (SC) | K Ponnusamy | -- | Shri Shanmugam N | V.S. Kalimuthu | -- | Thiruvalluvan |
| 59 | Dharmapuri | Vanniyar | -- | Shri Arumugam | -- | Elangovan | -- |
| 132 | Dindigul | C Srinivasan | Pasir Ahmed | Shri Thirumalaibalaji | -- | -- | -- |
| 11 | Dr.Radhakrishnan Nagar | Jayalalithaa Jayaram | Simla Mrs.Muthu cholan | Shri MN Raja | -- | -- | -- |
| 86 | Edappadi | K Palanisamy | Edappadi P.C.Murukecan | -- | -- | -- | -- |
| 16 | Egmore (SC) | Parithi Ellamvazhuthi | Ravichandran | Shri Venkadesan M | -- | -- | -- |
| 98 | Erode (East) | KS Thennarasu | -- | Rajesh Kumar P | -- | -- | -- |
| 99 | Erode (West) | K V Ramalingam | S.muttusamy | Palanichamy NP | -- | -- | Murugan |
| 178 | Gandharvakottai (SC) | Narthanmalai P Arumugam | Dr. k.anparasan | Shri Puratchi Kavidasan | -- | -- | -- |
| 81 | Gangavalli (SC) | A Maruthamuthu | Reka priyadharsini | Smt. Sivakami Pramasivam | -- | -- | -- |
| 70 | Gingee | A Govindasamy | -- | M.S.Rajendran | -- | -- | Mani |
| 106 | Gobichettipalayam | KA Sengottaiyan | -- | Er. K. Ganapathi | S.V. Saravanan | -- | -- |
| 109 | Gudalur (SC) | S Kalaichelvan | Tiravitamani | Shri Anbu Alias Anbarasan | -- | -- | -- |
| 46 | Gudiyattam (SC) | C Jayanthi Padmanabhan | Rajamarthandam | -- | -- | -- | -- |
| 1 | Gummidipundi | KS Vijayakumar | -- | Baskar M | -- | Geetha | -- |
| 18 | Harbour | K S Sreenivasan | -- | Shri Krishnakumar Nathani | -- | -- | -- |
| 61 | Harur (SC) | RR Murugan | S.Rajendran | Shri Vediyappan | -- | -- | -- |
| 55 | Hosur | P Balakrishna Reddi | -- | Balakrishnan G | K. Gopinath | -- | -- |
| 150 | Jayankondam | JKN Rama Jayalingam | -- | Shri Krishnamoorthy S | G.Rajendran | -- | Kandaswamy |
| 49 | Jolarpet | KC Veeramani | Kavitha Dhandapani | -- | -- | -- | -- |
| 221 | Kadayanallur | Sheikh Dawood (Tamil Maanila Muslim League) | -- | Kathirvel | -- | Kothai Mariyappan | -- |
| 65 | Kalasapakkam | V Panneerselvam | -- | -- | Chengam G. Kumar | Nehru | -- |
| 80 | Kallakurichi (SC) | A Prabhu | Kamaraj | -- | -- | -- | -- |
| 37 | Kanchipuram | Mythili Tirunavukkarasu | Elilarasan | Vasan T | -- | -- | -- |
| 102 | Kangayam | U Thaniyarasu (Kongu Ilaignar Peravai) | -- | Smt. Usha Devi | P Gopi | -- | -- |
| 229 | Kanniyakumari | N Thalavai Sundaram | -- | Smt.Meena Dev. M | -- | Perumal | -- |
| 184 | Karaikudi | Professor Karpagam Elango | -- | Smt. Muthulakshmi | K.R. Ramasamy | -- | Sevandhiyappan |
| 135 | Karur | MR Vijayabaskar | -- | Sivasamy. K | K. Subramanian | Ravi | -- |
| 40 | Katpadi | SRK Appu | Duraimurugan | -- | -- | -- | -- |
| 159 | Kattumannarkoil (SC) | MK Manikandan | -- | Dr. Saravanan S P | Dr.K.J. Manirathnam | -- | -- |
| 117 | Kavundampalayam | VC Arukutti | R.krishnan | Shri Nandakumar R | -- | -- | -- |
| 234 | Killiyoor | A Mary Kamala Bai | -- | Vijayaraghavan. PON | S Rajeshkumar | -- | -- |
| 64 | Kilpennathur | K Selvamani | K.Pichandi | -- | -- | -- | -- |
| 45 | K. V. Kuppam (SC) | G Logananthan | V.Amalu | Shri Vimala Ramachandran | -- | -- | -- |
| 164 | Kilvelur (SC) | N Meena | Mativanan | -- | -- | -- | -- |
| 122 | Kinathukadavu | A Shanmugam | Kurichi Prabhakaran | Shri Muthuramalingam | -- | -- | Eswaran |
| 13 | Kolathur | JCD Prabhakaran | M. K. Stalin | Shri Raghavan KT | -- | Madhivaanan | -- |
| 218 | Kovilpatti | Kadampur Raju | Subramaniyan | -- | -- | -- | Vaiko |
| 53 | Krishnagiri | V Govindaraj | D.Senkutavan | -- | -- | -- | -- |
| 136 | Krishnarayapuram (SC) | M Geetha | -- | Shri Navinkumar. P | -- | -- | -- |
| 137 | Kulithalai | R Chandrasekaran | Ramar | Shri Shathakkathulla N.K.N | -- | -- | -- |
| 97 | Kumarapalayam | P Thangamani | P.yuvaraj | Shri Easwaran. K | -- | -- | -- |
| 171 | Kumbakonam | Rathna | Anpalakan | Annamalai PL | -- | Paramasivam | -- |
| 148 | Kunnam | RT Ramachandran | Tankaturairaj | -- | -- | -- | -- |
| 156 | Kurinjipadi | Sorathur R Rajendran | M.R.K. Pannirselvam | Shri Sakthi Ganapathi | -- | Balamurugan | -- |
| 143 | Lalgudi | M Vijayamoorthi | Sountarapantiyan | -- | -- | -- | -- |
| 126 | Madathukulam | K Manoharan | Jeyaramakirusnan | -- | -- | -- | -- |
| 9 | Madavaram | D Dakshinamurthi | Sudarsanam | Shri RMR Janakiraman | -- | -- | -- |
| 193 | Madurai Central | M Jayapal | P.D.R.B. Thiyakarasan | Shri Karthic Prabhu | -- | Shivamuthukumar | -- |
| 189 | Madurai East | Thakkar R Pandi | Moorthy | Suseendran M | -- | -- | -- |
| 191 | Madurai North | Mr. Chellappa | -- | -- | V. Karthikeyan | Mujipur Rahman | -- |
| 192 | Madurai South | SS Saravanan | M.Balachandran | Smt. Mahalakshmi AR | -- | -- | Boominadhan |
| 194 | Madurai West | Sellu K Raju | Ko.Thalapathi | Shri Sasikumar. A | -- | -- | -- |
| 35 | Madurantakam (SC) | CK Thamizharasan (RPI) | -- | -- | -- | Thenarasu | -- |
| 7 | Maduravoyal | P Benjamin | -- | -- | Nasey R Rajesh | -- | -- |
| 71 | Mailam | K Annadurai | Dr.Masilamani | -- | -- | -- | -- |
| 144 | Manachanallur | Parameshwari Murugan | Kanesan | Shri Sethu Aravinth S | -- | Prabhu | -- |
| 187 | Manamadurai (SC) | S Mariappan Kennedy | Chitiraiselvi | Rajendran M | -- | -- | -- |
| 138 | Manapaarai | R Chandrasekar | -- | Shri Senthil Deepak | -- | -- | -- |
| 167 | Mannargudi | T Sudha | D.R.B.Raja | Shri Sivakumar @ Pettai Siva | -- | -- | -- |
| 161 | Mayiladuthurai | V Radhakrishnan | Kuthalam ka.anpalakan | Shri Muthukumar C | -- | ArulSelvan | -- |
| 188 | Melur | P Periyapullan alias Selvam | Ragupati | Shri Boopathy Kakkan P.V | -- | -- | -- |
| 111 | Mettuppalayam | OK Chinnaraj | Surentiran | Shri Jeganathan VP | -- | -- | -- |
| 85 | Mettur | Mr. Semmalai | -- | Shri Balasubraminiam | -- | -- | -- |
| 100 | Modakkurichi | VP Sivasubramani | Saccitanantam | Shri Krishnakumar | -- | -- | -- |
| 212 | Mudhukulathur | Keerthika Muniyasamy | -- | Shri BT Arasakumar | S. Pandy | -- | Rajkumar |
| 145 | Musiri | M Selvarasu | -- | -- | S.Vijaya Babu | -- | -- |
| 25 | Mylapore | R Natraj | -- | Shri Karu Nagarajan | Karate R Thiyagarajan | -- | -- |
| 163 | Nagapattinam | Mr. Manian | -- | Nethaji | -- | -- | -- |
| 230 | Nagercoil | Mr. Murugesan | -- | Gandhi. MR | -- | -- | Rani Celine |
| 94 | Namakkal | KPP Baskar | -- | -- | Dr. R. Cheziyan | -- | -- |
| 227 | Nanguneri | M Vijayakumar | -- | -- | H. Vasanthkumar | Jayabalan | -- |
| 169 | Nannilam | R Kamaraj | -- | -- | S.M.P. Dhuraivelan | -- | -- |
| 131 | Natham | S Shajahan | M.A.Aanti Ambalam | -- | -- | Karthikeyan | -- |
| 153 | Neyveli | R Rajasekar | Rajendiran | -- | -- | -- | -- |
| 130 | Nilakkottai (SC) | R Thangadurai | Anpalakan | Smt. Alagumani | -- | -- | -- |
| 128 | Oddanchatram | MJK | Sakkarapani | Palanichamy SK | -- | -- | -- |
| 84 | Omalur | S Vetrivel | Ammasi | -- | -- | Ilangovan | -- |
| 175 | Orathanadu | R Vaithilingam | S.S.Rajkumar | -- | -- | -- | -- |
| 217 | Ottapidaram (SC) | R Sundararaj | -- | Santhanakumar | -- | Arumugam | -- |
| 232 | Padmanabhapuram | KP Rajenthra Prasad | -- | Smt. Sheeba Prasad .S | -- | Jaganathan | -- |
| 57 | Palacodu | KP Anbazhagan | P.C.Murugan | -- | -- | Kaveri varman | -- |
| 127 | Palani | P Kumarasamy | Sentilkumar | MR Kanagaraj | -- | -- | -- |
| 226 | Palayamkottai | A Thamizh Mahan Hussain | D.B.M.Maitinkan | -- | -- | -- | Nizam |
| 115 | Palladam | Karaipudur A Natarajan | Kirusnamurtti | Thangaraj | -- | -- | Muthurathinam |
| 30 | Pallavaram | Ms. Saraswathi | E.Karunanithi | Dr. Gopi Ayyaswamy | -- | -- | Veeralakshmi |
| 154 | Panruti | Sathya Panneerselvam | -- | -- | -- | Sivakozhundhu | -- |
| 172 | Papanasam | R Duraikkanu | -- | Shri T. Gunasekaran | T.R. Loganathan | -- | -- |
| 60 | Pappireddippatti | P Palaniappan | Dr.M.J.Rajasekar | -- | -- | Baskar | -- |
| 209 | Paramakudi (SC) | Dr S Muthiah | Thisaiviran | Balaganapathy. PON | -- | -- | -- |
| 95 | Paramathi Velur | RR Rajendran | K.s.murtty | Shri Rajgounder ( A) Rajkumar | -- | -- | -- |
| 176 | Pattukkottai | CV Sekar | Periyannan arasu | Karuppu Muruganantham | K. Mahendran | SenthilKumar | -- |
| 58 | Pennagaram | K.P. Munusamy | Inbasekarn | Kandasamy KP | -- | -- | -- |
| 147 | Perambalur (SC) | Ilambai R Tamilselvan | -- | Shri Kaliaperumal | -- | -- | -- |
| 12 | Perambur | P Vetrivel | -- | Prakash | -- | -- | -- |
| 177 | Peravurani | M Govindarajan | N.Ashokkumar | Ilanko R | -- | -- | -- |
| 199 | Periyakulam (SC) | Professor K Kathirkamu | V.anbalakan | Shri Chellam K | -- | -- | -- |
| 103 | Perundurai | Thoppu NT Venkatachalam | K.P.samy | Shri Chandrasekar | -- | -- | -- |
| 123 | Pollachi | V Jayaraman | Tamilmani | Shri Sivakumar | -- | -- | -- |
| 66 | Polur | CM Murugan | K.V.Sekar | Smt.Tamilarasi Devadoss | -- | -- | -- |
| 2 | Ponneri (SC) | Siruniyam P Balaraman | Dr.Parimalam | Shri Ganesan K | -- | -- | -- |
| 162 | Poompuhar | A Natarajan | -- | -- | -- | -- | -- |
| 5 | Poonamallee (SC) | TA Elumalai | -- | Shri Amarnath | -- | -- | Kandan |
| 180 | Pudukkottai | VR Karthik | -- | -- | -- | Zaheer Hussan | -- |
| 228 | Radhapuram | GT Lawrence | Appavu | Smt. Kani Amutha | -- | Sivanandha Perumal | -- |
| 202 | Rajapalayam | AAS Shyam | Thankapantiyan | Shri Ramachandraraja | -- | -- | -- |
| 211 | Ramanathapuram | M Manikandan | -- | Shri Durai Kannan | -- | Singai Jinna | -- |
| 41 | Ranipet | Sumaithangi C Elumalai | R.Ghandi | Shri Nagaraj. V | -- | -- | -- |
| 92 | Rasipuram (SC) | Dr V Saroja | V.P.Duraisamy | Shri Kuppusamy | -- | -- | -- |
| 78 | Rishivandiyam | Kathir Thandapani | Vasandam Karthi | -- | -- | -- | -- |
| 17 | Royapuram | D Jayakumar | -- | Smt.Dr Jemila | A. Mano | -- | -- |
| 23 | Saidapet | C Ponaiyyan | M.Subramaniyan | Kalidass | -- | -- | -- |
| 89 | Salem (North) | KRS Saravanan | R.Rajentiran | Shri Gopinath | -- | -- | -- |
| 90 | Salem (South) | AB Shakthivel | M.kunasekaran | Annadurai | -- | -- | -- |
| 88 | Salem (West) | G Venkatachalam | C.pannirselvam | -- | -- | -- | -- |
| 87 | Sankari | S Raja | -- | Shri AC Murugesan | T.K. Rajeswaran | -- | -- |
| 219 | Sankarankovil (SC) | VM Rajalakshmi | Anbumani Ganesan | -- | -- | -- | Sathinthir umalaikumar |
| 79 | Sankarapuram | P Mohan | Udhayasuriyan | -- | -- | -- | -- |
| 204 | Sattur | Ethirkottai S Subramanian | Srinivasan | Gnanapandithan P | -- | -- | Rahman |
| 93 | Senthamangalam (ST) | C Chandrasekaran | K.ponnusami | -- | -- | -- | -- |
| 190 | Sholavandan (SC) | K Manickam | Dr. sripriya Thenmozli | Palanivelsamy S | -- | -- | -- |
| 39 | Sholingur | NG Parthipan | -- | -- | A.M. Munirathinam | -- | -- |
| 27 | Sholinganallur | Leo N Sundaram | Aravind ramesh | -- | -- | -- | -- |
| 121 | Singanallur | Singai N Muthu | karttik | Cr Nandakumar | -- | -- | Arjunraj |
| 160 | Sirkazhi (SC) | PV Bharathi | Killai Ravindran | Shri Ilavalgan MRS | -- | Umanath | -- |
| 186 | Sivaganga | G Baskaran | Sathyanathan | -- | -- | -- | -- |
| 205 | Sivakasi | KT Rajenthra Bhalaji | -- | Shri Parthasarathy G | Sreeraj Chokkar | Sudhakaran | -- |
| 29 | Sriperumbudur (SC) | K Palani | -- | Shri Manoharan | K Selvaperunthagai | -- | -- |
| 139 | Srirangam | S Valarmathi | Palaniyanti | Shri A. Rajeshkumar | -- | -- | -- |
| 216 | Srivaikuntam | S P Shamuganathan | -- | Shri Selvaraj | Rani Venkatesan | -- | -- |
| 203 | Srivilliputhur (SC) | M Chandra Prabha | -- | Shri Ramasamy | -- | -- | -- |
| 116 | Sulur | R Kanagaraj | -- | Mohan Manthrachalam | V.M.C. Manokaran | -- | -- |
| 31 | Tambaram | Chitlapakkam S Rajendran | S.R.Raja | Shri Vedha Subramanian | -- | Chezheyan | -- |
| 222 | Tenkasi | C Selva Mohandas Pandian | -- | Smt. Selvi B | Palani Nadar | -- | -- |
| 56 | Thalli | C Nagesh | Y.Prakash | Ramachandran B | -- | -- | -- |
| 174 | Thanjavur | M Rangasamy | Dr. Ancukam | Shri Ramalingam MS | -- | Jayaprakash | -- |
| 24 | T. Nagar | Saraswathi Rangasamy | Kanimozhi | Raja H | -- | Kumar | -- |
| 15 | Thiru. Vi. Ka. Nagar (SC) | V Neelakantan | Sivakumar | -- | -- | -- | -- |
| 208 | Tiruchuli | K Dinesh Babu | Thangam Tennarasu | Shri Bala Ravirajan | -- | Raju | -- |
| 196 | Thirumangalam | RB Udhayakumar | -- | Ramamoorthy VR | R. Jayaram | Sreenivasan | -- |
| 181 | Thirumayam | PK Vairamuthu | S.Ragupathi | Vadamalai. B | -- | -- | -- |
| 195 | Thiruparankundram | SM Seenivel | Manimaran | Arumugam Pillai | -- | -- | -- |
| 33 | Thiruporur | M Kothandapani | Vishvanathan | V G Rengasamy | -- | -- | Mallai Satya |
| 185 | Tiruppattur | KR Ashokan | Nallathambi | Govindarajan. V | -- | -- | -- |
| 166 | Thiruthuraipoondi (SC) | K Uma Maheswari | Pa.Adalarasan | Shri Udayakumar | -- | -- | -- |
| 63 | Tiruvannamalai | Perumal K Rajan | Velu | -- | -- | Manigandan | -- |
| 142 | Thiruverumbur | D Kalaiselvan | Anbil Mahesh poyyamoli | Shri Chitti Babu | -- | -- | -- |
| 170 | Thiruvidaimarudur (SC) | U Sait | Seliyan | Shri Vasudevan S | -- | -- | -- |
| 10 | Thiruvottiyur | B Palraj | K.P.P.Samy | Shri Sivakumar M | -- | Senthilkumar | -- |
| 119 | Thondamuthur | SP Velumani | -- | Shri Karumuthu Thiyagarajan | -- | Thiyagarajan | -- |
| 20 | Thousand Lights | B Valarmathi | Selvam | Shri Sivalingam | -- | -- | Ambikapathy |
| 146 | Thuraiyur (SC) | A Maivizhi | Stalin Kumar | -- | -- | -- | -- |
| 72 | Tindivanam (SC) | SP Rajendran | Sitapathi Sokkalingam | Smt. Poovazhagi | -- | -- | -- |
| 215 | Tiruchendur | Actor R Sarathkumar (AISMK) | Anita R.Radhakrishnan | Shri Jeyaraman | -- | Senthilkumar | -- |
| 96 | Tiruchengodu | Pon Saraswathi | Elankovan | Nagarajan | -- | -- | -- |
| 141 | Tiruchirappalli (East) | VellaMandi N Natarajan | -- | Rajaiyan. T | G. Jerome Arokiyaraj | -- | Dr. Rohaiya |
| 140 | Tiruchirappalli (West) | S Tamilarasi | KN . Nehru | -- | -- | Joseph | -- |
| 76 | Tirukkoyilur | Seval G Kothandaraman | Ponmudi | -- | -- | -- | -- |
| 224 | Tirunelveli | Nainar Nagenthran | A.L.L.Lachmanan | Shri Maharajan A | -- | -- | -- |
| 50 | Tirupattur | TT Kumar | -- | -- | -- | -- | -- |
| 113 | Tiruppur (North) | KN Vijayakumar | Saminatan | Chinnasamy | -- | -- | -- |
| 114 | Tiruppur (South) | S Gunasekaran | Selvaraj | Point Mani | -- | -- | -- |
| 3 | Tiruttani | PM Narasimhan | -- | Chakravarthy M | A.G. Chidambaram | Krishnamoorthy | -- |
| 210 | Tiruvadanai | Mukulathor Puli Padai (Actor Karunas) | Dhivakaran | -- | -- | -- | -- |
| 173 | Thiruvaiyaru | MGM Subramanian | Durai. Chandirase karan | -- | -- | -- | -- |
| 4 | Thiruvallur | A Baskaran | V.G.Rajendran | Shri Janakiraman RMR | -- | -- | -- |
| 168 | Thiruvarur | ANR Panneerselvam | M. Karunanidhi | Shri Rengadoss N | -- | -- | -- |
| 151 | Tittakudi (SC) | P Ayyasamy | Ganesan | -- | -- | SasiKumar | -- |
| 214 | Thoothukkudi | CT Sellapandian | Gita jeevan | Kanagaraj MR | -- | -- | Fatima Babu |
| 108 | Udhagamandalam | Kappachi D Vinoth | -- | Raman J | B Ramachandran | -- | -- |
| 125 | Udumalpet | K Radhakrishnan | Muttu | Shri Kandasamy UKPN | -- | -- | -- |
| 77 | Ulundurpettai | R Kumaraguru | -- | -- | -- | Vijayakanth | -- |
| 197 | Usilampatti | P Neethipathi | K.Ilamakilan | Shri Samkili. M | -- | -- | Sethupathi |
| 51 | Uthangarai (SC) | Manoranjitham Nagaraj | -- | Shri Pandu. SA | -- | -- | -- |
| 36 | Uthiramerur | Walajahabad P Ganesan | K.Sundar | -- | -- | -- | -- |
| 124 | Valparai (SC) | Kasturi Vasu | Palpanti | Shri Murugesan. P | -- | -- | -- |
| 69 | Vandavasi (SC) | V Meganathan | Ambedkumar | -- | -- | -- | -- |
| 47 | Vaniyambadi | Dr Nilofer Kabeel | -- | Shri Venkadesan G | -- | -- | -- |
| 73 | Vanur (SC) | M Chakrapani | Mythili | Dr.Thiruselvakumar | -- | -- | -- |
| 220 | Vasudevanallur (SC) | A Manoharan | -- | Shri Rajkuamr | -- | -- | -- |
| 165 | Vedaranyam | O.S. Manian | -- | Vedarathinam | P.V. Rajendran | -- | -- |
| 133 | Vedasandur | Dr VPB Paramasivam | -- | -- | R.Sakthivel Gaunundar | Balu | -- |
| 91 | Veerapandi | S Manonmani | A. Rajendran | -- | -- | -- | -- |
| 26 | Velachery | MC Munusamy | Vagai chandrasekhar | Shri Dolphin Sridhar | -- | -- | -- |
| 43 | Vellore | P Neelakantan | Karthikeyan | Shri Elangovan S | -- | -- | -- |
| 54 | Veppanahalli | A.V.M. Madhu | P.Murugan | Shri Premanathan | -- | -- | -- |
| 75 | Vikravandi | Seval R Velu | Radhamani | Shri Palanivelu | -- | -- | -- |
| 213 | Vilathikulam | K Uma Maheswari | Bhimaraj | Ramamoorthy .P | -- | -- | -- |
| 233 | Vilavancode | G Nanjil Dominic alias Dominic Xavio George | -- | Dharmaraj. C | Vijaydharani | -- | -- |
| 14 | Villivakkam | M Rasu | P.Ranganathan | Shri Jaishankar M | -- | Pandiyan | -- |
| 74 | Villupuram | C Vee Shanmugam | -- | Jayakumar R | -- | -- | -- |
| 179 | Viralimalai | Dr C Vijaya Baskar | M.palaniyappan | -- | -- | -- | -- |
| 206 | | K Kalanidhi | A.R.R.Srinivasan | Kamatchi .C | -- | -- | -- |
| 22 | Virugambakkam | Virugai VN Ravi | Dhanasekar | Smt. Dr. Tamilisai Soundararajan | -- | Parthasarathy | -- |
| 152 | Vriddhachalam | VT Kalaiselvan | Thanga Anandan | -- | -- | Muthukumar | -- |
| 83 | Yercaud (ST) | K Chitra | C.Tamilselvan | Shri Ponrasa | -- | Kumar | -- |