Voter List Maharashtra 2021 2022 download CEO website Search Name Registration Online assembly constituency District Booth Ward wise
CEO Maharashtra website, Voter List Maharashtra, Voter List Name Search Maharashtra 2020, Latest download Electoral Roll Maharashtra 2020 District Wise Booth Wise, Voter List, Voter Electoral List Maharashtra 2020 Assembly Election, CEO Maharashtra electoral roll search, Maharashtra Photo Voter list, Maharashtra polling booth wise voter list, Maharashtra Matdata Suchi, How many voters in Maharashtra, Voter list database in excel word pdf and access format
Following is District, Assembly Constituency Wise Voter list which has been further divided into booth wise Voter List/Electoral Roll 2020 Maharashtra.
Read: Maharashtra Municipal Council Elections Results Dates Here
About CEO Maharashtra Details
Chief Electoral Officer, Maharashtra - Shri Jageshwar Swarup Saharia
Room No. 624, 6th Floor Mantralaya
Mumbai - 400 032Helpline : 1800-22-1950 (Toll Free)
Fax : 022-22835698E-mail : This email address is being protected from spambots. You need JavaScript enabled to view it.
Mobile No.: 9850406113
---
ALSO READ: Best Political Survey Company in India
---
CEO Maharashtra Assembly, District Wise PDF

Voter List 2018

Revised
The website providing all electoral rolls and information is https://ceo.maharashtra.gov.in/Search/SearchPDF.aspx. To View Electoral Roll, Voter List of Maharashtra Please visit following site and Select your district and Assembly Constituency. Click the District Name to view the list of Assembly Constituencies.
Other Imp. Links
---
CEO Maharashtra Voter List 2018 Search, Online Voter Registration
In Order to search Your name in draft electoral Roll Click here.

Select Name Wise or Id Wise search. If you Select Name wise Select District/Assembly. After that Select Your District and Assembly.

Enter First Last and Middle Name and click on search.

Search your Name in Draft Electoral Roll 2020
Online Voter Registration Maharashtra Complete step by step details here..>>
How to get a Voter Card | Chief Electoral Officer Maharashtra Complete details here...
Maharashtra Assembly Election FAQ for Voter Registration, Complete details here
---
Download Maharashtra Voter List 2018 in PDF, Excel, XLS Format
---
Leadtech Company Political Services
Services Offered by Leadtech, Political Research Firm, 10 Years of expertise. Helping leaders in their political pursuits. Have more than 1000 client base all over India.
We provide a no. of service related to politics contact us @ 0124 - 4113384/81
Leadtech Services ::::
---
Download Voter List District Assembly and Parliamentary Constituencies Wise
In Order to search your name in PDF roll Visit Website https://ceo.maharashtra.gov.in/Search/SearchPDF.aspx and following screen comes select appropriate details.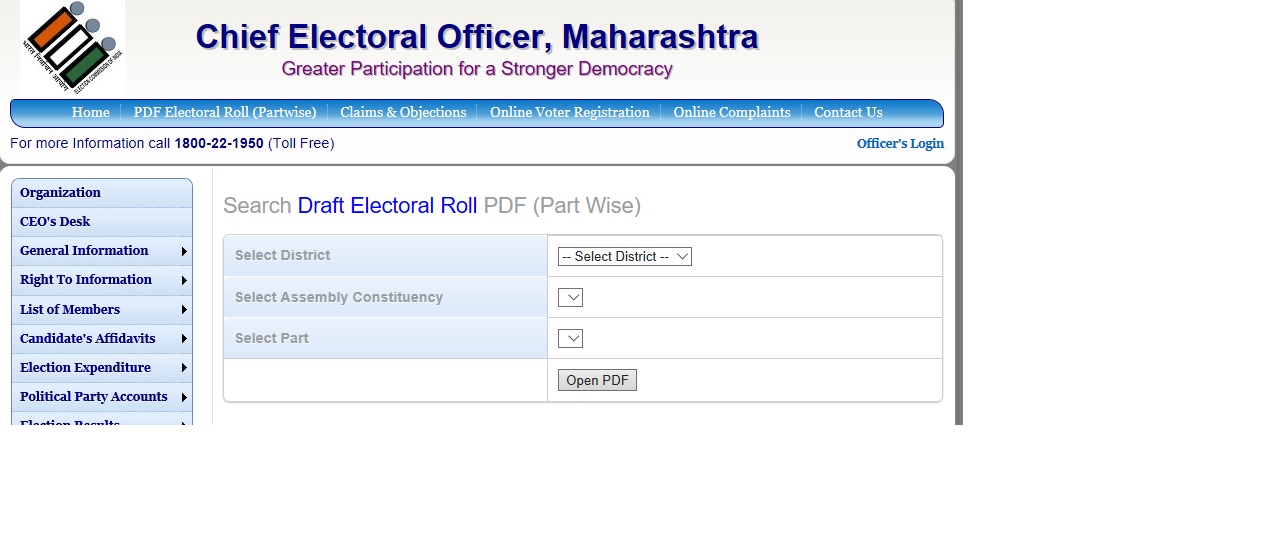 Maharashtra Voter List search Screen.