Kerala Assembly Election Result, Kerala Election Result Live 2016,Kerala Assembly Election Result 2016 Constituency Wise, Kerala Assembly Election Result 2016 Party Wise ,Kerala Assemby Election 2016 Winner List, Kerala Vidhan Sabha Result Winner Party and Winner Candidate List 2016, List Of Kerala Assemby MLA 2016, Kerala Election Result, Kerala vidhan sabha members,Kerala Election Result 2016 With Vote Margin, Kerala Winner List,Kerala Polls,Kerala Polls Result, Kerala vidhan sabha result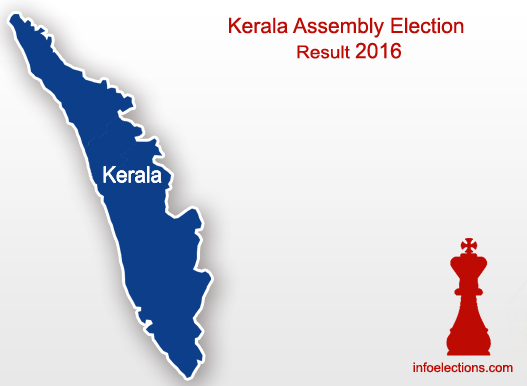 The elections were held on 16th May 2016 next elections would be held in apr-may 2021. This time CPI(M) Led LDF has swept the elections and UDF lost . BJP opened its account with 1 seat.
Other Highlights of Kerala Elections 2016
Chief Minister Pinarayi Vijayan and the Cabinet Ministers of 19 members have been sworn in on 25th May 2016. There are 12 ministers from CPI(M), 4 from CPI and 1 each from JD(S), NCP and Cong(S).

There are eight new faces, including two women, in the CPI(M) list. Dr Thomas Issac, A K Balan and G Sudhakaran, in the list, were members of the 2006-11 cabinet headed by V S Achuthanandan.

The new faces are E P Jayarajan, K K Shailaja, T P Ramakrishnan, Kadakampally Surendran, A C Moitheen, J Mercykutty Amma, Prof C Raveendranath and Dr K T Jaleel.

P Sreeramakrishnan will be the new Speaker.

All CPI ministers are new first time cabinet ministers E Chandrasekharan, V S Sunil Kumar, P Thilothaman and K Raju. P Sashi will be the Deputy speaker.
KERALA ASSEMBLY PARTY WISE RESULT 2016
KERALA ASSEMBLY PARTY WIS

E RESULT 2016
PARTY ALLIANCE
WON

LEFT+

84

INC+

47

BJP+

1

OTH

8

TOTAL
140
Read More: Kerala Election Results Live Party Wise
Read More: Kerala Election Results Live Constituency Wise
---
Below are the result without Alliance
Kerala ASSEMBLY PARTY WISE RESULT 2016 (Without Alliance)

Party

Won

Total

BJP

1

1

CPI

19

19

CPI(M)

58

58

INC

22

22

NCP

2

2

IUML

18

18

JDS

3

3

KC (M)

6

6

Communist Marxist Party Kerala State Committee

1

1

Congress (Secular)

1

1

KC (Jacob)

1

1

KC (B)

1

1

National Secular Conference

1

1

IND

6

6

Total

140

140
Other Important Links:
Kerala Constituency Wise Election Result 2016
KERALA ASSEMBLY ELECTION RESULT 2016

AC

AC.NO

WINNER

PARTY

RUNNERUP

PARTY

MARGIN

MANJESHWAR

1

P B ABDUL RAZAK

IUML

K SURENDRAN

BJP

89

KASARAGOD

2

N A NELLIKKUNNU

IUML

RAVISHA THANTRI KUNTAR

BJP

8607

UDMA

3

K KUNHIRAMAN

CPI(M)

K SUDHAKARAN

INC

3832

KANHANGAD

4

E.CHANDRASHEKARAN

CPI

DHANYA SURESH

INC

26011

TRIKARIPUR

5

M.RAJAGOPALAN

CPI(M)

K P KUNHIKANNAN

INC

16959

PAYYANNUR

6

C KRISHNAN

CPI(M)

SAJID MAVVAL

INC

40263

KALLIASSERI

7

T V RAJESH

CPI(M)

AMRITHA RAMAKRISHNAN

INC

42891

TALIPARAMBA

8

JAMES MATHEW

CPI(M)

RAJESH NAMBIAR

Kerala Congress (M)

40617

IRIKKUR

9

K C JOSEPH

INC

K T JOSE

CPI

9647

AZHIKODE

10

K M SHAJI

IUML

M V NIKESH KUMAR

CPI(M)

2287

KANNUR

11

RAMACHANDRAN KADANNAPPALLI

Congress (Secular)

SATHEESAN PACHENI

INC

1196

DHARMADAM

12

PINARAYI VIJAYAN

CPI(M)

MAMBARAM DIVAKARAN

INC

36905

THALASSERY

13

ADV. A N SHAMSEER

CPI(M)

A P ABDULLAKUTTY

INC

34117

KUTHUPARAMBA

14

K K SHAILAJA TEACHER

CPI(M)

K P MOHANAN S/O P R KURUP

JDU

12291

MATTANNUR

15

E. P. JAYARAJAN

CPI(M)

K. P. PRASANTH

JDU

43381

PERAVOOR

16

ADV. SUNNY JOSEPH

INC

ADV. BINOY KURIAN

CPI(M)

7989

MANANTHAVADY

17

O R KELU

CPI(M)

P K JAYALAKSHMI

INC

1307

SULTHANBATHERY

18

I C BALAKRISHNAN

INC

RUGMINI SUBRAHMANIAN

CPI(M)

11198

KALPETTA

19

C K SASEENDRAN

CPI(M)

M.V SHREYAMS KUMAR

JDU

13083

VADAKARA

20

C.K.NANU

JDS

MANAYATH CHANDRAN

JDU

9511

KUTTIADI

21

PARAKKAL ABDULLA

IUML

K.K. LATHIKA

CPI(M)

1157

NADAPURAM

22

E. K. VIJAYAN

CPI

ADV. PRAVEENKUMAR

INC

4759

QUILANDY

23

K.DASAN

CPI(M)

N.SUBRAMANIAN

INC

13369

PERAMBRA

24

T.P.RAMAKRISHNAN

CPI(M)

ADV.MOHAMMED IKBAL

Kerala Congress (M)

4101

BALUSSERI

25

PURUSHUAN KADALUNDI

CPI(M)

U.C RAMAN PADANILAM

IND

15464

ELATHUR

26

A K SASEENDRAN

NCP

KISHEN CHAND

JDU

29057

KOZHIKODE NORTH

27

A PRADEEP KUMAR

CPI(M)

ADV. P M SURESH BABU

INC

27873

KOZHIKODE SOUTH

28

DR. M.K.MUNEER

IUML

PROF.A. P. ABDUL VAHAB

Indian National League

6327

BEYPORE

29

MAMMED KOYA V K C

CPI(M)

ADAM MULSI M P

INC

14363

KUNNAMANGALAM

30

P.T.A. RAHIM

IND

SIDDIQU.T

INC

11205

KODUVALLY

31

KARAT RAZACK

IND

M A RAZAK MASTER

IUML

573

THIRUVAMBADY

32

GEORGE M. THOMAS

CPI(M)

V M UMMER MASTER

IUML

3008

KONDOTTY

33

T.V. IBRAHIM

IUML

K.P. BEERANKUTTY

IND

10654

ERANAD

34

P.K BASHEER

IUML

ABDURAHIMAN

IND

12893

NILAMBUR

35

P V ANVAR

IND

ARYADAN SHOUKATH

INC

11504

WANDOOR

36

A.P. ANIL KUMAR

INC

K NISHANTH

CPI(M)

23864

MANJERI

37

ADV. M UMMER

IUML

ADV. K.MOHANDAS

CPI

19616

PERINTHALMANNA

38

MANJALAMKUZHI ALI

IUML

V.SASIKUMAR

CPI(M)

579

MANKADA

39

T A AHAMMED KABEER

IUML

ADV. T K RASHEED ALI

CPI(M)

1508

MALAPPURAM

40

P UBAIDULLA

IUML

ADV. K P SUMATHI

CPI(M)

35672

VENGARA

41

P.K. KUNHALIKKUTTY

IUML

ADV. P.P. BASHEER

CPI(M)

38057

VALLIKKUNNU

42

ABDUL HAMEED MASTER

IUML

ADV. O.K. THANGAL

INL

12610

TIRURANGADI

43

P.K ABDU RABB

IUML

NIYAS PULIKKALAKATH

IND

6043

TANUR

44

V ABDURAHIMAN

NSC

ABDURAHIMAN RANDATHANI

IUML

4918

TIRUR

45

C. MAMMUTTY

IUML

GAFOOR P LILLIS

NSC

7061

KOTTAKKAL

46

ABID HUSSAIN THANGAL

IUML

N.A. MUHAMMED KUTTY (MAMMOOTY)

NCP

15042

THAVANUR

47

DR. K.T. JALEEL

IND

IFTHIQUARUDHEEN. MASTER

INC

17064

PONNANI

48

P. SREERAMAKRISHNAN

CPI(M)

P.T.AJAI MOHAN

INC

15640

THRITHALA

49

V.T. BALRAM

INC

SUBAIDA ISHAC

CPI(M)

10547

PATTAMBI

50

MUHAMMED MUHASSIN

CPI

C P MOHAMMED

INC

7404

SHORNUR

51

P.K.SASI

CPI(M)

C.SANGEETHA

INC

24547

OTTAPALAM

52

P UNNI

CPI(M)

ADV.SHANIMOL OSMAN

INC

16088

KONGAD

53

K.V.VIJAYADAS

CPI(M)

PANDALAM SUDHAKARAN

INC

13271

MANNARKAD

54

ADV.N.SAMSUDHEEN

IUML

K.P. SURESH RAJ

CPI

12325

MALAMPUZHA

55

V S ACHUTHANANDAN

CPI(M)

C.KRISHNAKUMAR

BJP

27142

PALAKKAD

56

SHAFI PARAMBIL

INC

SOBHA SURENDRAN

BJP

17483

TARUR

57

A.K.BALAN

CPI(M)

C.PRAKASH

INC

23068

CHITTUR

58

K KRISHNANKUTTY

JDS

K ACHUTHAN

INC

7285

NENMARA

59

K. BABU

CPI(M)

A.V.GOPINATHAN

INC

7408

ALATHUR

60

K.D.PRASENAN

CPI(M)

ADV.K KUSALAKUMAR

Kerala Congress (M)

36060

CHELAKKARA

61

U R PRADEEP

CPI(M)

THULASI

INC

10200

KUNNAMKULAM

62

A C MOIDEEN

CPI(M)

C P JOHN

Communist Marxist Party Kerala State Committee

7782

GURUVAYOOR

63

K.V. ABDUL KHADER

CPI(M)

ADV. P.M. SADIQALI

IUML

15098

MANALUR

64

MURALI PERUNELLY

CPI(M)

O.ABDU RAHIMANKUTTY

INC

19325

WADAKKANCHERY

65

ANIL AKKARA

INC

MARY THOMAS

CPI(M)

43

OLLUR

66

ADV. K. RAJAN

CPI

M P VINCENT

INC

13248

THRISSUR

67

V S SUNILKUMAR

CPI

PADMAJA VENUGOPAL

INC

6987

NATTIKA

68

GEETHA GOPI

CPI

K.V. DASAN

INC

26777

KAIPAMANGALAM

69

E T TAISON MASTER

CPI

M T MUHAMMED NAHAS

RSP

33440

IRINJALAKKUDA

70

PROF. K.U. ARUNAN

CPI(M)

ADV. THOMAS UNNIYADAN

Kerala Congress (M)

2711

PUTHUKKAD

71

PROF.C.RAVEENDRANATH

CPI(M)

SUNDARAN KUNNATHULLY

INC

38478

CHALAKKUDY

72

B. D. DEVASSY

CPI(M)

T. U. RADHAKRISHNAN

INC

26648

KODUNGALLUR

73

V R SUNILKUMAR

CPI

K P DHANAPALAN

INC

22791

PERUMBAVOOR

74

ADV. ELDOSE P KUNNAPPILLY

INC

SAJU PAUL

CPI(M)

7088

ANGAMALY

75

ROJI M JOHN

INC

BENNY MOONJELY

JDS

9186

ALUVA

76

ANWAR SADATH

INC

ADV V SALEEM

CPI(M)

18835

KALAMASSERY

77

V K IBRAHIM KUNJU

IUML

A M YOUSAF

CPI(M)

12118

PARAVUR

78

V D SATHEESAN

INC

SARADA MOHAN

CPI

20634

VYPEN

79

S SARMA

CPI(M)

K R SUBHASH

INC

19353

KOCHI

80

K J MAXY

CPI(M)

DOMINIC PRESENTATION

INC

1086

THRIPUNITHURA

81

ADV. M SWARAJ

CPI(M)

K BABU

INC

4467

ERANAKULAM

82

HIBI EDEN

INC

M ANIL KUMAR

CPI(M)

21949

THRIKKAKARA

83

ADV.P T THOMAS

INC

DR.SEBASTIAN PAUL

CPI(M)

11996

KUNNATHUNAD

84

V P SAJEENDRAN

INC

ADV. SHIJI SIVAJI

CPI(M)

2679

PIRAVOM

85

ANOOP JACOB

Kerala Congress (Jacob)

M.J.JACOB

CPI(M)

6195

MUVATTUPUZHA

86

ELDHO ABRAHAM

CPI

JOSEPH VAZHACKAN

INC

9375

KOTHAMANGALAM

87

ANTONY JOHN

CPI(M)

CHEV. T.U.KURUVILLA

Kerala Congress (M)

19282

DEVIKULAM

88

S RAJENDRAN

CPI(M)

A K MONY

INC

5782

UDUMBANCHOLA

89

M.M. MANI

CPI(M)

ADV.SENAPATHY VENU

INC

1109

THODUPUZHA

90

P.J. JOSEPH

Kerala Congress (M)

ADV. ROY VARICATTU

IND

45587

IDUKKI

91

ROSHY AUGUSTINE

Kerala Congress (M)

ADV. K FRANCIS GEORGE

IND

9333

PEERUMADE

92

E S BIJIMOL

CPI

ADV. SYRIAC THOMAS

INC

314

PALA

93

K M MANI

Kerala Congress (M)

MANI C KAPPEN

NCP

4703

KADUTHURUTHY

94

ADV. MONS JOSEPH

Kerala Congress (M)

SCARIA THOMAS

Kerala Congress (Skariah Thomas)

42256

VAIKOM

95

C K ASHA

CPI

ADV. A SANEESHKUMAR

INC

24584

ETTUMANOOR

96

SURESH KURUP

CPI(M)

THOMAS CHAZHIKADAN

Kerala Congress (M)

8899

KOTTAYAM

97

THIRUVANCHOOR RADHAKRISHNAN

INC

ADV. REJI SAKHARIYA

CPI(M)

33632

PUTHUPPALLY

98

OOMMEN CHANDY

INC

JAICK C THOMAS

CPI(M)

27092

CHANGANASSERY

99

C F THOMAS

Kerala Congress (M)

DR. K C JOSEPH

IND

1849

KANJIRAPPALLY

100

DR. N JAYARAJ

Kerala Congress (M)

ADV. V B BINU

CPI

3890

POONJAR

101

P C GEORGE PLATHOTTAM

IND

GEORGEKUTTY AUGUSTY

Kerala Congress (M)

27821

AROOR

102

ADV.A.M.ARIFF

CPI(M)

ADV.C.R.JAYAPRAKASH

INC

38519

CHERTHALA

103

P.THILOTHAMAN

CPI

ADV.S.SARATH

INC

7196

ALAPPUZHA

104

DR.T.M.THOMAS ISAAC

CPI(M)

ADV.LALY VINCENT

INC

31032

AMBALAPUZHA

105

G.SUDHAKARAN

CPI(M)

SHAIK.P.HARRIZ

JDU

22621

KUTTANAD

106

THOMAS CHANDY

NCP

ADV.JACOB EBRAHAM

Kerala Congress (M)

4891

HARIPAD

107

RAMESH CHENNITHALA

INC

P.PRASAD

CPI

18621

KAYAMKULAM

108

ADV.U.PRATHIBHA HARI

CPI(M)

ADV.M.LIJU

INC

11857

MAVELIKARA

109

R.RAJESH

CPI(M)

BAIJU KALASALA

INC

31542

CHENGANNUR

110

ADV.K.K.RAMACHANDRAN NAIR

CPI(M)

P.C.VISHNUNATH

INC

7983

THIRUVALLA

111

ADV.MATHEW T THOMAS

JDS

JOSEPH M PUTHUSSERY

Kerala Congress (M)

8262

RANNI

112

RAJU ABRAHAM

CPI(M)

MARIAMMA CHERIAN

INC

14596

ARANMULA

113

VEENA GEORGE

CPI(M)

ADV K SIVADASAN NAIR

INC

7646

KONNI

114

ADOOR PRAKASH

INC

ADV. R. SANAL KUMAR

CPI(M)

20748

ADOOR

115

CHITTAYAM GOPAKUMAR

CPI

K K SHAJU

INC

25460

KARUNAGAPPALLY

116

R.RAMACHANDRAN

CPI

C.R.MAHESH

INC

1759

CHAVARA

117

N.VIJAYAN PILLAI

Communist Marxist Party Kerala State Committee

SHIBU BABYJOHN

RSP

6189

KUNNATHUR

118

KOVOOR KUNJUMON

IND

ULLAS KOVUR

RSP

20529

KOTTARAKKARA

119

ADV. P.AISHA POTTY

CPI(M)

ADV.SAVIN SATHYAN

INC

42632

PATHANAPURAM

120

K.B. GANESH KUMAR

Kerala Congress (B)

P.V JAGADISH KUMAR

INC

24562

PUNALUR

121

ADV.K.RAJU

CPI

DR.A.YOUNUS KUNJU

IUML

33582

CHADAYAMANGALAM

122

RETNAKARAN

CPI

HASSAN.M.M

INC

21928

KUNDARA

123

J.MERCY KUTTY AMMA

CPI(M)

RAJMOHAN UNNITHAN

INC

30460

KOLLAM

124

M MUKESH

CPI(M)

SOORAJ RAVI

INC

17611

ERAVIPURAM

125

M. NOUSHAD

CPI(M)

A.A.AZEEZ

RSP

28803

CHATHANNUR

126

G.S.JAYALAL

CPI

B B GOPAKUMAR

BJP

34407

VARKALA

127

ADV.V.JOY

CPI(M)

VARKALA KAHAR

INC

2386

ATTINGAL

128

ADV.B.SATYAN

CPI(M)

K.CHANDRABABU

RSP

40383

CHIRAYINKEEZHU

129

V. SASI

CPI

K.S.AJITH KUMAR

INC

14322

NEDUMANGAD

130

C.DIVAKARAN

CPI

PALODE RAVI

INC

3621

VAMANAPURAM

131

ADV. D.K.MURALI

CPI(M)

ADV.T.SARATHCHANDRA PRASAD

INC

9596

KAZHAKKOOTTAM

132

KADAKAMPALLY SURENDRAN

CPI(M)

V.MURALEEDHARAN

BJP

7347

VATTIYOORKAVU

133

K MURALEEDHARAN

INC

KUMMANAM RAJASEKHARAN

BJP

7622

THIRUVANANTHAPURAM

134

V.S. SIVAKUMAR

INC

ADV.ANTONY RAJU

IND

10905

NEMOM

135

O.RAJAGOPAL

BJP

V.SIVANKUTTY

CPI(M)

8671

ARUVIKKARA

136

K.S. SABARINADHAN

INC

ADV. A.A.RASHEED

CPI(M)

21314

PARASSALA

137

C.K.HAREENDRAKUMAR (C.K.HAREENDRAN)

CPI(M)

A.T.GEORGE

INC

18566

KATTAKKADA

138

ADV. I.B. SATHEESH

CPI(M)

N.SHAKTHAN

INC

849

KOVALAM

139

ADV.M.VINCENT

INC

JAMEELA PRAKASAM

JDS

2615

NEYYATTINKARA

140

K.ANSALAN

CPI(M)

R. SELVARAJ

INC

9543
ALL KERELA ASSEMBLY CONSTITUENCIES Past Election Result Analysis, Candidate List and Opinion Polls