Details

Last Updated:

Friday, 06 May 2016 10:34
West Bengal Assembly Election Schedule 2016, West Bengal State Election 2016 Announced, West Bengal Vidhan Sabha Election Dates, West Bengal Election Schedule 2016, West Bengal Assembly Election Phase Dates, Voting Election Result Date 2016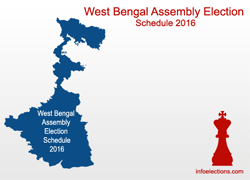 Assembly elections in West Bengal, where TMC is set for a battle against Left Front, are being held in 6 phases in Apr - May 2016.
The Election Commission has declared the dates along with the poll schedule of the four other states headed for Assembly polls this summer — West Bengal, Kerala, Tamil Nadu, Pondicherry and Assam. Read More here .
Live Updates WestBengal Assembly Election Fifth Phase voting on 30th April. Read More
Voting Has started for 25 Constituencies and 2 Districts of Cooch Behar and East Midnapore in Final Phase elections today at 7:00 AM.
Final Phase

West Bengal Polls: 84.24% total voter turnout recorded

Read More.
Important Dates in West Bengal Schedule :
West Bengal Assembly Election in 6 phases:

Date of Poll :

April 4, 11, 17, 21, 25, 30 & May 5
Counting of polls : May 19.
West Bengal Assembly Elections 2016 will be held in six phases. Polling for the first phase will take place on April 4 and 11, in second phase on April 17, third phase on April 21, fourth phase on 25 April, fifth phase on April 30 and the last/sixth phase on May 5. The results of West Bengal Assembly Elections will be declared on May 19.

All polling stations in West Bengal and Assam will be covered by Central police forces.

All-women polling stations will be set up in these five states.
Also Read : West Bengal Candidate list 2016 released.
Also Read : West Bengal Opinion Poll 2016 released.
Other Important links
West Bengal Schedule :- Click here to read more on Election Schedule News.
Poll Event

1st Phase

2nd Phase

3rd Phase

4th Phase

5th Phase

6th Phase

1 (a)

1(b)

(56 ACs)

(62 ACs)

(49 ACs)

( 53 ACs)

( 25 ACs)

(18 ACs)

(31 ACs)

Issue of

Notification

11.03.2016

14.03.2016

22.03.2016

28.03.2016

01.04.2016

04.04.2016

11.04.2016

(FRI)

(MON)

(TUE)

(MON)

(FRI)

(MON)

(MON)

Last date for

making Nominations

18.03.2016

21.03.2016

29.03.2016

04.04.2016

08.04.2016

11.04.2016

18.04.2016

(FRI)

(MON)

(TUE)

(MON)

(FRI)

(MON)

(MON)

Scrutiny of

Nominations

19.03.2016

22.03.2016

30.03.2016

05.04.2016

09.04.2016

12.04.2016

19.04.2016

(SAT)

(TUE)

(WED)

(TUE)

(SAT)

(TUE)

(TUE)

Last date for

withdrawal candidature

21.03.2016

26.03.2016

01.04.2016

07.04.2016

11.04.2016

16.04.2016

21.04.2016

(MON)

(SAT)

(FRI)

(THU)

(MON)

(SAT)

(THU)

Date of Poll

04.04.2016

11.04.2016

17.04.2016

21.04.2016

25.04.2016

30.04.2016

05.05.2016

(MON)

(MON)

(SUN)

(THU)

(MON)

(SAT)

(THU)

Counting of

Votes

19.05.2016

19.05.2016

19.05.2016

19.05.2016

19.05.2016

19.05.2016

19.05.2016

(THU)

(THU)

(THU)

(THU)

(THU)

(THU)

(THU)

Date before

which election process shall be completed

21.05.2016

21.05.2016

21.05.2016

21.05.2016

21.05.2016

21.05.2016

21.05.2016

(SAT)

(SAT)

(SAT)

(SAT)

(SAT)

(SAT)

(SAT)
*First phase will be held on two days. 4th and 11th April 2016
West Bengal Phase Wise Assembly Constituencies
Phase – 1 A (18 ACs)

Phase – 1 B (31 ACs)

Phase –2(56 ACs)

Phase – 3 (62 ACs)

Phase – 4 (49 ACs)

Phase – 5 (53 ACs)

Phase – 6 (25 ACs)

220.NAYAGRAM (ST)

219. DANTAN

10.KUMARGRAM (ST)

55.FARAKKA

94.BAGDA (SC)

127.GOSABA (SC)

01.MEKLIGANJ (SC)

221.GOPIBALLAVPUR

223.KESHIARY (ST)

11.KALCHINI (ST)

56.SAMSERGANJ

95.BANGAON UTTAR (SC)

128.BASANTI (SC)

02.MATHABHANGA(SC)

222.JHARGRAM

224.KHARAGPUR SADAR

12.ALIPURDUARS

57.SUTI

96.BANGAON DAKSHIN (SC)

129.KULTALI (SC)

03.COOCHBEHAR UTTAR (SC)

234. SALBONI

225.NARAYANGARH

13.FALAKATA (SC)

58.JANGIPUR

97.GAIGHATA (SC)

130.PATHARPRATIMA

04.COOCHBEHAR DAKSHIN

236.MEDINIPUR

226.SABANG

14.MADARIHAT (ST)

59.RAGHUNATHGANJ

98.SWARUPNAGAR(SC)

131.KAKDWIP

05.SITALKUCHI (SC)

237.BINPUR (ST)

227.PINGLA

15.DHUPGURI (SC)

60.SAGARDIGHI

99.BADURIA

132.SAGAR

06.SITAI (SC)

238.BANDWAN (ST)

228.KHARAGPUR

16.MAYNAGURI (SC)

61.LALGOLA

100.HABRA

133.KULPI

07.DINHATA

239.BALARAMPUR

229.DEBRA

17.JALPAIGURI (SC)

62.BHAGAWANGOLA

101.ASHOKNAGAR

134.RAIDIGHI

08.NATABARI

240.BAGHMUNDI

230.DASPUR

18.RAJGANJ (SC)

63.RANINAGAR

102.AMDANGA

135.MANDIRBAZAR (SC)

09. TUFANGANJ

241.JOYPUR

231.GHATAL (SC)

19.DABGRAM-FULBARI

64.MURSHIDABAD

103.BIJPUR

136.JAYNAGAR (SC)

203.TAMLUK

242.PURULIA

232.CHANDRAKONA(SC)

20.MAL (ST)

65.NABAGRAM (SC)

104.NAIHATI

137.BARUIPUR PURBA (SC)

204.PANSKURA PURBA

243.MANBAZAR (ST)

233.GARBETA

21.NAGRAKATA (ST)

66.KHARGRAM (SC)

105.BHATPARA

138.CANNING PASCHIM (SC)

205.PANSKURA PASCHIM

244.KASHIPUR

235. KESHPUR (SC)

22.KALIMPONG

67.BURWAN (SC)

106.JAGATDAL

139.CANNING PURBA

206.MOYNA

245.PARA (SC)

247.SALTORA (SC)

23.DARJEELING

68.KANDI

107.NOAPARA

140.BARUIPUR PASCHIM

207.NANDAKUMAR

246.RAGHUNATHPUR(SC)

248.CHHATNA

24.KURSEONG

69.BHARATPUR

108.BARRACKPUR

141.MAGRAHAT PURBA (SC)

208.MAHISADAL

249.RANIBANDH (ST)

252.BANKURA

25.MATIGARA-NAXALBARI(SC)

70.REJINAGAR

109.KHARDAHA

142.MAGRAHAT PASCHIM

209.HALDIA (SC)

250.RAIPUR (ST)

253.BARJORA

26.SILIGURI

71.BELDANGA

110.DUM DUM UTTAR

143.DIAMOND HARBOUR

210.NANDIGRAM

251.TALDANGRA

254.ONDA

27.PHANSIDEWA (ST)

72.BAHARAMPUR

111.PANIHATI

144.FALTA

211.CHANDIPUR

255.BISHNUPUR

28.CHOPRA

73.HARIHARPARA

112.KAMARHATI

145.SATGACHHIA

212.PATASHPUR

256.KATULPUR (SC)

29.ISLAMPUR

74.NOWDA

113.BARANAGAR

146.BISHNUPUR (SC)

213.KANTHI UTTAR

257.INDUS (SC)

30.GOALPOKHAR

75.DOMKAL

114.DUM DUM

147.SONARPUR DAKSHIN

214.BHAGABANPUR

258.SONAMUKHI (SC)

31.CHAKULIA

76.JALANGI

115.RAJARHAT NEW TOWN

148.BHANGAR

215.KHEJURI (SC)

275.PANDABESWAR

32.KARANDIGHI

77.KARIMPUR

116.BIDHANNAGAR

149.KASBA

216.KANTHI DAKSHIN

276.DURGAPUR PURBA

33.HEMTABAD (SC)

78.TEHATTA

117.RAJARHAT GOPALPUR

150.JADAVPUR

217.RAMNAGAR

277.DURGAPUR PASCHIM

34.KALIAGANJ (SC)

79.PALASHIPARA

118.MADHYAMGRAM

151.SONARPUR UTTAR

218.EGRA

278.RANIGANJ

35.RAIGANJ

80.KALIGANJ

119.BARASAT

152.TOLLYGANJ

279.JAMURIA

36.ITAHAR

81.NAKASHIPARA

120.DEGANGA

153.BEHALA PURBA

280.ASANSOL DAKSHIN

37.KUSHMANDI (SC)

82.CHAPRA

121.HAROA

154.BEHALA PASCHIM

281.ASANSOL UTTAR

38.KUMARGANJ

83.KRISHNANAGAR UTTAR

122.MINAKHAN (SC)

155.MAHESHTALA

282.KULTI

39.BALURGHAT

84.NABADWIP

123.SANDESHKHALI(ST)

156.BUDGE BUDGE

283.BARABANI

40.TAPAN (ST)

85.KRISHNANAGARDAKSHIN

124.BASIRHAT DAKSHIN

157.METIABURUZ

41.GANGARAMPUR (SC)

86.SANTIPUR

125.BASIRHAT UTTAR

158.KOLKATA PORT

42.HARIRAMPUR

87.RANAGHAT UTTAR PASCHIM

126.HINGALGANJ (SC)

159.BHABANIPUR

43.HABIBPUR (ST)

88.KRISHNAGANJ (SC)

169.BALLY

160.RASHBEHARI

44.GAZOLE (SC)

89.RANAGHAT UTTAR PURBA (SC)

170.HOWRAH UTTAR

161.BALLYGUNGE

45.CHANCHAL

90.RANAGHAT DAKSHIN (SC)

171.HOWRAH MADHYA

185.UTTARPARA

46.HARISHCHANDRAPUR

91.CHAKDAHA

172.SHIBPUR

186.SREERAMPUR

47.MALATIPUR

92.KALYANI (SC)

173.HOWRAH DAKSHIN

187.CHAMPDANI

48.RATUA

93.HARINGHATA (SC)

174.SANKRAIL (SC)

188.SINGUR

49.MANIKCHAK

162.CHOWRANGEE

175.PANCHLA

189.CHANDANNAGAR

50.MALDAHA (SC)

163.ENTALLY

176.ULUBERIA PURBA

190.CHUNCHURA

51.ENGLISH BAZAR

164.BELEGHATA

177.ULUBERIA UTTAR (SC)

191.BALAGARH (SC)

52.MOTHABARI

165.JORASANKO

178.ULUBERIA DAKSHIN

192.PANDUA

53.SUJAPUR

166.SHYAMPUKUR

179.SHYAMPUR

193.SAPTAGRAM

54.BAISNABNAGAR

167.MANIKTALA

180.BAGNAN

194.CHANDITALA

284.DUBRAJPUR (SC)

168.KASHIPUR-BELGACHHIA

181.AMTA

195.JANGIPARA

285.SURI

259. KHANDAGHOSH (SC)

182.UDAYNARAYANPUR

196.HARIPAL

286.BOLPUR

260.BARDHAMAN DAKSHIN

183.JAGATBALLAVPUR

197.DHANEKHALI (SC)

287.NANOOR (SC)

261.RAINA (SC)

184.DOMJUR

198.TARAKESWAR

288.LABPUR

262.JAMALPUR (SC)

199.PURSURAH

289.SAINTHIA (SC)

263.MONTESWAR

200.ARAMBAG (SC)

290.MAYURESWAR

264.KALNA (SC)

201.GOGHAT (SC)

291.RAMPURHAT

265.MEMARI

202.KHANAKUL

292.HANSAN

266.BARDHAMAN UTTAR (SC)

293.NALHATI

267.BHATAR

294.MURARAI

268.PURBASTHALI DAKSHIN

269.PURBASTHALI UTTAR

270.KATWA

271.KETUGRAM

272.MANGALKOT

273.AUSGRAM (SC)

274.GALSI (SC)
Click here for Complete Assembly Wise West Bengal Election Result