Details

Last Updated:

Tuesday, 26 April 2016 10:25
LIVE 25th April West Bengal Election Fourth phase voting % updates, West Bengal Fourth Phase Constituency Candidates, West Bengal 4th Phase Facts results, 4th phase 25th April West Bengal Assembly Constituency, West Bengal Voting Patterns, West Bengal 4th phase Election Live Coverage 2016, West Bengal Vidhan Sabha District & Phase Wise Live Voting, West Bengal 4th phase total voter turnout, West Bengal Fourth Phase, WestBengal election 2016
Fourth Phase voting is to take place on 25th April. Watch following space for live updates.
Watch Live Updates of West Bengal Election Fourth phase voting
West Bengal elections: 78.05 per cent polling recorded in fourth phase

#WestBengal Polls:

67.28% voting recorded till 4 PM.

3.50 pm: Poll percentage as of 3 p.m.:North 24 Parganas - 67.27% Howrah - 67.31%

#WestBengal Polls: 52.22% voting recorded till 1 PM.

1.50 pm:

Polling percentage: North 24 Parganas 52.12%; Howrah 52.43%;

#WestBengal Polls:

42.01% voting recorded till 11 AM.

12:07 p.m.: Polling percentage: North 24 Parganas 42.37%; Howrah 41.25%

#WestBengal Polls:

21.69% voting recorded in first 2 hours.

10:10 a.m: Poll percentage as of 9 a.m.: North - 24%,Parganas - 22.63%,Howrah - 20.34%

#WestBengal poll: Uproar at polling booth Salkia (Howrah),TMC agents are forcing to vote for TMC

49

Assembly Constituencies

are going on Polls on fourth phase.
Constituencies going on polls are:- Bagdah(SC), BongaonUttar(SC), BongaonDakshin, Gaighata(SC), Swarupnagar(SC), Baduria, Habra, Ashoknagar, Amdanga, Bijpur, Naihati, Bhatpara, Jagatdal, Noapara, Barrackpur, Khardaha, DumDumUttar, Panihati, Kamarhati, Baranagar, Dumdum, Rajarhatnewtown, Bidhannagar, Rajarhatgopalpur, Madhyamgram, Barasat, Deganga, Haroa, Minakhan (SC), Sandeshkhali (ST), Basirhat Dakshin, Basirhat Uttar, Hingalganj (SC), Bally, Howrah Uttar, Howrah madhya, Shibpur, Howrah Dakshin, Sankrail (SC), Panchla, Uluberia Purba, Uluberia Uttar (SC), Uluberia Dakshin, Shyampur, Bagnan, Amta, Udaynarayanpur, Jagatballavpur, Domjur
90,000 personnel in the two poll-bound districts.672 companies of central police forces, around 22,000 state police personnel will guard 49 seats spread across North 24 Parganas and Howrah districts polling.Mamta Banerjee Says Congress will understand that it was wrong to go with CPI(M) and CPI(M) will also understand that it was wrong to go with Congress.
Across 49 seats in North 24 Parganas, Bidhannagar and Howrah districts, about 1.08 crore voters will exercise their franchise in about 12,500 polling stations from 7 am to 6 pm.
Prominent Candidates - Trinamool ministers like Amit Mitra, Purnendu Basu, Chandrima Bhattacharya, Bratya Basu, Jyotipriyo Mullick and Aroop Roy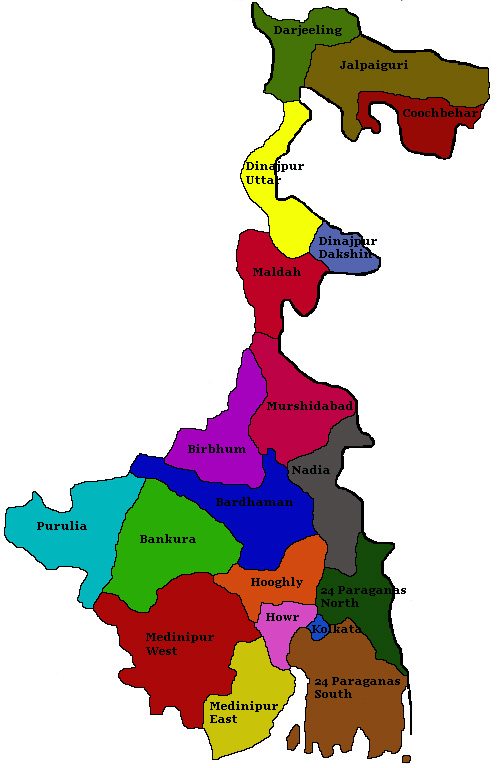 Read More: Facts About Fourth Phase Candidates in West Bengal.
Read More: List of Constituencies & Candidates going for Phase- 4 WB Polls
Other Important links
West Bengal Assembly Election held in 6 phases: Date of Poll : April 4, 11, 17, 21, 25, 30 & May 5
West Bengal Phase Wise Assembly Constituencies with candidates name for 25th April
| | | | | | | |
| --- | --- | --- | --- | --- | --- | --- |
| AC. No. | AC. Name | BJP | TMC | LF | LF Party | CONGRESS |
| 94 | Bagdah (SC) | Smt. Biva Majumdar | Upendranath Biswas | Mrinal &War | FB | -- |
| 95 | Bongaon Uttar (SC | K. D. Biswas | Biswajit Das | -- | -- | Jahar Biswas |
| 96 | Bongaon Dakshin | Swapan Majumder | Surajit Kumar Biswas | Ramen Adhya | CPIM | -- |
| 97 | Gaighata (SC) | -- | Pulin Behari Roy | Kapil Krishna Thakw | CPI | -- |
| 98 | Swarupnagar (SC) | Mihir Bagchi | Bina Mondal | Dhiman Sarkar | CPIM | -- |
| 99 | Baduria | Smt. Debika Mukharjee | Amir Ali | -- | -- | Qazi Abdur Rahim |
| 100 | Habra | Govinda Das | Jyotipriyo Mallick | -- | -- | -- |
| 101 | Ashoknagar | Smt. Tanuja Chakroborty | Dhiman Roy | Satyasebi Kar | CPIM | -- |
| 102 | Amdanga | -- | Rafiquer Rahaman | Dr. Abdus Sattar | CPIM | -- |
| 103 | Bijpur | Smt. Alo Rani Sarkar | Subhrangshu Roy | Rabin Mukherjee | CPIM | -- |
| 104 | Naihati | Smt. Phalguni Patra | Partha Bhowmick | Gargi Chatterjee | CPIM | -- |
| 105 | Bhatpara | R. K Handa | Arjun Singh | -- | -- | -- |
| 106 | Jagatdal | Arun Kumar Brahma | Parash Dutta | Haripada Biswas | FB | -- |
| 107 | Noapara | Amiya Sarkar | Manju Bose | -- | -- | Madhusudan Ghosh |
| 108 | Barrackpur | Amitabh Roy | Silbhadra Dutta | Detain's') Showmik | CPIM | -- |
| 109 | Khardaha | Mahadev Basak | Amit Mitra | Dr. Asim Kumar Dasgupta | CPIM | -- |
| 110 | Dum Dum Uttar | Tapan Chandra Das | Chandrima Bhattacharya | tanmov Bhattacha rya | CPIM | -- |
| 111 | Panihati | Dipak Kumar Kundu | Nirmal Ghosh | -- | -- | Sanmoy Banerjee |
| 112 | Kamarhati | Krishanu Mirta | Madan Mitra | Manas Mukherjee | CPIM | -- |
| 113 | Baranagar | Sunil Dey | Tapas Roy | -- | -- | -- |
| 114 | Dum dum | Smt. Uma Das Singha | Bratya Basu | Palash Das | CPIM | -- |
| 115 | Rajarhat new town | Smt. Nupur Ghosh Banerjee | Sabyasachi Dutta | Balai Chatterjee | GPM | -- |
| 116 | Bidhannagar | Sushanta Ranjan Pal | Sujit Bose | -- | -- | Arunava Ghosh |
| 117 | Rajarhat gopalpur | Dilip Mitra | Purnendu Bose | NepaIdeb Bhattacharya | CPIM | -- |
| 118 | Madhyamgram | Debashis Mitra | Rathin Ghosh | -- | -- | Tapas Majumdar |
| 119 | Barasat | Smt. Bithika Mondal | Chiranjit Chakraborty | Sanjib Chattopadhya | FB | -- |
| 120 | Deganga | Tarun Kanti Ghosh | Rahima Mondal | Hasanujjman Choudhury | FB | -- |
| 121 | Haroa | Manmatha Bachhar | Haji Sk. Nurul Islam | -- | -- | -- |
| 122 | Minakhan (SC) | Jayanto Mondal | Usha Rani Mondal | Dinabandhu Mondal | GPM | -- |
| 123 | Sandeshkhali (ST) | -- | Sukumar Mahato | Nirapada Sarder | CPIM | -- |
| 124 | Basirhat Dakshin | Shammik Bhattacharya | Dipendu Biswas | -- | -- | Amit Majumder |
| 125 | Basirhat Uttar | Tarfan Ali Gazzi | Atm Abdullah | Ralikul Islam | CPIM | -- |
| 126 | Hingalganj (SC) | Labanya Mandol | Debesh Mondal | Anandamoy Mondal | CPI | -- |
| 169 | Bally | Kaushik Chakborty | Vaishali Dalmiya | Anjan Bera | CPIM | -- |
| 170 | Howrah Uttar | Smt. Rupa Ganguly | Laxmi Ratan Shukla | -- | -- | Santosh Pathak |
| 171 | Howrah madhya | Sanjoy Singh | Aroop Roy | -- | -- | -- |
| 172 | Shibpur | Ram Prasad Bhattacharjee | Jatu Lahiri | Dr. Jaganath Bhattacharya | FB | -- |
| 173 | Howrah Dakshin | Smt. Sahana Guha Roy | Broja Mohan Majumdar | Arindam Bose | CPIM | -- |
| 174 | Sankrail (SC) | Prabhakar Pandit | Sital Sardar | Samir Malik | CPIM | -- |
| 175 | Panchla | Bhabani Prasad Roy | Gulshan Mallick | Doli Roy | FB | -- |
| 176 | Uluberia Purba | Smt. Papiya Mandol | Haider Aziz Safwi | Sabiruddin Mollah | CPIM | -- |
| 177 | Uluberia Uttar (SC) | Tapas Khamrui | Dr. Nirmal Maji | -- | -- | Amiya Kumar Mondal |
| 178 | Uluberia Dakshin | Somnath Sadhukhan | Pulak Roy | Md. Nahruddin | FB | -- |
| 179 | Shyampur | Smt. Mousumi Biswas | Kalipada Mondal | -- | -- | Amitabha Chakraborly |
| 180 | Bagnan | Dr. Mohit Roy | Arunava Sen (RAJA) | Mina Ghosh Mukherjee | CPIM | -- |
| 181 | Amta | Dr. Suman Sarkar | Tushar Kanti Sil | -- | -- | Asit Mitra |
| 182 | Udaynarayanpur | Bholanath Sapui | Samir Panja | Sukla Adak | CPIM | Aloke Koley |
| 183 | Jagatballavpur | Kaushik Mukharjee | Janab Abdul Ghani | Baidyanath Basu | CPIM | -- |
| 184 | Domjur | Jayanta Das | Rajib Banerjee | -- | -- | -- |
Phase – 1 A (18 ACs)

4th April

Phase – 1 B (31 ACs)

11th April

Phase – 2 (56 ACs)

17th April

Phase – 3 (62 ACs)

21st April

Phase – 4 (49 ACs)

25th April

Phase – 5 (53 ACs)

30th April

Phase – 6 (25 ACs)

5th May

220.NAYAGRAM (ST)

219. DANTAN

10.KUMARGRAM (ST)

55.FARAKKA

94.BAGDA (SC)

127.GOSABA (SC)

01.MEKLIGANJ (SC)

221.GOPIBALLAVPUR

223.KESHIARY (ST)

11.KALCHINI (ST)

56.SAMSERGANJ

95.BANGAON UTTAR (SC)

128.BASANTI (SC)

02.MATHABHANGA(SC)

222.JHARGRAM

224.KHARAGPUR SADAR

12.ALIPURDUARS

57.SUTI

96.BANGAON DAKSHIN (SC)

129.KULTALI (SC)

03.COOCHBEHAR UTTAR (SC)

234. SALBONI

225.NARAYANGARH

13.FALAKATA (SC)

58.JANGIPUR

97.GAIGHATA (SC)

130.PATHARPRATIMA

04.COOCHBEHAR DAKSHIN

236.MEDINIPUR

226.SABANG

14.MADARIHAT (ST)

59.RAGHUNATHGANJ

98.SWARUPNAGAR(SC)

131.KAKDWIP

05.SITALKUCHI (SC)

237.BINPUR (ST)

227.PINGLA

15.DHUPGURI (SC)

60.SAGARDIGHI

99.BADURIA

132.SAGAR

06.SITAI (SC)

238.BANDWAN (ST)

228.KHARAGPUR

16.MAYNAGURI (SC)

61.LALGOLA

100.HABRA

133.KULPI

07.DINHATA

239.BALARAMPUR

229.DEBRA

17.JALPAIGURI (SC)

62.BHAGAWANGOLA

101.ASHOKNAGAR

134.RAIDIGHI

08.NATABARI

240.BAGHMUNDI

230.DASPUR

18.RAJGANJ (SC)

63.RANINAGAR

102.AMDANGA

135.MANDIRBAZAR (SC)

09. TUFANGANJ

241.JOYPUR

231.GHATAL (SC)

19.DABGRAM-FULBARI

64.MURSHIDABAD

103.BIJPUR

136.JAYNAGAR (SC)

203.TAMLUK

242.PURULIA

232.CHANDRAKONA(SC)

20.MAL (ST)

65.NABAGRAM (SC)

104.NAIHATI

137.BARUIPUR PURBA (SC)

204.PANSKURA PURBA

243.MANBAZAR (ST)

233.GARBETA

21.NAGRAKATA (ST)

66.KHARGRAM (SC)

105.BHATPARA

138.CANNING PASCHIM (SC)

205.PANSKURA PASCHIM

244.KASHIPUR

235. KESHPUR (SC)

22.KALIMPONG

67.BURWAN (SC)

106.JAGATDAL

139.CANNING PURBA

206.MOYNA

245.PARA (SC)

247.SALTORA (SC)

23.DARJEELING

68.KANDI

107.NOAPARA

140.BARUIPUR PASCHIM

207.NANDAKUMAR

246.RAGHUNATHPUR(SC)

248.CHHATNA

24.KURSEONG

69.BHARATPUR

108.BARRACKPUR

141.MAGRAHAT PURBA (SC)

208.MAHISADAL

249.RANIBANDH (ST)

252.BANKURA

25.MATIGARA-NAXALBARI(SC)

70.REJINAGAR

109.KHARDAHA

142.MAGRAHAT PASCHIM

209.HALDIA (SC)

250.RAIPUR (ST)

253.BARJORA

26.SILIGURI

71.BELDANGA

110.DUM DUM UTTAR

143.DIAMOND HARBOUR

210.NANDIGRAM

251.TALDANGRA

254.ONDA

27.PHANSIDEWA (ST)

72.BAHARAMPUR

111.PANIHATI

144.FALTA

211.CHANDIPUR

255.BISHNUPUR

28.CHOPRA

73.HARIHARPARA

112.KAMARHATI

145.SATGACHHIA

212.PATASHPUR

256.KATULPUR (SC)

29.ISLAMPUR

74.NOWDA

113.BARANAGAR

146.BISHNUPUR (SC)

213.KANTHI UTTAR

257.INDUS (SC)

30.GOALPOKHAR

75.DOMKAL

114.DUM DUM

147.SONARPUR DAKSHIN

214.BHAGABANPUR

258.SONAMUKHI (SC)

31.CHAKULIA

76.JALANGI

115.RAJARHAT NEW TOWN

148.BHANGAR

215.KHEJURI (SC)

275.PANDABESWAR

32.KARANDIGHI

77.KARIMPUR

116.BIDHANNAGAR

149.KASBA

216.KANTHI DAKSHIN

276.DURGAPUR PURBA

33.HEMTABAD (SC)

78.TEHATTA

117.RAJARHAT GOPALPUR

150.JADAVPUR

217.RAMNAGAR

277.DURGAPUR PASCHIM

34.KALIAGANJ (SC)

79.PALASHIPARA

118.MADHYAMGRAM

151.SONARPUR UTTAR

218.EGRA

278.RANIGANJ

35.RAIGANJ

80.KALIGANJ

119.BARASAT

152.TOLLYGANJ

279.JAMURIA

36.ITAHAR

81.NAKASHIPARA

120.DEGANGA

153.BEHALA PURBA

280.ASANSOL DAKSHIN

37.KUSHMANDI (SC)

82.CHAPRA

121.HAROA

154.BEHALA PASCHIM

281.ASANSOL UTTAR

38.KUMARGANJ

83.KRISHNANAGAR UTTAR

122.MINAKHAN (SC)

155.MAHESHTALA

282.KULTI

39.BALURGHAT

84.NABADWIP

123.SANDESHKHALI(ST)

156.BUDGE BUDGE

283.BARABANI

40.TAPAN (ST)

85.KRISHNANAGARDAKSHIN

124.BASIRHAT DAKSHIN

157.METIABURUZ

41.GANGARAMPUR (SC)

86.SANTIPUR

125.BASIRHAT UTTAR

158.KOLKATA PORT

42.HARIRAMPUR

87.RANAGHAT UTTAR PASCHIM

126.HINGALGANJ (SC)

159.BHABANIPUR

43.HABIBPUR (ST)

88.KRISHNAGANJ (SC)

169.BALLY

160.RASHBEHARI

44.GAZOLE (SC)

89.RANAGHAT UTTAR PURBA (SC)

170.HOWRAH UTTAR

161.BALLYGUNGE

45.CHANCHAL

90.RANAGHAT DAKSHIN (SC)

171.HOWRAH MADHYA

185.UTTARPARA

46.HARISHCHANDRAPUR

91.CHAKDAHA

172.SHIBPUR

186.SREERAMPUR

47.MALATIPUR

92.KALYANI (SC)

173.HOWRAH DAKSHIN

187.CHAMPDANI

48.RATUA

93.HARINGHATA (SC)

174.SANKRAIL (SC)

188.SINGUR

49.MANIKCHAK

162.CHOWRANGEE

175.PANCHLA

189.CHANDANNAGAR

50.MALDAHA (SC)

163.ENTALLY

176.ULUBERIA PURBA

190.CHUNCHURA

51.ENGLISH BAZAR

164.BELEGHATA

177.ULUBERIA UTTAR (SC)

191.BALAGARH (SC)

52.MOTHABARI

165.JORASANKO

178.ULUBERIA DAKSHIN

192.PANDUA

53.SUJAPUR

166.SHYAMPUKUR

179.SHYAMPUR

193.SAPTAGRAM

54.BAISNABNAGAR

167.MANIKTALA

180.BAGNAN

194.CHANDITALA

284.DUBRAJPUR (SC)

168.KASHIPUR-BELGACHHIA

181.AMTA

195.JANGIPARA

285.SURI

259. KHANDAGHOSH (SC)

182.UDAYNARAYANPUR

196.HARIPAL

286.BOLPUR

260.BARDHAMAN DAKSHIN

183.JAGATBALLAVPUR

197.DHANEKHALI (SC)

287.NANOOR (SC)

261.RAINA (SC)

184.DOMJUR

198.TARAKESWAR

288.LABPUR

262.JAMALPUR (SC)

199.PURSURAH

289.SAINTHIA (SC)

263.MONTESWAR

200.ARAMBAG (SC)

290.MAYURESWAR

264.KALNA (SC)

201.GOGHAT (SC)

291.RAMPURHAT

265.MEMARI

202.KHANAKUL

292.HANSAN

266.BARDHAMAN UTTAR (SC)

293.NALHATI

267.BHATAR

294.MURARAI

268.PURBASTHALI DAKSHIN

269.PURBASTHALI UTTAR

270.KATWA

271.KETUGRAM

272.MANGALKOT

273.AUSGRAM (SC)

274.GALSI (SC)