Sikkim Assembly Elections LIVE: 30% turnout till 10 am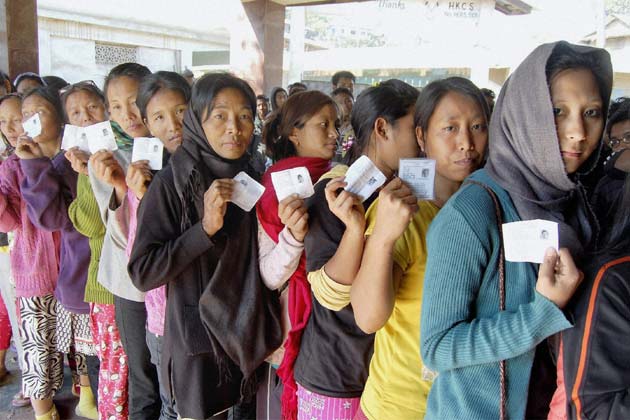 Sikkim 71 % in  32 Assembly seats.
12:30 pm: Around 30% LS, Assembly voting till 10 am
Around 30 per cent polling was recorded in Sikkim for both Lok Sabha and Assembly seats till 10 am on Saturday.
11:00 am: Voting underway in Sikkim simultaneously for LS, Assembly seats
Voting is underway in Sikkim for both Lok Sabha and Assembly seats on Saturday. Candidates for 121 Assembly seats and six Lok Sabha seats are fighting the elections.( Full covrage of phase-4 lok sabha election 2014 )
8:20: Tough battle for the seats
Prominent contenders for the post of CM include Sikkim Krantikari Morcha (SKM) leader Prem Singh Tamang and Sikkim Democratic Front's Pawan Chamling. Chamling would be contesting from two places - Namchi-Singhithang and Rangang-Yangang. Candidates from the BJP, Congress, Trinamool Congress and Aam Aadmi Party will also be contesting polls. ( Lok sabha election 2014 All phases Covrage ) 8:20 am: Voting begins for Assembly seats
8:00 am: Voting for 32 Assembly constituencies today
Lakhs of people will be voting for 32 Assembly constituencies and one Lok Sabha seat in the state on Saturday. Out of the 32 Assembly seats, two are reserved for SC while 12 are meant for the Bhutia and Lepcha communities.
Source:zeenews
Important Links
---