Lok Sabha Elections 2014 LIVE Updates ALL Phases, All states Parliamentary Constituency Updates, Lok Sabha Elections Voting Patterns Live, Parliamentary Election Voting Percentage Live Coverage 2014
Details

Parent Category: Political News
Last Updated:

Thursday, 22 January 2015 20:57
 Lok Sabha Elections 2014 LIVE Updates ALL Phases, All states Parliamentary Constituency Updates, Lok Sabha Elections Voting Patterns Live
Third Phase Voting in All Delhi Parliamentary, Odisha 2014 Assembly, 91 Parliamentary Contituencies across 11 States and 3 UTs.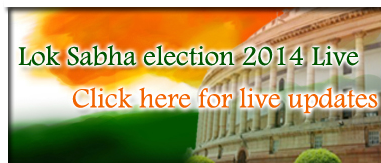 All Election Phases:-
---
Phase-1, Phase-2, Phase-3, Phase-4 ,Phase-5, 

 Phase-6,  Phase-7 (30 april),  Phase-8 (7 May),  Phase-9 (12 May)
---

Phase-9 (Full Coverage)

Varanasi parliamentary Election 2014 live updates.

---
---
Phase-8 (Full Coverage )  Also Read...Seemandhra Assembly election 2014 live updates

---
---
---
---
Phase-6: (Full Covarage)

---
Braving rising temperatures, voters today turned up in good numbers in many of the 117 constituencies in 11 states and Union Territory of Puducherry in the sixth phase of Lok Sabha polls in which stakes are high for the Congress, BJP and number of other parties like AIADMK, DMK, NCP and Shiv Sena.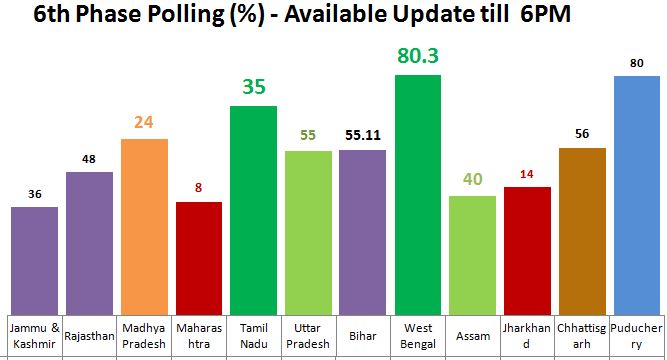 Key Candidates of Phase - 6 Lok Sabha Elections :
Sushma Swaraj :-  Stage set for polling in Madhya Pradesh; Sushma Swaraj in fray
Mulayam Singh Yadav:- Lok Sabha polls 2014: Fates of Mulayam Singh Yadav clan, Kalyan's son, Khurshid & royals to be sealed today
Key States of Phase - 6 Lok Sabha Elections :
Madhya Pradesh: LS polls: 55 per cent turnout in Madhya Pradesh till 4 pm
Tamil nadu: Phase 6 Live:40% voter turnout in Tamil Nadu till noon
Bihar: Lok Sabha Elections 2014: Repoll in Bihar
---
Phase-5: 
---
Around 51% voters exercised their franchise till 3 pm as voting for the simultaneous second and last phase election to 11 Lok Sabha and 77 Assembly constituencies began in Odisha on Thursday.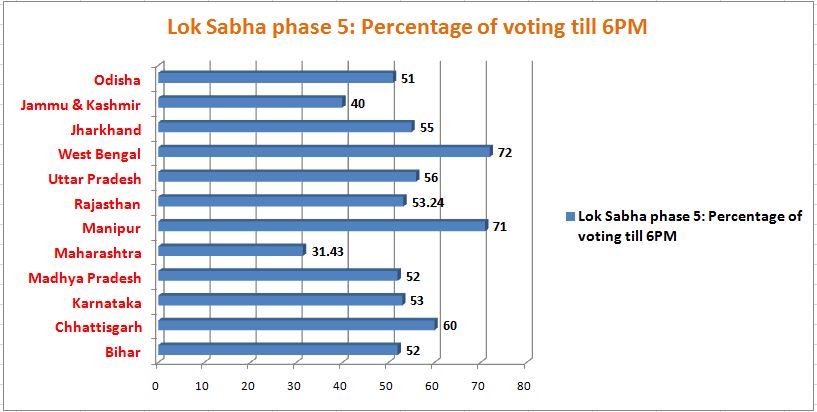 3:15 pm: Around 70 percent electors have cast their votes in West Bengal till 3 pm for four constituencies in the first phase of Lok Sabha elections. 
Over half vote for four West Bengal seats 

2:40 pm: Around 51% voters exercised their franchise till 3 pm as voting for the simultaneous second and last phase election to 11 Lok Sabha and 77 Assembly constituencies began in Odisha on Thursday. 
Lok Sabha polls 2014: 51% turnout in Odisha till 3 pm 

2:25 pm:37.46% voting recorded in Rajasthan, 44% in Odisha, 33% in Bihar and 30% in MP till 2 pm. 
Rajasthan: Over 37% polling ,62% turnout in Manipur till 2 pm 

2.15 pm: Around 26 per cent of the 4.62 crore electorate have exercised their franchise till around noon, officials said, adding, polling had been peaceful so far. 
Lok Sabha polls 2014: 26% polling in Karnataka till noon 

1.45 pm: An estimated 27.07 per cent voters today exercised their franchise till 11 am in the second phase of polling in six Lok Sabha seats of Jharkhand where Maoists injured five persons, including four CRPF jawans and blew up railway lines. 
---
Phase-4: (Full Covarage)
2: 15 pm: Over 50% polling in Assam till 2 pm. (

Assam

)
As voting begins for the three Lok Sabha seats, election officials said that 11.40 percent polling was recorded in the first two hours.
2: 27 pm: Two-third polling in Tripura till 2 pm. (

Tripura

)
Voting in Tripura for its second Lok Sabha constituency has begun. Over 1.13 million strong electorate, half of them women, are eligible to vote. The polling will be held at 1,490 polling stations across the Tripura East constituency. The tribal reserved constituency has 12 candidates, including two women, who are in the fray.
2: 40 pm: Goa records 50% voting till 2 pm. (

Goa

)
Around 35 percent voters cast their ballot in Goa till 11 am on Saturday. According to the Election Commission officials, the voting percentage in North Goa was 36.42 percent till 11 am, while in South Goa it was 34.11 percent.
12% of the electorate had voted in the first two hours in Sikkim.

(

Lok sabha poll %

)
Voting in Sikkim began at 7 am today for the lone Lok Sabha constituency. Just six candidates are in the fray. A total 362,326 electorate, including 175,549 women will exercise their franchise in the state.

Phase-3
---
64 per cent turnout in Delhi
Moderate to brisk voting was today witnessed in Delhi as 52 per cent of the nearly 1.27 crore electorate exercised their franchise during the first four hours in the Lok Sabha polls where Congress, BJP and AAP are engaged in a tough contest.
Around 50 per cent cast vote in west UP
Lucknow: Brisk voting was today witnessed in Western Uttar Pradesh with 25.24 per cent polling till 11 am.
About five mn people vote in Madhya Pradesh. 
About five million people voted in nine Lok Sabha constituencies in Madhya Pradesh Thursday in largely peaceful polling, an official said.
An Election Commission official said the state recorded a voter turnout of 46.55 percent by 4.30 p.m.
Jharkhand witnesses 58.03 percent polling
Ranchi: Around 36 percent of electors Thursday cast their ballot in the first six hours of polling for four Lok Sabha seats from Jharkhand, officials said.(A total of) 58.03 percent electors cast their votes for four seats of the state. Koderma witnessed highest polling with 60.97 percent followed by Palamu, Lohardaga and Chatra with 59.30, 59 and 53.88 percent, respectively
58 percent polling in Odisha till 4 p.m  

Brisk polling in initial hours Kerala
Thiruvananthapuram: An average 16 per cent turnout was recorded in the first two hours of polling in 20 Lok Sabha constituencies in Kerala, which began this morning.
More than a quarter vote in Lakshadweep. 

There was 26.19 percent voting till 11 a.m.," an official of the Lakshadweep chief electoral officer.

Voting begins in Chhattisgarh for naxal-hit Bastar Lok Sabha seat.

Maharashtra: 56 pc polling in ten LS seats till 5 pm

Lok Sabha and Assembly poll begins in Odisha amidst tight security
Bhubaneswar: The first of the two-phased simultaneous elections to the 10 Lok Sabha and 70 assembly seats in the Maoist belt in Odisha began on Thursday amidst tight security in view of the poll boycott called by the extremists.
Over 73 pc vote in Haryana; Chandigarh creates record. 

The key candidates amongst a total of 230, including 11 women, includes Haryana industrialist Naveen Jindal, Chief Minister Bhupinder Singh Hooda's son Deepender, Avtar Singh Bhadana (all three of Congress) and former Union Minister Rao Inderjit Singh (BJP).

A total of 50.36 per cent votes were cast till 4 pm in six parliamentary constituencies in Bihar which went to the polls today.

Brisk voting underway in Jammu LS seat
Jammu: Amid tight security, brisk voting was today underway in Jammu Lok Sabha seat where Congress nominee and two-time MP Madan Lal Sharma is looking for a hat-trick while opposition BJP's Jugal Kishore Sharma is trying to woo electorate on Narendra Modi plank.
Source: http://indiatoday.intoday.in
Phase-2
---
Polling begins for the second phase of Lok Sabha polls
---
Meghalaya(55%), Arunachal Pradesh(11% vote), Nagaland(60%),  Manipur (50% vote)
---
The second phase of the Lok Sabha election 2014 voting will be held in one seat each in Nagaland and Manipur and two seats each in Arunchal Pradesh and Meghalaya. In Arunachal Pradesh, simultaneous elections will be held for 49 of the 60 Assembly seats. The election in the solitary seat in Mizoram has been postponed to April 11.
Meghalaya
---
4:00 pm: 53% polling in Meghalaya till 3 pm
53 percent polling was recorded in Meghalaya on Wednesday till 3 pm and is expected to be around 65 percent by 5 pm.
1.30 pm: Insurgents attack polling station in Meghalaya

1:00 pm: 39% polling till 1 pm in Meghalaya

7.45 am: Peaceful polling underway in Meghalaya
Polling for two Lok Sabha seats in Meghalaya began on a peaceful note this morning amid tight security. Congress, BJP, former Lok Sabha speaker PA Sangma's National Peoples Party, regional party United Democratic Party (UDP) and independents supported by small regional parties will fight it out in a multi-cornered contest in Shillong and Tura seats.
Arunachal Pradesh

---
55 percent votes cast in Arunachal


11.05 am: 11% polling till 10 am in Arunachal

7.35 am: Simultaneous LS, assembly polls begin in Arunachal

Simultaneous polls for two Lok Sabha and 49 of the 60 assembly seats of Arunachal Pradesh began on a peaceful note. Congress, BJP, NCP, Peoples Party of Arunachal besides independents are in the fray in the Western and Eastern parliamentary constituencies, which are traditional Congress strongholds since 1975 except in 2004 polls when BJP made its dent for the first time.
Nagaland
---
2:00 pm: 60% polling in Nagaland
12.30 pm: 35% votes polled in Mizoram till noon
10.05 am: Polling yet to begin in disputed Nagaland vilage
7.30 am: Polling for lone LS seat begins in Nagaland
Polling has begun for the lone parliamentary seat in Nagaland in the second phase of Lok Sabha elections. The poll will decide the fate of Chief Minister Neiphiu Rio, who is the candidate from his Naga Peoples Front party. A total 1,475 polling stations have been declared as normal, 407 as vulnerable and 177 as critical. A total of 33 companies of central armed police force have been deployed for peaceful conduct of the elections.
 Manipur

---
2:00 pm: 50% polling in Manipur

12.05 am: 40% votes cast in Manipur till noon

7.20 am: Polling begins in Manipur
Polling began for the Outer Manipur Lok Sabha seat, one of the two parliamentary constituencies in the state. A total 10 contestants from BJP, Congress, Trinamool Congress, Naga People's Front, NCP, JD(U) and Aam Admi Party, besides three independents are in the fray. An electorate of 9,11,699, of whom 4,63,068 are women, will cast their votes in 511 polling booths. Polling for the second seat in the state, Inner Manipur constituency (valley districts) will be held on April 17.
source:TOI,Zeenews