Manipur

Election Result

2017 Live Opinion poll Who will win in Manipur polls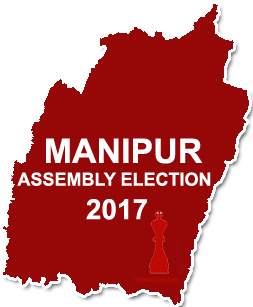 Maniput Exit polls have been banned by ECI from 4th Februrary to 8th March 2017 till all 5 states elections are completed
Find Manipur Opinion poll 2017 for assembly election. Manipur Election survey Result shows Who will win in Manipur polls based on Manipur opinion poll Manipur Election Issues. Manipur CM Candidate has yet not been declared by BJP AAP. Find Manipur Party Wise Constituency Wise opinion poll released by ABP News-Nielsen, India TV Cvoter opinion/Exit poll and India Today cicero opinion/Exit poll.
Manipur elections have been declared and will be taking place in 2 phases on 4th and 8th March 2017.
Latest Opinion Poll by India Today - Axis showed BJP+ winning in Manipur with absolute majority with 33 seats and INC distant second at 22 seats.
Manipur Assembly Election Results 2017 Party Wise
Manipur ASSEMBLY PARTY WISE RESULT 2017

PARTY ALLIANCE
WON
Vote%

BJP

21

36.3%

INC

28

35.1%

NPF

4

7.2%

NPP

4

5.1%

LJSP

1

2.5%

AITC

1

1.4%

IND

1

5.1%

TOTAL
60
100%
---
Also Read: Manipur Constituency Wise Election Result 2017 new
Chanakya Manipur Exit poll 2017
India Today Manipur Exit poll 2017
86% recorded in

Second Phase.

84.8% voter turnout in First Phase Elections 2017
According to Manipur Exit poll by India Tv BJP is winning, but according to India Today INC is leading.
Summary of all Exit Polls Manipur Assembly Elections 2017
Manipur Assembly Election Exit Poll 2017

Party Alliance

News 24 - Chanakya

India Today Axis

India TV -C voter

Poll of Polls

BJP

25-31

16-22

25-31

25

INC

17-23

30-36

17-23

24

Others

9-15

6-11

9-15

11
In the 2012 Assembly election in Manipur, the BJP drew a blank. However, after the disqualification of two Trinamul Congress MLAs in a defection drama in 2015, the BJP wooed the disqualified MLAs and fielded them on its tickets in the byelections that followed. The two won their seats, giving the BJP a presence with two MLAs in a House of 60.
OPINION POLL 1: India Today - Axis Manipur Opinion Poll on October 13th.
Summary of all Opinion Polls for Manipur Assembly Elections 2017
Manipur Assembly Election Opinion Poll 2017

Party

India Today Axis

(Oct)

BJP

31-35

INC

19-24

NPF

3--5

OTH

2--4
INC is at second position with 21 seats. Read Complete Poll details here
India Today - Axis Pre Poll Survey

Party wise Seat Projection

Party

Vote %

Seats Projected

BJP

40%

31-35

INC

37%

19-24

NPF

-

3-5

Others

23%

2-4

Total

-

60
2012 assembly election results for the state of Manipur
Manipur 2012 Assembly Results

Party

Seats

INC

42

NCP

1

AITC

5

BJP

2

LJP

1

Manipur State Congress Party (MSCP)

5

NPF

4

Total

60
Other Opinion poll for Manipur assembly election 2017:-
Manipur Assembly Constituency List: