4th Phase Lok Sabha Elections 2014 LIVE Updates, Fourth Phase 12th April Parliamentary Constituency Updates, Assam, Goa 4th Phase Lok Sabha Elections Voting Patterns Live, Parliamentary Election Voting Percentage Live Coverage 2014
Details

Parent Category: Political News
Last Updated on

Thursday, 22 January 2015 20:57
4th Phase Lok Sabha Elections 2014 LIVE Updates, Fourth Phase 12th April Parliamentary Constituency Updates
Fourth Phase Voting in Assam, Goa, Sikkim and Tripura Parliamentary, 7 Parliamentary Contituencies across 4 States in India .
Over half of Tripura, Assam, Goa votes till 2 pm, moderate polling in Sikkim
Tripura registered the highest of 82 per cent in one Lok Sabha seat, Assam 72 per cent in three parliamentary seats and Sikkim 71 per cent in one LS and 32 Assembly seats.
---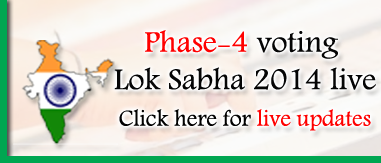 8:02 am Polling starts in Assam
---
7:05 pm: Turnout  72 % in Assam
In Congress-ruled Assam, voter turnout was the highest in Silchar recording 74 per cent polling followed by Karimganj (SC) constituency with 72 per cent and Autonomous District (ST) comprising Karbi Anglong and Dima Hasao districts 71 per cent.
2: 15 pm: Over 50% polling in Assam till 2 pm.
1: 55 pm 37 percent voting in Assam till noon.

Voting for three Lok Sabha constituencies in Assam began on Saturday. Nearly 30 million are eligible to vote in these three constituencies. Polling for five constituencies in the state was held April 7. The last phase of polling for remaining six seats takes place in the state April 24.
8:02 am Polling starts in Tripura
---
7:05 pm: Turnout  82 % in Tripura 

6: 40 pm: Over 75% polling in Tripura till 4 pm 

Over 75 per cent voters had cast their votes till 4pm in East Tripura (ST) constituency

.

2: 27 pm: Two-third polling in Tripura till 2 pm

1: 50 pm Over 55 per cent polling in Tripura till noon

11:15 am: 30 % turnout in Tripura in early hours
Voting in Tripura for its second Lok Sabha constituency has begun. Over 1.13 million strong electorate, half of them women, are eligible to vote. The polling will be held at 1,490 polling stations across the Tripura East constituency. The tribal reserved constituency has 12 candidates, including two women, who are in the fray.
8: 00 am Polling begins in Sikkim for lone seat
---
7:05 pm: Turnout  71 % in Sikkim




12% of the electorate had voted in the first two hours in Sikkim.
Voting in Sikkim began at 7 am today for the lone Lok Sabha constituency. Just six candidates are in the fray. A total 362,326 electorate, including 175,549 women will exercise their franchise in the state.
7:50 am Polling for 2 seats in Goa begins
---
 2: 40 pm: Goa records 50% voting till 2 pm


Goa records 35 percent polling till 11 am
Around 35 percent voters cast their ballot in Goa till 11 am on Saturday. According to the Election Commission officials, the voting percentage in North Goa was 36.42 percent till 11 am, while in South Goa it was 34.11 percent.
13 % of Goa's 1,057,499 voters cast ballot within the first two hours.
Voting for two Lok Sabha constituencies in Goa began today. The state witnesses a triangular fight between the BJP, Congress and the newly formed Aam Aadmi Party.
Around 50 lakh voters will vote for 74 candidates in the four states. Prominent candidates from North Goa include Ravi Naik (Congress), BJP's sitting MP Shripad Naik and Aam Aadmi Party's Dattaram Desai. From the South Goa seat, Congress' Aleixo Reginaldo Lourenco, BJP's Narendra Sawaikar and AAP's Swati Kerkar are among the prominent contenders.
source:zeenews

Fourth Phase Poll:-
---
PollDay-4

Date Of Poll (12 april 2014 )

STATE

No. of PCs

Assam

3

 

Goa

2

Sikkim

1

Tripura

1

Total

7
Candidates Contesting in Assam Parliamentary Constituencies
---
| | | | |
| --- | --- | --- | --- |
| Constituency Name | INC Candidate | BJP Candidate | AAP Candidate |
| Karimganj | Lalit Mohan Suklabaidya     | Krishna Das     | Tarun Kumar Das     |
| Silchar | Sushmita Dev     | Kabindra Purkayastha     | Abdul Mannan Barbhuiya     |
| Autonomous District | Biren Singh Engti     | Joyram?Engleng     | Azmal Hussain     |
| Dhubri | Mohd. Wajid Ali Choudhary     | Dr. Debomoy Sanyal     | Pranjal Bordoloy     |
| Kokrajhar | - | Ashwani Kumar Chopra     | - |
| Barpeta | Ismail Hussain     | Chandra Mohan Patowari     | - |
| Gauhati | Manas Bora     | - | Pranjal Bordoloy     |
| Mangaldoi | Kirip Chaliha     | - | Namrata Sharma     |
| Tezpur | Bhupen Kumar Bora     | Ram Prasad Sharma     | - |
| Nowgong | Smt. Jon Jonali Baruah     | - | - |
| Kaliabor | Gaurav Gogoi     | Mrinal Kumar Saikia     | Jinti Gogoi     |
| Jorhat | B.K . Handique     | Kamakhya Prasad Tasa     | Manorom Gogoi     |
| Dibrugarh | Paban Singh Ghatowar     | Rameshwar Teli     | - |
| Lakhimpur | Ranee Narah     | Sarbananda Sonowal     | Hiramoni Deka Sonowal     |
Short Summary of some Parliamentary Contituencies of Assam:-

---
Lakhimpur Assam Parliamentary Constituency 2014, Lakhimpur Lok sabha Constituency Details, Political News Lakhimpur, Assam Lok Sabha Elections 2014 News Updates, Assam Parliamentary Constituency details 2014, Lakhimpur MP, Issues Political Analysis 2014:
Dibrugarh Assam Parliamentary Constituency 2014, Dibrugarh Lok sabha Constituency Details, Political News Dibrugarh, Assam Lok Sabha Elections 2014 News Updates, Assam Parliamentary Constituency details 2014, Dibrugarh MP, Issues Political Analysis 2014:
Jorhat Assam Parliamentary Constituency 2014, Jorhat Lok sabha Constituency Details, Political News Jorhat, Assam Lok Sabha Elections 2014 News Updates, Assam Parliamentary Constituency details 2014, Jorhat MP, Issues Political Analysis 2014:
Kaliabor Assam Parliamentary Constituency 2014, Kaliabor Lok sabha Constituency Details, Political News Kaliabor, Assam Lok Sabha Elections 2014 News Updates, Assam Parliamentary Constituency details 2014, Kaliabor MP, Issues Political Analysis 2014:
Tezpur Assam Parliamentary Constituency 2014, Tezpur Lok sabha Constituency Details, Political News Tezpur, Assam Lok Sabha Elections 2014 News Updates, Assam Parliamentary Constituency details 2014, Tezpur MP, Issues Political Analysis 2014:
Candidates Contesting in Goa Parliamentary Constituencies
| | | | |
| --- | --- | --- | --- |
| LS Constituency | BJP Candidate | INC Candidate | AAP Candidate |
| North Goa | Shripad Yesso Naik     | Ravi Naik     | Dr.Dattaram Desai     |
| South Goa | Narendra Keshav Sawaikar     | Aleixo Reginaldo Lourenco     | Swati Shridhar Kerkar   |
Candidates Contesting in Sikkim Parliamentary Constituencies:-
| | | | |
| --- | --- | --- | --- |
| LS Constituency | BJP Candidate | INC Candidate | AAP Candidate |
| Sikkim | Nar Bahadur Khatiwara     | Akar Dhoj Limbu     | Kaushal Rai     |
Candidates Contesting in Tripura Parliamentary Constituencies:-
| | | | |
| --- | --- | --- | --- |
| LS Constituency | BJP Candidate | INC Candidate | AAP Candidate |
| Tripura West | Sudhindra Chandra Dasgupta     | Prof Arunoday Saha     | Dr. Salil Saha     |
| Tripura East | Parikshit Debbarma     | Sachitra Debbarma     | Karna Bijoy Jamatia     |
Short Summary of all Parliamentary Contituencies of Goa:-

Lakhimpur Assam Parliamentary Constituency 2014, Lakhimpur Lok sabha Constituency Details, Political News Lakhimpur, Assam Lok Sabha Elections 2014 News Updates, Assam Parliamentary Constituency details 2014, Lakhimpur MP, Issues Political Analysis 2014:
Tripura East Parliamentary Constituency 2014, Tripura East Lok sabha Constituency Details, Political News Tripura East, Tripura Lok Sabha Elections 2014 News Updates, Tripura Parliamentary Constituency details 2014, Tripura East MP, Issues Political Analysis 2014: