3rd Phase Lok Sabha Elections 2014 LIVE Updates, Third Phase 10th April Parliamentary Constituency Updates, Delhi 3rd Phase Lok Sabha Elections Voting Patterns Live, Parliamentary Election Voting Percentage Live Coverage 2014
Details

Parent Category: Political News
Last Updated:

Thursday, 22 January 2015 20:57
3rd Phase Lok Sabha Elections 2014 LIVE Updates, Third Phase 10th April Parliamentary Constituency Updates
Third Phase Voting in Delhi Parliamentary, Odisha 2014 Assembly, 91 Parliamentary Contituencies across 11 States and 3 UTs.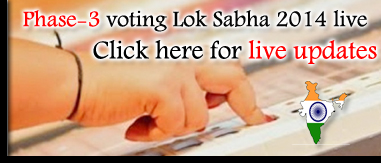 ---
LS polls: Kerala top scorer at 76%, Delhi sees 64% turnout:

- High voter turnout was recorded in the 91 constituencies in 14 states and Union Territories which went to polls in the third and substantial phase of Lok Sabha elections ..

hindustantimes




Lok Sabha Election 2014: Third phase polling sees high voter turnout:- 

"High voter turn-out in today's polls is very encouraging. I congratulate and thank people. Hope the positive trend continues in later phases," the Bharatiya Janata Party's prime ministerial nominee Narendra Modi tweeted...indiatoday

Chandigarh tops with 74%:-

Chandigarh constituency recorded the highest turnout of 74 per cent, against 64 per cent in 2009 polls

...

TOI

Not a single vote cast in Haryana's Sultanpuria.

Not a single vote was cast in two polling booths in Sultanpuria village as 1,900 voters boycotted elections over non-fulfillment of their long-pending demand..Read Here

---
64 per cent turnout in Delhi
Moderate to brisk voting was today witnessed in Delhi as 52 per cent of the nearly 1.27 crore electorate exercised their franchise during the first four hours in the Lok Sabha polls where Congress, BJP and AAP are engaged in a tough contest.
About 25 per cent cast votes in west Uttar Pradesh

Lucknow: Brisk voting was today witnessed in Western Uttar Pradesh with 25.24 per cent polling till 11 am.
MP votes for nine Lok Sabha seats in first phase

One-third electors vote in Jharkhand
Ranchi: Around 36 percent of electors Thursday cast their ballot in the first six hours of polling for four Lok Sabha seats from Jharkhand, officials said.
Brisk polling in initial hours Kerala
Thiruvananthapuram: An average 16 per cent turnout was recorded in the first two hours of polling in 20 Lok Sabha constituencies in Kerala, which began this morning.
More than a quarter vote in Lakshadweep. 

There was 26.19 percent voting till 11 a.m.," an official of the Lakshadweep chief electoral officer.

Voting begins in Chhattisgarh for naxal-hit Bastar Lok Sabha seat.

Maharashtra: 17 percent voter turnout till 11 AM in 10 LS seats in Vidarbha

Lok Sabha and Assembly poll begins in Odisha amidst tight security
Bhubaneswar: The first of the two-phased simultaneous elections to the 10 Lok Sabha and 70 assembly seats in the Maoist belt in Odisha began on Thursday amidst tight security in view of the poll boycott called by the extremists.
Voting begins for 10 LS seats in Haryana, Chandigarh. 

The key candidates amongst a total of 230, including 11 women, includes Haryana industrialist Naveen Jindal, Chief Minister Bhupinder Singh Hooda's son Deepender, Avtar Singh Bhadana (all three of Congress) and former Union Minister Rao Inderjit Singh (BJP).

Over 28 per cent voting in 6 LS seats in Bihar. Patna:

A total of 28 per cent votes were cast till noon in the six Parliamentary constituencies in Bihar that went to polls today even as voting has been put off for a later date in 22 polling stations in Maoist-hit areas due to security reasons.

Brisk voting underway in Jammu LS seat
Jammu: Amid tight security, brisk voting was today underway in Jammu Lok Sabha seat where Congress nominee and two-time MP Madan Lal Sharma is looking for a hat-trick while opposition BJP's Jugal Kishore Sharma is trying to woo electorate on Narendra Modi plank.
Source: http://indiatoday.intoday.in
Third Phase Election Schedule  
---
PollDay-3

Date Of Poll (10 april 2014 )

STATE

No. of PCs

Andaman & Nicobar Islands

1

 

Bihar

6

Chandigarh

1

Chhattisgarh

1

Haryana

10

Jammu & Kashmir

1

Jharkhand

4

Kerala

20

Lakshadweep

1

Madhya Pradesh

9

Maharashtra

10

NCT of Delhi

7

Odisha

10

Uttar Pradesh

10

Total

91

STATE

No. of Acs

Maharashtra

1

Odisha

70

Total

71