Manipur India Today Axis Opinion poll Election Survey Result 2017, India Today-Axis Manipur Opinion poll, Manipur assembly election opinion poll 2016, Manipur Axis Opinion Poll
Manipur will be the second north-eastern state after Assam to turn saffron, the India Today-Axis opinion poll has revealed. If elections in the state are held today, the party is likely to unseat the Congress by winning 31-35 seats.
That is a huge dent in the state so far dominated by the Congress, which had more than 50 MLAs in the 60-member Assembly. However, with less than six months to go for the polls, as many as four Congress legislators have resigned from the party.
Manipur Pre Poll Survey

Party

Vote Share

BJP

40%

INC

37%

OTH

23%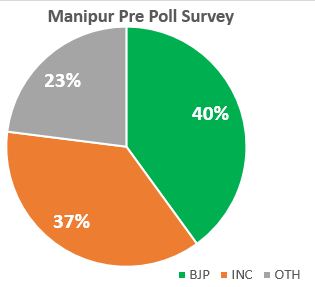 The Manipur Assembly right now has an effective strength of 53 instead of 60 after three from Congress and four Naga Peoples Front MLAs resigned from the House recently.
The survey says the Sonia Gandhi-led party may not win more than 19-24 seats in the forthcoming state election. In terms of vote share, that is three points less than the BJP's 40 per cent.
Manipur Pre Poll Survey

Party

Seat Share

BJP

31-35

INC

19-24

NPF

3--5

OTH

2--4
Also, more people (37 per cent) in the state agree with the BJP's mission of a Congress-free India than disagree (33 per cent). Nearly 30 per cent voters were not sure if a Congress-Mukt Bharat is a good idea.
ELECTION ISSUES
The Inner-Line Permit (ILP) issue remains the biggest election plank for an overwhelming 62 per cent of the voters in Manipur. With the influx of foreign tourists and illegal immigration from Bangladesh, Nepal and Myanmar, the state wants ILP to protect its indigenous people.
The ILP is a government of India document to allow an Indian citizen access into a protected area for a limited period. Currently, it is operational in Arunachal Pradesh, Mizoram and Nagaland.
The second major issue for Manipuri voters is better infrastructure (12 per cent) followed by more employment opportunities (11 per cent).
IROM SHARMILA REJECTED
Interestingly, the removal of the Armed Forces Special Powers Act (AFSPA), for which Irom Sharmila went on a 16-year hunger strike, finds no resonance with the voters in Manipur. Only six per cent of those surveyed said they want the AFSPA to go.
Sharmila, once hailed as the Iron Lady of Manipur, has now been summarily rejected by her state. While just one per cent of those polled said they want her as their next Chief Minister, a massive 75 per cent said her epic hunger strike against the Indian Army is no more an election issue.
When asked if they will vote for Sharmila if she contests the 2017 polls, 73 per cent of Manipur's electorate replied in the negative. While nine per cent said they will, 18 per cent were not sure.