Lok sabha election 2014 :80% voting in Tripura, 72% in Assam, Lok Sabha poll 2014, First phase polling, Polling %, Vote % in first phase polling
Details

Parent Category: Political News
Last Updated:

Thursday, 22 January 2015 20:56
First phase polling :80% voting in Tripura, 72% in Assam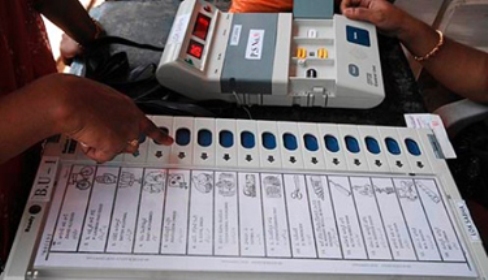 6:45 pm: 80 percent voting in Tripura, 72 percent in Assam
5:45 pm: Estimated 72 percent votes cast in Assam

4:45 pm: 74 percent votes cast in Tripura till 3 pm
About 74 percent of the electorate cast their votes peacefully till 3:00 pm in the Tripura West Lok Sabha constituency in the first phase of polling.
3:50 pm: Carnival mood in Assam as youth, women flock to vote
'Rongali Bihu' (Spring festival) seems to have come early to Assam with enthusiastic youth and women voters flocking to the booths in a carnival mood to cast their votes in the first phase of polling in five parliamentary constituencies today.
3:00 pm: Over 49% polling in Assam in first 6 hrs
Over 49 percent of voters Monday cast their ballot in the first six hours of polling in five Lok Sabha constituencies in Assam, officials said. Monday's polling kick-stated the nine-phase 16th Lok Sabha polls in the country.
2:30 pm: 60% polling in Tripura till 2 pm
Around 60 percent of the electorate had cast their votes till 2 pm Monday.
1:20 pm: 35% votes cast till noon in Assam
Thirty-five per cent of the 64,41,634 voters exercised their franchise till noon Monday in five Lok Sabha constituencies of Assam where four persons clashed with CRPF personnel demanding that they be allowed to cast their vote first in Kaliabor constituency. 
Election office sources said 27 per cent voting was registered in Tezpur, 45 per cent in Jorhat, 32 per cent in Lakhimpur, 38 per cent in Dibrugarh and 30 per cent in Koliabor during the first phase of elections in the state.  With a large turnout of voters, long queues were seen in front of the 8,588 polling stations one hour before voting began at 7 am, particularly in the rural areas where poll campaigning was intense.
1:00 pm: 41% votes cast in Tripura till mid-day
Forty-one percent of the 12,46,794 voters exercised their franchise till noon in Tripura West Lok Sabha Constituency today, amid complaints of malfunctioning of EVMs at some places.
11.15 am: 25% voting in Assam till 10 am, 15% in Tripura
Over 25 percent of the 64,41,634 voters exercised their franchise during the first three hours of polling to decide the fate of 51 candidates in five Lok Sabha seats in Assam. Meanwhile, about fifteen percent votes were cast within two hours of voting in Tripura West Lok Sabha constituency.
10.00 am: 12% polling in first two hours in Assam
The state of Assam recorded 12 percent voting in the first two hours as balloting for five Lok Sabha constituencies began this morning at 7 am, according to state election officials.
8:30 am: Polling underway in first phase of LS polls in Assam
The first phase of the Lok Sabha elections in five seats in Assam began Monday on a peaceful note. The Congress, BJP, Trinamool Congress, AIUDF, AGP, AAP, SUCI, CPI(M), AIFB and SP are contesting in the five seats in Tezpur, Koliabor, Jorhat, Dibrugarh and Lakhimpur in the Congress-ruled state.
Among the 51 candidates, Union ministers Ranee Narah and Paban Singh Ghatowar, former Union minister and sitting MLA Bijoy Krishna Handique, Chief Minister Tarun Gogoi's son Gourav Gogoi and Bhupen Kumar Bora are for the Congress.
Congress rebel and Independent candidate Moni Kumar Subba is also in the fray. For the BJP, its unit president Sorbananda Sonowal and Kamakhya Prasad Tasa are contesting while AGP's nominees are Arun Kumar Sarma, Pradip Hazarika and Joseph Toppo.
An electorate of 64,41,634, including 31,20,067 women, are expected to exercise their franchise at 8,588 polling stations.For the first time in the Northeast region and the third time in the country after Kashmir and Bihar, all polling booths have been declared smoking free.
Security measures have been tightened for the polls with additional companies of security forces deployed. The next phase of the polls will be held on April 12 for three Lok Sabha seats.
8:15 am: Lok Sabha elections begin in Tripura
Polling for the Tripura West Lok Sabha seat began today in the Left Front-ruled state that has two parliamentary constituencies. The seat will witness a multi-cornered contest among the CPI(M), the Congress, the TMC and the BJP.
Among the 13 candidates, major contestants are CPI(M)'s Shankar Prasad Dutta, secretary of the state unit of CITU, Congress' Arunoday Saha, former vice-chancellor of Tripura Central University, Sudhindra Dasgupta, BJP's state unit chief and chairman of the state unit of TMC and former minister Ratan Chakraborty.
The CPI(M) has won the seat ten out of 15 times between 1952 and 2009. Since 1996 the CPI(M) has consistently won this seat. Of the 12,46,794 voters, 634702 are male and the remaining female. Altogether 1,605 polling stations have been set up for the constituency of which only two have been identified as very vulnerable, 486 as vulnerable.
The Election Commission has set up nine all-women polling stations considering the track record of good performance by women personnel. An additional 35 companies of security forces have been dispatched by the EC for deployment along with the state police. The BSF has deployed additional forces along the 856 km Indo-Bangla international border. Polling for the East Tripura (ST Reserve) seat will be held on April 12.
source:http://zeenews.india.com/