Details

Category: Rajasthan News
Last Updated:

Friday, 01 February 2019 11:02
Rajasthan Assembly Election Schedule Dates 2018 Constituency Wise



Rajasthan Assembly Election Schedule 2018
Rajasthan Assembly Election Schedule 2018, Rajasthan election Schedule, Rajasthan legislative Election 2018 dates Announced, Rajasthan Vidhan Sabha Election Dates, Rajasthan Election Schedule 2018, Rajasthan Assembly Election Phase Dates, Voting Election Result Date 2018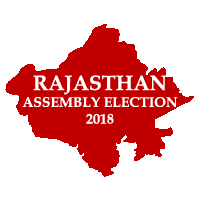 Congress' Shafia Zubair won the Ramgarh Assembly seat in Rajasthan by defeating BJP's Sukhwant Singh by 12,228 votes. With this win, Congress' tally in Rajasthan touches 100 out of 200 seats. In Jind, BJP's Krishan Middha emerged victorious, winning the seat by over 12,000 votes. Middha has overtaken Jannayak Janata Party candidate Digvijay Chautala. Congress heavyweight and national spokesperson Randeep Singh Surjewala settled at the third spot.
Following Congress' win in the Ramgarh elections, Rajasthan Chief Minister Ashok Gehlot said the result would encourage the party ahead of the Lok Sabha polls. He said "I am happy that people took a well-meditated step. They have taken the right decision. I thank them and express my gratitude.
Rajasthan has a 200-member assembly but polling in Ramgarh was postponed following the death of the Bahujan Samaj Party (BSP) candidate Laxman Singh.
According to the schedule, polling was held in the constituency on January 28 from 8 am 5 pm. The candidate will be of the BSP only and the last date for filing nomination is January 10.
The polling for the rest of the 199 constituencies in the state took place on December 7 and counting was done on December 11.
---
Rajasthan Election Dates 2018
Rajasthan Assembly Election 2018 dates: 7 December 2018
Schedule For Assembly Election Rajasthan 2018

Poll

Event Dates

1. Issue of Notification

2. Last date for making Nominations

10 Jan 2019

3. Scrutiny of Nominations

11 Jan 2019

4. Last date for withdrawal of candidatures

14 Jan 2019

5. Date of Poll

6. Counting of Votes

7. Date before which election process shall be completed
---
Rajasthan Assembly Election 2018 Updates

Rajasthan Constituency List 2018
| | | | |
| --- | --- | --- | --- |
| Ac.No | Constituency | Winner Name | Party |
| 1 | Sadulshahar | | |
| 2 | Ganganagar | | |
| 3 | Karanpur | | |
| 4 | Suratgarh | | |
| 5 | Raisinghnagar | | |
| 6 | Anupgarh | | |
| 7 | Sangaria | | |
| 8 | Hanumangarh | | |
| 9 | Pilibanga | | |
| 10 | Nohar | | |
| 11 | Bhadra | | |
| 12 | Khajuwala | | |
| 13 | Bikaner West | | |
| 14 | Bikaner East | | |
| 15 | Kolayat | | |
| 16 | Lunkaransar | | |
| 17 | Dungargarh | | |
| 18 | Nokha | | |
| 19 | Sadulpur | | |
| 20 | Taranagar | | |
| 21 | Sardarshahar | | |
| 22 | Churu | | |
| 23 | Ratangarhh | | |
| 24 | Sujangarh | | |
| 25 | Pilani | | |
| 26 | Surajgarh | | |
| 27 | Jhunjhunu | | |
| 28 | Mandawa | | |
| 29 | Nawalgarh | | |
| 30 | Udaipurwati | | |
| 31 | Khetri | | |
| 32 | Fatehpur | | |
| 33 | Lachmangarh | | |
| 34 | Dhod | | |
| 35 | Sikar | | |
| 36 | Dantaramgarh | | |
| 37 | Khandela | | |
| 38 | Neem Ka Thana | | |
| 39 | Srimadhopur | | |
| 40 | Kotputli | | |
| 41 | Viratnagar | | |
| 42 | Shahpura | | |
| 43 | Chomu | | |
| 44 | Phulera | | |
| 45 | Dudu | | |
| 46 | Jhotwara | | |
| 47 | Amber | | |
| 48 | Jamwa Ramgarh | | |
| 49 | Hawamahal | | |
| 50 | Vidhyadhar Nagar | | |
| 51 | Civil Lines | | |
| 52 | Kishanpole | | |
| 53 | Adarsh Nagar | | |
| 54 | Malviya Nagar | | |
| 55 | Sanganer | | |
| 56 | Bagru | | |
| 57 | Bassi | | |
| 58 | Chaksu | | |
| 59 | Tijara | | |
| 60 | Kishangarh Bas | | |
| 61 | Mundawar | | |
| 62 | Behror | | |
| 63 | Bansur | | |
| 64 | Thanagazi | | |
| 65 | Alwar Rural | | |
| 66 | Alwar Urban | | |
| 67 | Ramgarh | | |
| 68 | Rajgarh-Laxmangarh | | |
| 69 | Kathumar | | |
| 70 | Kaman | | |
| 71 | Nagar | | |
| 72 | Deeg Kumher | | |
| 73 | Bharatpur | | |
| 74 | Nadbai | | |
| 75 | Weir | | |
| 76 | Bayana | | |
| 77 | Baseri | | |
| 78 | Bari | | |
| 79 | Dholpur | | |
| 80 | Rajakhera | | |
| 81 | Todabhim | | |
| 82 | Hindaun | | |
| 83 | Karauli | | |
| 84 | Sapotra | | |
| 85 | Bandikui | | |
| 86 | Mahuwa | | |
| 87 | Sikrai | | |
| 88 | Dausa | | |
| 89 | Lalsot | | |
| 90 | Gangapur | | |
| 91 | Bamanwas | | |
| 92 | Sawai Madhopur | | |
| 93 | Khandar | | |
| 94 | Malpura | | |
| 95 | Niwai | | |
| 96 | Tonk | | |
| 97 | Deoli-Uniara | | |
| 98 | Kishangarh | | |
| 99 | Pushkar | | |
| 100 | Ajmer North | | |
| 101 | Ajmer South | | |
| 102 | Nasirabad | | |
| 103 | Beawar | | |
| 104 | Masuda | | |
| 105 | Kekri | | |
| 106 | Ladnun | | |
| 107 | Deedwana | | |
| 108 | Jayal | | |
| 109 | Nagaur | | |
| 110 | Khinwsar | | |
| 111 | Merta | | |
| 112 | Degana | | |
| 113 | Makrana | | |
| 114 | Parbatsar | | |
| 115 | Nawan | | |
| 116 | Jaitaran | | |
| 117 | Sojat | | |
| 118 | Pali | | |
| 119 | Marwar Junction | | |
| 120 | Bali | | |
| 121 | Sumerpur | | |
| 122 | Phalodi | | |
| 123 | Lohawat | | |
| 124 | Shergarh | | |
| 125 | Osian | | |
| 126 | Bhopalgarh | | |
| 127 | Sardarpura | | |
| 128 | Jodhpur | | |
| 129 | Soorsagar | | |
| 130 | Luni | | |
| 131 | Bilara | | |
| 132 | Jaisalmer | | |
| 133 | Pokaran | | |
| 134 | Sheo | | |
| 135 | Barmer | | |
| 136 | Baytoo | | |
| 137 | Pachpadra | | |
| 138 | Siwana | | |
| 139 | Gudha Malani | | |
| 140 | Chohtan | | |
| 141 | Ahore | | |
| 142 | Jalore | | |
| 143 | Bhinmal | | |
| 144 | Sanchore | | |
| 145 | Raniwara | | |
| 146 | Sirohi | | |
| 147 | Pindwara Abu | | |
| 148 | Reodar | | |
| 149 | Gogunda | | |
| 150 | Jhadol | | |
| 151 | Kherwara | | |
| 152 | Udaipur Rural | | |
| 153 | Udaipur | | |
| 154 | Mavli | | |
| 155 | Vallabhnagar | | |
| 156 | Salumber | | |
| 157 | Dhariawad | | |
| 158 | Dungarpur | | |
| 159 | Aspur | | |
| 160 | Sagwara | | |
| 161 | Chorasi | | |
| 162 | Ghatol | | |
| 163 | Garhi | | |
| 164 | Banswara | | |
| 165 | Bagidora | | |
| 166 | Kushalgarh | | |
| 167 | Kapasan | | |
| 168 | Begun | | |
| 169 | Chittorgarh | | |
| 170 | Nimbahera | | |
| 171 | Bari Sadri | | |
| 172 | Pratapgarh | | |
| 173 | Bhim | | |
| 174 | Kumbhalgarh | | |
| 175 | Rajsamand | | |
| 176 | Nathdwara | | |
| 177 | Asind | | |
| 178 | Mandal | | |
| 179 | Sahara | | |
| 180 | Bhilwara | | |
| 181 | Shahpura | | |
| 182 | Jahazpur | | |
| 183 | Mandalgarh | | |
| 184 | Hindoli | | |
| 185 | Keshoraipatan | | |
| 186 | Bundi | | |
| 187 | Pipalda | | |
| 188 | Sangod | | |
| 189 | Kota North | | |
| 190 | Kota South | | |
| 191 | Ladpura | | |
| 192 | Ramganj Mandi | | |
| 193 | Anta | | |
| 194 | Kishanganj | | |
| 195 | Baran-Atru | | |
| 196 | Chhabra | | |
| 197 | Dag | | |
| 198 | Jhalrapatan | | |
| 199 | Khanpur | | |
| 200 | Manohar Thana | | |