Details

Category: Rajasthan News
Last Updated:

Sunday, 07 October 2018 23:48
Rajasthan Opinion Poll 2018 Election Survey Result
Rajasthan Opinion Poll 2018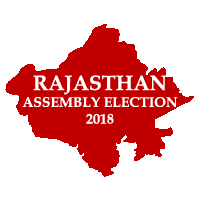 Rajasthan ABP News Opinion poll 2018, Rajasthan assembly survey ABP News Opinion poll result 2018, Who will win 2018 Rajasthan polls, Rajasthan ABP News Election Survey Result, Rajasthan Exit poll, ABP News-Nielsen opinion/Exit poll, India Today cicero opinion/Exit poll, Chanakya opinion/Exit poll, India TV Cvoter opinion/Exit poll, NDTV opinion/Exit poll, Axis opinion/Exit poll, Rajasthan CM Candidate, Rajasthan Election Issues, Rajasthan Party Wise opinion poll, Rajasthan Constituency Wise opinion poll,
Political Services Download latest voter list Booth wise
According to Various Opinion Polls published by Various Survey agencies and TV Channels Following are the Opinion Polls for Rajasthan Assembly Elections 2018.
Other Imp. Links:
For the 2018 no Opinion polls have yet been published but looking at Modi wave all across the country, and Rajasthan being BJP strong foothold, BJP might show good results.
.
Rajasthan Latest Opinion Poll 2018 Summary
| | | | | | |
| --- | --- | --- | --- | --- | --- |
| Date | Polling agency | BJP | INC | Others | Lead |
| | | | | | |
| 43374 | ABP News | 56 | 142 | 2 | 86 |
| 43313 | ABP News- C Voter | 57 | 130 | 13 | 73 |
---
| | | | |
| --- | --- | --- | --- |
| Ac.No | Constituency | Winner Name | Party |
| 1 | Sadulshahar | | |
| 2 | Ganganagar | | |
| 3 | Karanpur | | |
| 4 | Suratgarh | | |
| 5 | Raisinghnagar | | |
| 6 | Anupgarh | | |
| 7 | Sangaria | | |
| 8 | Hanumangarh | | |
| 9 | Pilibanga | | |
| 10 | Nohar | | |
| 11 | Bhadra | | |
| 12 | Khajuwala | | |
| 13 | Bikaner West | | |
| 14 | Bikaner East | | |
| 15 | Kolayat | | |
| 16 | Lunkaransar | | |
| 17 | Dungargarh | | |
| 18 | Nokha | | |
| 19 | Sadulpur | | |
| 20 | Taranagar | | |
| 21 | Sardarshahar | | |
| 22 | Churu | | |
| 23 | Ratangarhh | | |
| 24 | Sujangarh | | |
| 25 | Pilani | | |
| 26 | Surajgarh | | |
| 27 | Jhunjhunu | | |
| 28 | Mandawa | | |
| 29 | Nawalgarh | | |
| 30 | Udaipurwati | | |
| 31 | Khetri | | |
| 32 | Fatehpur | | |
| 33 | Lachmangarh | | |
| 34 | Dhod | | |
| 35 | Sikar | | |
| 36 | Dantaramgarh | | |
| 37 | Khandela | | |
| 38 | Neem Ka Thana | | |
| 39 | Srimadhopur | | |
| 40 | Kotputli | | |
| 41 | Viratnagar | | |
| 42 | Shahpura | | |
| 43 | Chomu | | |
| 44 | Phulera | | |
| 45 | Dudu | | |
| 46 | Jhotwara | | |
| 47 | Amber | | |
| 48 | Jamwa Ramgarh | | |
| 49 | Hawamahal | | |
| 50 | Vidhyadhar Nagar | | |
| 51 | Civil Lines | | |
| 52 | Kishanpole | | |
| 53 | Adarsh Nagar | | |
| 54 | Malviya Nagar | | |
| 55 | Sanganer | | |
| 56 | Bagru | | |
| 57 | Bassi | | |
| 58 | Chaksu | | |
| 59 | Tijara | | |
| 60 | Kishangarh Bas | | |
| 61 | Mundawar | | |
| 62 | Behror | | |
| 63 | Bansur | | |
| 64 | Thanagazi | | |
| 65 | Alwar Rural | | |
| 66 | Alwar Urban | | |
| 67 | Ramgarh | | |
| 68 | Rajgarh-Laxmangarh | | |
| 69 | Kathumar | | |
| 70 | Kaman | | |
| 71 | Nagar | | |
| 72 | Deeg Kumher | | |
| 73 | Bharatpur | | |
| 74 | Nadbai | | |
| 75 | Weir | | |
| 76 | Bayana | | |
| 77 | Baseri | | |
| 78 | Bari | | |
| 79 | Dholpur | | |
| 80 | Rajakhera | | |
| 81 | Todabhim | | |
| 82 | Hindaun | | |
| 83 | Karauli | | |
| 84 | Sapotra | | |
| 85 | Bandikui | | |
| 86 | Mahuwa | | |
| 87 | Sikrai | | |
| 88 | Dausa | | |
| 89 | Lalsot | | |
| 90 | Gangapur | | |
| 91 | Bamanwas | | |
| 92 | Sawai Madhopur | | |
| 93 | Khandar | | |
| 94 | Malpura | | |
| 95 | Niwai | | |
| 96 | Tonk | | |
| 97 | Deoli-Uniara | | |
| 98 | Kishangarh | | |
| 99 | Pushkar | | |
| 100 | Ajmer North | | |
| 101 | Ajmer South | | |
| 102 | Nasirabad | | |
| 103 | Beawar | | |
| 104 | Masuda | | |
| 105 | Kekri | | |
| 106 | Ladnun | | |
| 107 | Deedwana | | |
| 108 | Jayal | | |
| 109 | Nagaur | | |
| 110 | Khinwsar | | |
| 111 | Merta | | |
| 112 | Degana | | |
| 113 | Makrana | | |
| 114 | Parbatsar | | |
| 115 | Nawan | | |
| 116 | Jaitaran | | |
| 117 | Sojat | | |
| 118 | Pali | | |
| 119 | Marwar Junction | | |
| 120 | Bali | | |
| 121 | Sumerpur | | |
| 122 | Phalodi | | |
| 123 | Lohawat | | |
| 124 | Shergarh | | |
| 125 | Osian | | |
| 126 | Bhopalgarh | | |
| 127 | Sardarpura | | |
| 128 | Jodhpur | | |
| 129 | Soorsagar | | |
| 130 | Luni | | |
| 131 | Bilara | | |
| 132 | Jaisalmer | | |
| 133 | Pokaran | | |
| 134 | Sheo | | |
| 135 | Barmer | | |
| 136 | Baytoo | | |
| 137 | Pachpadra | | |
| 138 | Siwana | | |
| 139 | Gudha Malani | | |
| 140 | Chohtan | | |
| 141 | Ahore | | |
| 142 | Jalore | | |
| 143 | Bhinmal | | |
| 144 | Sanchore | | |
| 145 | Raniwara | | |
| 146 | Sirohi | | |
| 147 | Pindwara Abu | | |
| 148 | Reodar | | |
| 149 | Gogunda | | |
| 150 | Jhadol | | |
| 151 | Kherwara | | |
| 152 | Udaipur Rural | | |
| 153 | Udaipur | | |
| 154 | Mavli | | |
| 155 | Vallabhnagar | | |
| 156 | Salumber | | |
| 157 | Dhariawad | | |
| 158 | Dungarpur | | |
| 159 | Aspur | | |
| 160 | Sagwara | | |
| 161 | Chorasi | | |
| 162 | Ghatol | | |
| 163 | Garhi | | |
| 164 | Banswara | | |
| 165 | Bagidora | | |
| 166 | Kushalgarh | | |
| 167 | Kapasan | | |
| 168 | Begun | | |
| 169 | Chittorgarh | | |
| 170 | Nimbahera | | |
| 171 | Bari Sadri | | |
| 172 | Pratapgarh | | |
| 173 | Bhim | | |
| 174 | Kumbhalgarh | | |
| 175 | Rajsamand | | |
| 176 | Nathdwara | | |
| 177 | Asind | | |
| 178 | Mandal | | |
| 179 | Sahara | | |
| 180 | Bhilwara | | |
| 181 | Shahpura | | |
| 182 | Jahazpur | | |
| 183 | Mandalgarh | | |
| 184 | Hindoli | | |
| 185 | Keshoraipatan | | |
| 186 | Bundi | | |
| 187 | Pipalda | | |
| 188 | Sangod | | |
| 189 | Kota North | | |
| 190 | Kota South | | |
| 191 | Ladpura | | |
| 192 | Ramganj Mandi | | |
| 193 | Anta | | |
| 194 | Kishanganj | | |
| 195 | Baran-Atru | | |
| 196 | Chhabra | | |
| 197 | Dag | | |
| 198 | Jhalrapatan | | |
| 199 | Khanpur | | |
| 200 | Manohar Thana | | |