Candidate list for Assembly, Municipal, Panchayat, By(Bye) election India 2016 2017, BJP INC AAP BSP SP CPI(M) NCP Candidate list
Details

Category: Candidate List
Last Updated on

Monday, 02 April 2018 17:23
Rajasthan BJP Candidate List 2018, Rajasthan Assembly election Contesting Candidate, BJP complete List candidate List 2018, Rajasthan election BJP ticket declared, Rajasthan Vidhan Sabha election Candidate, BJP releases candidate List for Rajasthan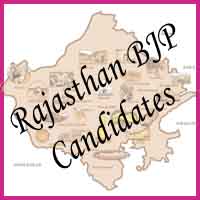 The Central Election Committee of the Bharatiya Janata Party met today under the Presidentship of Shri Rajnath Singh.
Meeting was attended by Shri L.K. Advani jee, Dr. Murali Manohar Joshi jee, Smt. Sushma Swaraj jee, Shri Arun Jaitley jee, Shri Narendra Modi jee and all the members of the Central Election Committee of the BJP.
Also Read: Opinion poll | Candidtate list | Election Schedule | Delhi News | National News .
The committee has decided the following names for the ensuing General Elections to the Legislative Assembly of Rajasthan.
Sl. No.

Constituency No. and Name

Name of Candidate

1

1

Sadulshahar

Shri Gurjant Singh

2

2

Ganganagar

Shri Radhey Shyam

3

3

Karanpur

Shri Surendra T.T.

4

4

Suratgarh

Shri Rajendra Bhadu

5

5

Raisingh Nagar (SC)

Shri Balbir Luthra

6

6

Anupgarh (SC)

Priyanka Balan

7

7

Sangaria

Shri Krishan Kadwa

8

9

Pilibanga (SC)

Draupadi Meghwal

9

10

Nohar

Shri Abhishek Matoria

10

11

Bhadra

Shri Sandeep Benewal

11

12

Khajuwala (SC)

Dr. Vishwanath Meghwal

12

14

Bikaner East

Siddhi Kumari

13

15

Kolayat

Shri Devi Singh Bhati

14

16

Lunkaransar

Shri Sumit Godara

15

17

Dungargarh

Shri Krishan Ram Nai

16

18

Nokha

Shri Sahi Ram Bishnoi

17

19

Sadulpur

Kamla Kaswa

18

21

Sardarsahar

Shri Ashok Pichha

19

22

Churu

Shri Rajendra Rathore

20

23

Ratangarh

Shri Rajkumar Rinwa

21

24

Sujangarh (SC)

Shri Khemaram Meghwal

22

25

Pilani (SC)

Shri Sunder Lal

23

26

Surajgarh

Santosh Ahlawat

24

27

Jhunjunu

Shri Rajvir Singh Shekhawat

25

29

Nawalgarh

Shri Jagdish Saini

26

31

Khetri

Shri Dataram Gurjar

27

32

Fatehpur

Shri Madhusudan Bhinda

28

33

Lachmangarh

Shri Subhash Mehria

29

34

Dhod (SC)

Shri Goverdhan Verma

30

35

Sikar

Shri Ratan Jaldhari

31

36

Dataramgarh

Shri Harish Kumawat

32

37

Khandela

Shri Banshidhar Bajeya

33

38

Neem ka Thana

Shri Prem Singh Bajore

34

39

Srimadopur

Shri Jhabar Singh Kharra

35

40

Kotputli

Shri Banwari Lal Yadav

36

41

Viratnagar

Shri Phool Chand Bhinda

37

42

Shahpura

Shri Rao Rajendra Singh

38

43

Chomu

Shri Ram Lal Sharma

39

45

Dudu (SC)

Dr. Prem Chand Bairwa

40

46

Jhotwara

Shri Raj Pal Singh Shekhawat

41

47

Amer

Shri Satish Punia

42

48

Jamwaram-garh (ST)

Shri Jagdish Meena

43

49

Hawa Mahal

Shri Surendra Parikh

44

50

Vidhyadhar Nagar

Shri Narpat Singh Rajvi

45

51

Civil lines

Shri Arun Chaturvedi

46

52

Kishanpole

Shri Mohan Lal Gupta

47

53

Adarsh nagar

Shri Ashok Parnami

48

54

Malviya nagar

Shri Kalicharan Sarraf

49

55

Sanganer

Shri Ghanshyam Tiwari

50

56

Bagru (SC)

Shri Kailash Verma

51

57

Bassi (ST)

Shri Kanhaiya Lal Meena

52

58

Chaksu (SC)

Shri Laxmi Narayan Bairwa

53

60

Kishangarh -bas

Shri Ramhet Yadav

54

61

Mundawar

Shri Dharam Pal

55

62

Behror

Dr. Jaswant

56

63

Bansur

Shri Rohtash Sharma

57

64

Thanagaji

Shri Hem Singh Bhadana

58

66

Alwar Urban

Shri Banwari Lal Singhal

59

67

Ramgarh

Shri Gyandev Ahuja

60

68

Rajgarh laxmangarh (ST)

Sunita Meena

61

69

Kathumar (SC)

Shri Mangla Ram Koli

62

70

Kama

Shri Jagat Singh

63

71

Nagar

Anita Gurjar

64

72

Deeg Kumher

Dr. Digamber Singh

65

73

Bharatpur

Shri Vijay Bansal

66

74

Nadbai

Krishnedra Kaur

67

75

Weir (SC)

Shri Bahadur Singh Koli

68

76

Bayana (SC)

Shri Bachchu Singh Bansiwal

69

77

Baseri (SC)

Rani Koli

70

78

Bari

Shri Jaswant Gurjar

71

79

Dholpur

Shri Sagir Ahmed

72

80

Rajakhera

Shri Vivek Bohra

73

81

Todabheem (ST)

Shri Ramraj Meena

74

83

Karauli

Rohini Kumari

75

84

Sapotra (ST)

Shri Rishikesh Meena

76

86

Mahuwa

Shri Om Prakash Hudla

77

87

Sikrai (SC)

Shri Nandlal Bansiwal

78

88

Dausa

Shri Shankar Sharma

79

89

Lalsot (ST)

Shri Virendra Meena

80

90

Gangapur

Shri Mansingh Gurjar

81

91

Bamanwas (ST)

Shri Kunjilal Meena

82

92

Sawaimado-pur

Diya Kumari

83

93

Khandar (SC)

Shri Jitendra Gotwal

84

95

Niwai (SC)

Shri Heeralal Raigar

85

98

Kishangarh

Shri Bhagirath Chaudhary

86

99

Pushkar

Shri Suresh Rawat

87

100

Ajmer North

Shri Vasudev Devnani

88

101

Ajmer South (SC)

Anita Badhel

89

102

Nasirabad

Shri Sanwarmal Jat

90

103

Beawar

Shri Shankar Singh Rawat

91

105

Kekri

Shri Shatrughan Gautam

92

106

Ladnun

Shri Manohar Singh

93

107

Deedwana

Shri Yunus Khan

94

108

Jayal (SC)

Dr. Manju Baghwar

95

109

Nagaur

Shri Habibur Rehman

96

110

Khinwsar

Shri Bhagirath Mahariya

97

111

Merta (SC)

Shri Sukhram Methedia

98

112

Degana

Shri Ajay Singh

99

113

Makrana

Shri Shriram Bichhar

100

114

Parbatsar

Shri Man Singh

101

115

Nawan

Shri Vijay Singh Chaudhary

102

118

Pali

Shri Gyan Prakash Parikh

103

119

Marwar Junction

Shri Kesaram Chaudhary

104

120

Bali

Shri Pushpendra Singh

105

121

Sumerpur

Shri Madan Rathore

106

122

Phalodi

Shri Pubba Ram Vishnoi

107

123

Lohawat

Shri Gajendra Singh

108

124

Shergarh

Shri Babu Singh Rathore

109

126

Bhopalgarh (SC)

Kamsa Meghwal

110

127

Sardarpura

Shri Shambhu Singh Kethasar

111

128

Jodhpur

Shri Kailash Banshali

112

129

Sursagar

Shri Surya Kanta Vyas

113

130

Luni

Shri Joga Ram Patel

114

131

Bilara (SC)

Shri Arjun Lal Garg

115

132

Jaisalmer

Shri Chhotu Singh Bhati

116

133

Pokhran

Shri Shaitan Singh

117

135

Barmer

Dr. Priyanka Chaudhary

118

136

Baytoo

Shri Kailash Chaudhary

119

137

Pachpadra

Shri Amraram

120

138

Siwana

Shri Hamir Singh

121

139

Gudhamalani

Shri Laduram Vishnoi

122

140

Chohtan (SC)

Shri Tarun Kaga

123

141

Ahore

Shri Shankar Singh Rajpurohit

124

142

Jalore (SC)

Amrita Meghwal

125

143

Bhinmal

Shri Pooraram Chaudhary

126

144

Sanchore

Shri Jiva Ram chaudhary

127

145

Raniwara

Shri Narayan Singh Deval

128

146

Sirohi

Shri Otaram Devasi

129

147

Pindwara (ST)

Shri Samaram

130

148

Reodar (SC)

Shri Jagsi Ram Koli

131

149

Gogunda (ST)

Shri Pratap Gamati

132

150

Jhadol (ST)

Shri Babulal Kharadi

133

151

Kherwara (ST)

Shri Nanalal Ahari

134

152

Udaipur Rural (ST)

Shri Phool Singh Meena

135

153

Udaipur

Shri Gulab Chand Kataria

136

154

Mavli

Shri Dalichand Dangi

137

156

Salumber (ST)

Shri Amritlal Meena

138

158

Dungarpur (ST)

Shri Devendra Katara

139

159

Aspur (ST)

Shri Gopichand Meena

140

160

Sagwara (ST)

Anita Katara

141

161

Chourasi (ST)

Shri Sushil Katara

142

162

Ghatol (ST)

Shri Navneet Ninama

143

163

Garhi (ST)

Shri Jeetmal Khat

144

164

Banswara (ST)

Shri Dhansingh Rawat

145

165

Bagidora (ST)

Shri Khemraj Garasia

146

166

Kushalgarh (ST)

Shri Bhima Bhai

147

167

Kapasan (SC)

Shri Arjun Lal Jingar

148

168

Begun

Shri Suresh Dhakar

149

169

Chittorgarh

Shri Chandra Bhan Singh

150

170

Nimbahera

Shri Shrichand Kriplani

151

171

Bari Sadri

Shri Gautam Dek

152

172

Pratapgarh (ST)

Shri Nandlal Meena

153

173

Bhim

Shri Hari Singh Rawat

154

174

Kumbhalgarh

Shri Surendra Singh Rathore

155

175

Rajsamand

Kiran Maheshwari

156

176

Nathdwara

Shri Kalyan Singh

157

177

Asind

Shri Ramlal Gurjar

158

178

Mandal

Shri Kalulal gurjar Shri

159

180

Bhilwara

Shri Vitthal Shankar Awasthi

160

181

Shahpura (SC)

Shri Kailash Meghwal

161

182

Jahazpur

Shri Shivjiram Meena

162

184

Hindoli

Shri Mahipat Singh

163

186

Bundi

Shri Ashok Dogra

164

187

Pipalda

Shri Vidya Shankar Nandwala

165

188

Sangod

Shri Hiralal Nagar

166

189

Kota North

Shri Prahlad Gunjal

167

190

Kota South

Shri Om Birla

168

191

Ladpura

Shri Bhawani Singh

169

192

Ramganj Mandi (SC)

Chandra Kanta Meghwal

170

193

Anta

Shri Prabhu Lal Saini

171

195

Baran - Atru (SC)

Shri Rampal Meghwal

172

196

Chhabra

Shri Pratap Singh Singhvi

173

197

Dag (SC)

Shri R.C. Suneriwal

174

198

Jhalrapatan

Vasundhara Raje

175

199

Khanpur

Shri Narendra Nagar

176

200

Manohar Thana

Shri Kanwarlal Meena
2nd List of candidates:-
No.

Constituency No. & Name

Name of the Candidate

1

6

Anupgarh (SC)

Smt. Shimla Bawari

2

8

Hanumangarh

Dr. Ram Pratap

3

13

Bikaner West

Shri Gopal Joshi

4

20

Taranagar

Shri Jainarayan Punia

5

28

Mandawa

Shri Saleem Tanwar

6

30

Udaipurwati

Shri Subhkaran Chaudhary

7

44

Phulera

Shri Nirmal Kumawat

8

59

Tijara

Shri Maman Yadav

9

65

Alwar Rural (SC)

Shri Jairam Jatav

10

82

Hindaun (SC)

Smt. Raj Kumari Jatav

11

94

Malpura

Shri Kanhaiya Lal

12

116

Jaitaran

Shri Surendra Goyal

13

117

Sojat (SC)

Smt. Sanjana Agari

14

125

Osian

Shri Bhera Ram

15

134

Sheo

Shri Manvender Singh

16

155

Vallabh Nagar

Shri Ganpat Menaria

17

157

Dhariawad (ST)

Shri Gautam Meena

18

179

Sahara

Dr. Balu Ram Jat

19

185

Keshoraipatan (SC)

Shri Babulal Verma

20

194

Kishanganj (ST)

Shri Lalit Meena
3rd list of BJP
No.

Constituency No. & Name

Name of the Candidate

1

85

Bandikui

Smt. Alka Singh

2

96

Tonk

Shri Ajit Mehta

3

97

Deoli – Uniara

Shri Rajendra Gurjar

4

104

Masuda

Smt. Sushil Kanwar Palada

5

183

Mandalgarh

Smt. Kirti Kumari
source:bjp.org