Lok Sabha polls 2014: Fates of Mulayam Singh Yadav clan, Kalyan's son, Khurshid & royals to be sealed today
Details

Parent Category: Political News
Last Updated:

Thursday, 22 January 2015 20:57
Lok Sabha polls 2014: Fates of Mulayam Singh Yadav clan, Kalyan's son, Khurshid & royals to be sealed today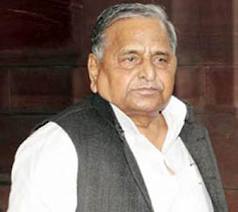 LUCKNOW: The third phase of polling in Uttar Pradesh on Thursday will see some high-profile candidates in the fray, including the Mulayam Singh Yadav clan, Ajit Singh's son Jayant, actor-turned politician Hema Malini, Amar Singh, royal family member Pakshalika Singh and Salman Khurshid.
Of the 12 seats going to polls, the SP holds six, and the region comprising parts of western and central UP is seen as Mulayam Singh Yadav's stronghold. ( Complete 6th phase of lok sabha poll )
In 2009, the SP had won six seats, Rashtriya Lok Dal and Congress two each, and the BJP one. BJP rebel Kalayan Singh had won as an independent candidate supported by the SP. However, the SP lost the Ferozabad seat in a by-poll soon after. ( Lok sabha election upadtes read here )
It was vacated by Mulayam Singh's son Akhilesh Yadav who had won from Kannauj and Ferozabad and decided to field his wife Dimple from there.
The Congress, however, put up a strong fight, fielding Raj Babbar from the seat and Rahul Gandhi taking charge of the campaign. The high-voltage campaign saw Dimple Yadav losing the seat much to the embarrassment of the Yadav family.
However, after Akhileshbecame CM in 2012, he vacated the Kannauj seat to which Dimple was surprisingly elected unopposed.
However, this time she has been going around the constituency seeking votes and has even had Akhilesh campaign for her several times.
Mulayam, who is widely seen as PM candidate in the event of a Third Front government, is seeking re-election from Mainpuri.
Mulayam and family have been winning Mainpuri since 1996, and Kannauj since 1998. In Etawah, which has Mulayam Singh's village Saifai, the SP has fielded sitting MP Premdas Katheria.
Another Mulayam Singh kin, Akshya Yadav, is contesting from Ferozabad. Akshay Yadav is the son of Mulayam Singh's cousin Ram Gopal Yadav.
The OBCs, comprising mainly Yadavs and Lodhs, constitute 30% of the population in the region and, therefore, the prestige of both Mulayam Singh as well as BJP's big OBC face, Kalyan Singh, is at stake here.
Former BJP CM Kalyan Singh had won the Etah seat in 2009 with Mulayam's support. But he is now back in the BJP and has fielded his son, Rajvir, from the seat.
External Affairs Minister Salman Khurshid is seeking reelection from Farrukhabad.
Along with him, Thursday's polling will decide the fate of Civil Aviation minister Ajit Singh's son Jayant Chowdhry, who is contesting from Mathura.
Source: Economic times