Goa Exit Poll 2017 Election Survey Result Of Chanakya
Goa Chanakya exit poll Election Survey Result 2017,Chanakya Goa exit poll,Goa assembly election exit poll 2016,Goa Axis exit Poll
Goa Exit polls have been banned by ECI from 4th Februrary to 8th March 2017 till all 5 states elections are completed.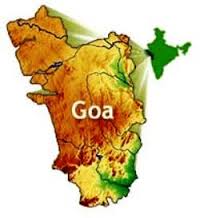 Find Goa exit poll 2017 for assembly election. Goa Election survey Result shows Who will win in Goa polls based on Goa exit poll Goa Election Issues. Goa CM Candidate has yet not been declared by BJP AAP. Find Goa Party Wise Constituency Wise opinion poll released by ABP News-Nielsen, India TV C voter Exit poll and India Today cicero Exit poll.
The Goa Legislative Assembly election, 2017 will be held on February 4, 2017 to elect the 40 members of the Goa Legislative Assembly, as the term of current Legislative Assembly ends on March 18, 2017. VVPAT-fitted EVMs will be used in entire Goa state in the 2017 elections, which will be the first time that an entire state in India will see the implementation of VVPATThe last election had resulted in a 21 seat majority to the Bharatiya Janata Party led by Manohar Parrikar. Parrikar was elected Chief Minister. In 2014, he had to resign due to being nominated as Minister of Defence. Laxmikant Parsekar took oath as Chief Minister as Parrikar's successor.
---
Live Voting Updates Goa Elections exit Polls 2017
83% Voting recorded in Goa. No exit Polls to be released before 8th March 2017.
AllopinionPolls released till now are mentioned below. Most of latest opinion Polls show BJP ahead.
Chanakya exit Polls to be released on 8th March.

As per ECI no exit Poll between 4th Feb and 8th March 2017.
Polling for all 40 constituencies, 250 candidates, 11 lakh voters. Goa Live Voting Updates 2017
Also Read:

India Today - Axis Opinion Poll released shows BJP winning 22
Latest Opinion poll by Huffpost CVoter shows BJP at 15, India Today - Axis Opinion poll shows BJP winning 22 seats i.e absolute majority. It's a triangular fight in Goa with AAP entering the political arena of Goa. Now the fight is between INC, BJP and AAP. But with recent controversial news of AAP MLAs in Delhi, chances of AAP has come down considerably. Latest Opinion Poll by India Today - Axis Opinion Poll shows BJP winning with 19 seats. Earlier Opinion polls by Kautaliya analysis and VDP associates showed AAP winning and BJP winning resp. But the final results will only be known once the elections are completed.
Also Read: Goa AAP BJP GVP Candidate List 2017 for Goa Elections
Also Read: Goa Election Schedule 2017 - February 4 2017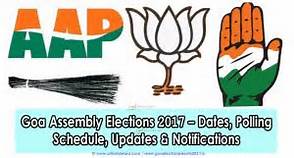 Also Read Imp. Links on Goa Elections
Summary of all Opinion Polls Goa Assembly Elections 2017
Goa Assembly Election Opinion Poll 2017

Party Alliance

VDP Ass.

(Jan)

The Week - Hansa

(Jan)

India Today Axis

(Jan)

India Today Axis

KTDA

(Aug)

VDP

(Jul)

BJP+MGP

15

22

22

19

17

22

INC

14

12

14

14

7

6

AAP

2

3

2

2

14

9

Others

9

-

-

4

2
2