Goa

India Today Axis Opinion poll Election Survey Result 2017,India Today-Axis

Goa

Opinion poll,Goa

assembly election opinion poll 2016,Goa

Axis Opinion Poll
According to Various Goa Opinion Polls published by Various Survey agencies and TV Channels Following are the Opinion Polls for Goa Assembly Elections 2017:-
Survey conducted by India Today - Axis

Party wise Seat Projection

Party

Seats Projected

BJP

20-24

INC

13-15

MGP
1-4
Total
40
Also Read: Goa AAP BJP GVP Candidate List 2017 for Goa Elections
Also Read: Goa Election Schedule 2017 - February 4 2017
The Indian Army's surgical strikes across the Line of Control in Pakistan-Occupied Kashmir seem to have galvanised the voters around the BJP which will win poll-bound Goa, Manipur and Uttarakhand if elections in these states are held today.
The India Today-Axis Opinion Poll has predicted that the saffron party will retain Goa by winning 17-21 seats in the 40-member state Assembly.
NO ANTI-INCUMBENCY
Goa Pre Poll Survey
Party
Seat Share

BJP

17-21

INC

13-17

AAP

1--3

OTH

3--5
The opinion poll says there is no anti-incumbency against the BJP in Goa and the party still commands a 38 per cent vote share in the coastal state. It also appears that the recent rebellion within the state unit of the RSS has had little impact on the Laxmikant Parsekar government.
When asked to rate the performance of the Parsekar government, a whopping 76 per cent of the respondents ticked 'Good', four per cent said it was 'Very good', and 18 per cent said it was 'Bad'.
Goa Pre Poll Survey 2016

Party

Vote Share

BJP+

38%

INC

34%

AAP

16%

OTH

12%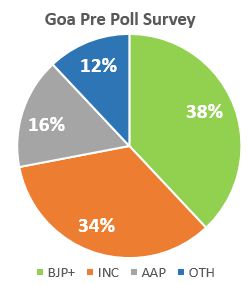 The opposition Congress is expected to be a close second by winning 13-17 seats in the 40-member Goa Assembly. The Aam Aadmi Party, which recently became the third major party to fish in the troubled Goa waters, may be in for some disappointment with just 1-3 seats.
Other parties in the state, which include the Maharashtrawadi Gomantak Party and rebel RSS leader Subhash Velingkar's Goa Suraksha Manch, may win 3-5 seats.
THE PARRIKAR FACTOR
When asked if the BJP government has lost its popular support after Manohar Parrikar went to Delhi to join PM Modi's Cabinet, 29 per cent of the respondents said it has while 37 per cent said it did not matter.
Parrikar, who recently said he would not have come to Delhi if he was not given the Defence portfolio, was also picked by 19 per cent of those polled as their choice for the Chief Minister.
But incumbent Parsekar led the popularity chart with a 31 per cent approval. Digambar Kamat (14 per cent) and Subhash Welingkar (4 per cent) also made it to the list.
ALSO READ: India Today-Axis Opinion Poll: UP, Uttarakhand, Punjab surgical strikes over war -- Most of Uttar Pradesh, Uttarakhand and Punjab overwhelmingly support surgical strikes to deal with Pakistan-backed terror, but remain largely wary of a full-scale war with the neighbour, according to a poll by Axis-My-India for the India Today Group.
ELECTION ISSUES
Inflation is the biggest issue for voters in Goa according to 43 per cent of those polled in the India Today-Axis survey. Employment (28 per cent) and corruption (19 per cent) were the other two major issues.
Environment in one of India's most popular destinations was a concern for three per cent of the voters, while two per cent of the respondents wanted better infrastructure for tourism.
Moreover, one per cent of the state wants both illegal mining in the state to stop and land mafia to be checked.
In a state with predominantly Christian population where the BJP's pet theme of beef ban finds an exception, communalism or cow protection was not an issue at all. Zero per cent voted for it.
Also Read Imp. Links
Summary of all Opinion Polls Till date for Goa Assembly Elections 2017 (Sep 2016)
Goa Assembly Election Opinion Poll 2017

Party Alliance

KTDA

(Aug)

VDP

(Jul)

BJP+MGP

17

22

AAP

14

9

INC

7

6

Others

2
2