Assam Parliamentary Elections Updates 2014, Assam Polling 12th April 2014, Assam Live Polling Election News Update, Lok sabha Elections 2014 LIVE updates, Lok Sabha poll 2014, fourth phase polling.
Details

Parent Category: Political News
Last Updated:

Thursday, 22 January 2015 20:57
Lok Sabha Elections 2014: Balloting begins in Assam.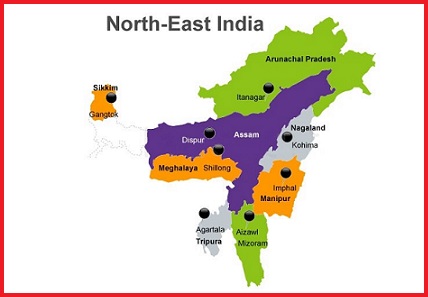 7:05 pm: Turnout between 72 % in Assam
In Congress-ruled Assam, voter turnout was the highest in Silchar recording 74 per cent polling followed by Karimganj (SC) constituency with 72 per cent and Autonomous District (ST) comprising Karbi Anglong and Dima Hasao districts 71 per cent.
1: 55 pm 37 percent voting in Assam till noon
Around 37 percent electorates cast their vote in Assam till noon. EVM malfunction was reported from the Autonomous District and Karimganj constituencies but they were replaced and voting continued uninterrupted, the sources said. source:zeenews
Guwahati: Voting for three Lok Sabha constituencies in Assam began Saturday at 7 a.m., officials said. Nearly 30 million are eligible to vote at 3,698 polling stations across the three constituencies of Silchar, Karimganj and Diphu.  The Karimgamj Lok Sabha seat is reserved for the Scheduled Castes and Diphu is reserved for the Scheduled Tribes.
For the second phase of polls, 37 candidates are in the fray. Polling for five constituencies was held April 7. The last phase of polling for remaining six seats takes place in the state April 24. ( Full covrage of phase-4 lok sabha election 2014 )
Bharatiya Janata Party's sitting MP Kabindra Purkayastha, Congress legislator Sushmita Deb, who is the daughter of veteran Congress leader and former union minister Santosh Mohan Deb, and Kutub Ahmed Mazumder of the All India United Democratic Front (AIDUF) are in the fray for the Silchar seat. ( Lok sabha election 2014 All phases Covrage )
In Karimganj, 15 candidates, including BJP's Krishna Das, Congress' Lalit Mohan Suklabaidya and Radheshyam Biswas of the AIUDF are contesting. Five candidates, including the Congress' sitting member Biren Singh Engti and the BJP's Joyram Engleng, are fighting it out in the Diphu constituency. source:-NDTV
Phase - 1: Turnout in the five constituencies in Assam that went to the polls on Monday was 75%. Voting ended at 5pm and was peaceful...Full Read..

Important Links
---
Fourth Phase Poll:-
---
PollDay-4

Date Of Poll (12 april 2014 )

STATE

No. of PCs

Assam

3

 

Goa

2

Sikkim

1

Tripura

1

Total

7
Candidates Contesting in Assam Parliamentary Constituencies
---
| | | | |
| --- | --- | --- | --- |
| Constituency Name | INC Candidate | BJP Candidate | AAP Candidate |
| Karimganj | Lalit Mohan Suklabaidya     | Krishna Das     | Tarun Kumar Das     |
| Silchar | Sushmita Dev     | Kabindra Purkayastha     | Abdul Mannan Barbhuiya     |
| Autonomous District | Biren Singh Engti     | Joyram?Engleng     | Azmal Hussain     |
| Dhubri | Mohd. Wajid Ali Choudhary     | Dr. Debomoy Sanyal     | Pranjal Bordoloy     |
| Kokrajhar | - | Ashwani Kumar Chopra     | - |
| Barpeta | Ismail Hussain     | Chandra Mohan Patowari     | - |
| Gauhati | Manas Bora     | - | Pranjal Bordoloy     |
| Mangaldoi | Kirip Chaliha     | - | Namrata Sharma     |
| Tezpur | Bhupen Kumar Bora     | Ram Prasad Sharma     | - |
| Nowgong | Smt. Jon Jonali Baruah     | - | - |
| Kaliabor | Gaurav Gogoi     | Mrinal Kumar Saikia     | Jinti Gogoi     |
| Jorhat | B.K . Handique     | Kamakhya Prasad Tasa     | Manorom Gogoi     |
| Dibrugarh | Paban Singh Ghatowar     | Rameshwar Teli     | - |
| Lakhimpur | Ranee Narah     | Sarbananda Sonowal     | Hiramoni Deka Sonowal     |
Short Summary of some Parliamentary Contituencies of Assam:-

---
Lakhimpur Assam Parliamentary Constituency 2014, Lakhimpur Lok sabha Constituency Details, Political News Lakhimpur, Assam Lok Sabha Elections 2014 News Updates, Assam Parliamentary Constituency details 2014, Lakhimpur MP, Issues Political Analysis 2014:
Dibrugarh Assam Parliamentary Constituency 2014, Dibrugarh Lok sabha Constituency Details, Political News Dibrugarh, Assam Lok Sabha Elections 2014 News Updates, Assam Parliamentary Constituency details 2014, Dibrugarh MP, Issues Political Analysis 2014:
Jorhat Assam Parliamentary Constituency 2014, Jorhat Lok sabha Constituency Details, Political News Jorhat, Assam Lok Sabha Elections 2014 News Updates, Assam Parliamentary Constituency details 2014, Jorhat MP, Issues Political Analysis 2014:
Kaliabor Assam Parliamentary Constituency 2014, Kaliabor Lok sabha Constituency Details, Political News Kaliabor, Assam Lok Sabha Elections 2014 News Updates, Assam Parliamentary Constituency details 2014, Kaliabor MP, Issues Political Analysis 2014:
Tezpur Assam Parliamentary Constituency 2014, Tezpur Lok sabha Constituency Details, Political News Tezpur, Assam Lok Sabha Elections 2014 News Updates, Assam Parliamentary Constituency details 2014, Tezpur MP, Issues Political Analysis 2014: