Lakhimpur Assam Parliamentary Constituency 2019, Lakhimpur Lok Sabha Constituency Details, Political News Lakhimpur, Assam Lok Sabha Elections 2019 News Updates, Assam Parliamentary Constituency details 2019, Lakhimpur MP, Issues Political Analysis 2019
Details

Parent Category: Political News
Last Updated:

Tuesday, 29 January 2019 18:18
Lakhimpur Assam Parliamentary Constituency 2019, Lakhimpur Lok Sabha Constituency Details, Political News Lakhimpur,Assam Lok Sabha Elections 2019 News Updates, Assam Parliamentary Constituency details 2019, Lakhimpur MP, Issues Political Analysis 2019: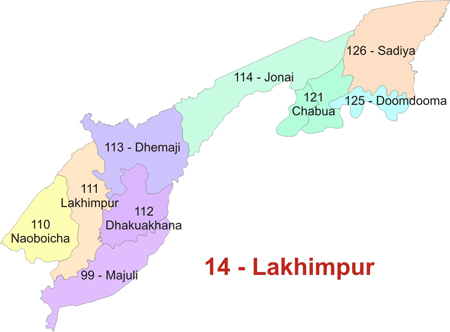 About the Constituency:
Lakhimpur parliamentary constituency is one of the most politically active and vibrant Lok Sabha constituencies in Assam. Situated in the Lakhimpur district, the Lakhimpur parliamentary constituency is part of the administrative district of Assam. The Lakhimpur Parliamentary constituency (constituency number 14) has a total of 1,332,518 electorates out of which 650,816 are females and 681,702 are males according to Election Commission of India 2009 reports. The total number of voters in the constituency, according to the 2009 Lok Sabha elections is, 9,09,621 people.
Assembly Segments:
Names of Assembly Constituencies

Majuli (ST)

Naoboicha

Lakhimpur

Dhakuakhana (ST)

Dhemaji(ST)

Jonai (ST)

Chabua

Doomdooma

Sadiya
About Lakhimpur:
The city of North Lakhimpur is not only the administrative seat of the district, but also the municipal board in the Lakhimpur district. Located in the north-eastern regions of Assam, this parliamentary constituency is bounded by the state of Arunachal Pradesh in the North, Majuli division of the Jorhat district in the South, Sonitpur district on the West and Dhemji district on the East. The Lakhimpur district, before and immediately after independence held within its fold, multiple districts of Arunachal Pradesh and many neighbouring districts of Assam itself, before they were eventually separated. This parliamentary constituency is known for producing crops such as tea, rice, sugarcane and mustard, among others, which provide the economic backbone to the Lakhimpur district. Besides, small-scale industries and the handloom sector add to the revenue generated in this part of the state. The Lower Subansiri Hydel Project (2000 MW) is the beginning of any industrial advancement in the district of Lakhimpur.
Demography:
In the 2011 Census, the population of Lakhimpur was recorded as 10,42,137. The total number of voters in the constituency, according to the 2009 Lok Sabha elections is, 9,09,621 people.
Present Political Scenario:
Make shift from AGP to BJP
Used to be an AGP stronghold once upon a time when Dr. Arun Sharma had even been an MP, but now this is one of those seats where BJP has gobbled up AGP leadership and cadre.

May emerge as tough contest
The state unit BJP president, Sarbananda Sonowal, who was once an AGP leader, is the party candidate in Lakhimpur and can give a tough fight to union tribal affairs minister, Ranee Narah, the Congress strongwoman who has won this seat many times in the past.

X factor
The only factor here is anti-incumbency, which is affecting the Congress both locally as well as nationally.