Meghalaya Candidate list, Meghalaya BJP NCP INC HSPDP UDP GNCCandidates list 2018, Meghalaya BJP congress BSP candidate list, Meghalaya election ticket declare, Meghalaya election candidates list 2018, Meghalaya election complete candidate list, Meghalaya Vidhan sabha contesting candidate list, Meghalaya assembly election candidate list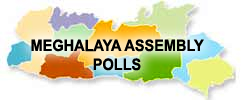 Find list of BJP NCP INC HSPDP UDP GNC candidates who are contesting in Meghalaya Vidhan Sabha Election 2018 from the different assembly constituencies of MEGHALAYA.
The Meghalaya Legislative Assembly election of 2013 was held on 23 February 2013 to elect the Members of the Legislative Assembly (MLA) from each of the 60 Assembly Constituencies (ACs) in the state of Meghalaya in India.
The National People's Party has released its first list of candidates, comprising 24 names, for the Meghalaya Assembly elections, slated to be held early next year Read More to know the names.....
Find Complete List of Congress Candidate list declared here-27 Jan 2018
Find List of 45 BJP Candidate list declared here-2 Feb 2018
Meghalaya All Candidate List 2018
Meghalaya All Important Links 2018 Election
Meghalaya Assembly Election Result 2013 Constituency Wise
AC. Name

Winner

Votes

Party

Runner Up

Votes

Party

Margin

Amlarem

STEPHANSON MUKHIM

8297

Independent

LAHKMEN RYMBUI

7163

Indian National Congress

1134

Ampati

Dr Mukul Sangma

15031

Indian National Congress

CLEMENT G. MOMIN

5935

National People's Party

9096

Baghmara

Samuel M. Sangma

Indian National Congress

SAMUEL M. SANGMA

Independent

3587

Bajengdoba

Brigady Marak

7139

Independent

ADOLF LU HITLER R. MARAK

6919

Indian National Congress

220

Click Here to know more….
List of Meghalaya Assembly Constituencies

A.C. No.

Assembly Constituency Name

A.C. No.

Assembly Constituency Name

1

Nartiang

31

Mawthadraishan

2

Jowai

32

Nongstoin

3

Raliang

33

Rambrai Jyrngam

4

Mowkaiaw

34

Mawshynrut

5

Sutnga Saipung

35

Ranikor

6

Khliehriat

36

Mawkyrwat

7

Amlarem

37

Kharkutta

8

Mawhati

38

Mendipathar

9

Nongpoh

39

Resubelpara

10

Jirang

40

Bajengdoba

11

Umsning

41

Songsak

12

Umroi

42

Rongjeng

13

Mawryngkneng

43

William Nagar

14

Pynthorumkhrah

44

Raksamgre

15

Mawlai

45

Tikrikilla

16

East Shillong

46

Phulbari

17

North Shillong

47

Rajabala

18

West Shillong

48

Selsella

19

South Shillong

49

Dadenggre

20

Mylliem

50

North Tura

21

Nongthymmai

51

South Tura

22

Nongkrem

52

Rangsakona

23

Sohiong

53

Ampati

24

Mawphlang

54

Mahendraganj

25

Mawsynram

55

Salmanpara

26

Shella

56

Gambegre

27

Pynursla

57

Dalu

28

Sohra

58

Rongara Siju

29

Mawkynrew

59

Chokpot

30

Mairang

60

Baghmara