Delhi Assembly Election Opinion poll 2020 Election Survey Result Who will win Delhi Polls BJP AAP INC BSP ABP News CSDS CVoter Opinion/Exit poll Constituency Party Wise 2020 CM Candidate
Delhi Assembly Election Opinion poll 2020 Election Survey Result Who will win Delhi Polls BJP AAP INC BSP ABP News CSDS CVoter Opinion/Exit poll Constituency Party Wise 2020 CM Candidate



The Legislative Assembly of Delhi, also known as Delhi Vidhan Sabha, is a unicameral law making body of the National Capital Territory of Delhi, one of the 9 union territories in India. It is situated at Delhi, the state capital of Delhi, with 70 Members of the Legislative Assembly (MLA).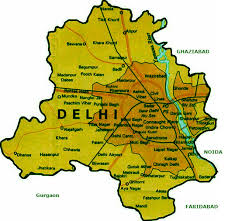 A Delhi Legislative Assembly election was held on 7 February 2015 to elect 70 members of the Sixth Legislative Assembly of Delhi. The results were announced on 10 February 2015. The Aam Aadmi Party secured an absolute majority in the assembly, winning 67 of the 70 seats.
The Aam Aadmi Party, which won 67 of the 70 seats in 2015, will fight this election in collaboration with election strategist Prashant Kishor's consultancy firm I-PAC.
---
Delhi Exit Poll 2020
Delhi Assembly Elections 2020 Exit Poll

Party

Polling Agency

AAP


BJP+




INC+

NewsX-Polstrat

50-56


10-14

0-0

Sudarshan News


40-45

24-28

2-3

Times Now-Ipsos


44

26

0

Republic TV-Jan Ki Baat

48-61


9-21

0-1

India TV

44

26

0
---
Detailed Delhi Exit Polls 2020
Delhi Election Dates 2020
Schedule For Assembly Election Delhi 2020

Poll

Event Dates

Notification Date

14-Jan-20

Last Date for filling notification

21-Jan-20

Scrutiny of notification

22-Jan-20

Last Date for Withdrawal of notification

24-Jan-20

Date of Poll

8-Feb-20

Date of Counting of Votes

11-Feb-20
Click and Get Live Voting Update for Delhi Assembly Elections 2020
---
Delhi Assembly Election 2020 Updates
---
ABP News Delhi Opinion poll 2018 – 15th Feb
If the ABP News survey is anything to go by, the Aam Aadmi Party will retain power in Delhi with 41 out of 70 seats if Assembly polls were held today.


ABP News and C-Voter survey have found that the AAP which had won 67 out of total assembly seats in 2015 Assembly Elections might now shrink to 41 seats.

936799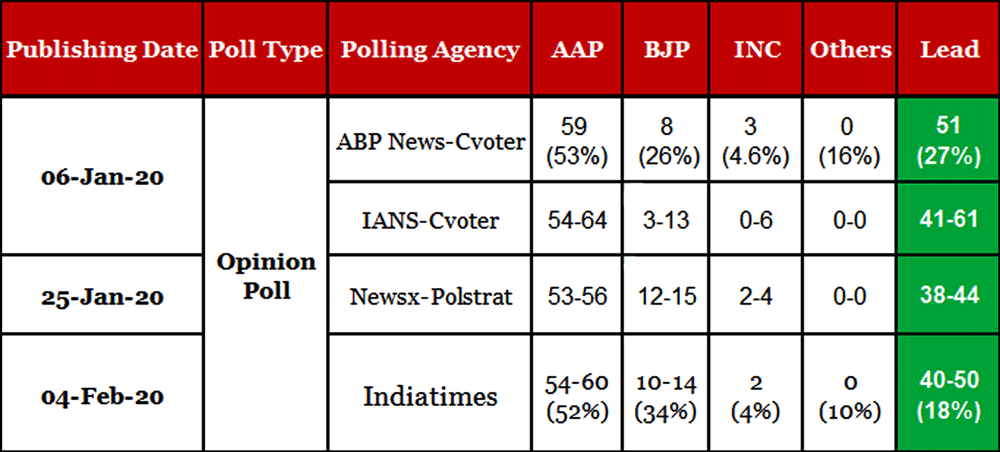 Delhi Legislative Assembly election Opinion Poll, 2020
On the other hand, the BJP which faced a shameful defeat against AAP in last assembly elections is expected to get a bit respectful 25 seats, according to the survey.
In terms of Vote Share also AAP is far ahead in all three regions of Delhi followed by BJP. Congress is still not able to leave a mark Vote Share, the ABP survey said. Arvind Kejriwal first choice for CM Arvind Kejriwal's popularity has not faded in Delhi.
Around 50 per cent people of Delhi think he is the best person to hold the chair of Chief Minister of Delhi. BJP's Dr Harshwardhan is at the second position but far behind Arvind Kejriwal. More than 50 per cent people in Delhi are not happy with their MLA either, and want to change them, the survey revealed.
Delhi Assembly Election Result 2015

Party

Seats

AAP

67

BJP

3

Others

0
ALSO READ: Political Consulting Firm in India for preparation of Assembly Elections 2019