Delhi Election Results Live, Assembly Lok Sabha Party Constituency Wise Election Results
Delhi Election Result Live 2020, Delhi Assembly Election Results Live 2020, Delhi Vidhan Sabha Election Party Wise Result 2020, Delhi Assembly Election Result Winner Runner Party, Delhi Election Result Margin votes, Delhi Vidhan Sabha Election Party Wise
Details

Parent Category: Election Results
Last Updated:

Wednesday, 12 February 2020 10:41
Delhi Assembly Elections Result Party Wise Live 2020
Delhi Assembly Election Schedule 2020, Delhi election Schedule, Delhi legislative Election 2020 dates Announced, Delhi Vidhan Sabha Election Dates, Delhi Election Schedule 2020, Delhi Assembly Election Phase Dates, Voting Election Result Date 2020
The Legislative Assembly of Delhi, also known as Delhi Vidhan Sabha, is a unicameral lawmaking body of the National Capital Territory of Delhi, one of the 7 union territories in India. It is situated at Delhi, the state capital of Delhi, with 70 Members of the Legislative Assembly (MLA).
Delhi Elections are expected to be held by February 2020.
A Delhi Legislative Assembly election was held on 7 February 2015 to elect 70 members of the Sixth Legislative Assembly of Delhi. The results were announced on 10 February 2015. The Aam Aadmi Party secured an absolute majority in the assembly, winning 67 of the 70 seats.
Delhi Assembly Election Result Party wise 2020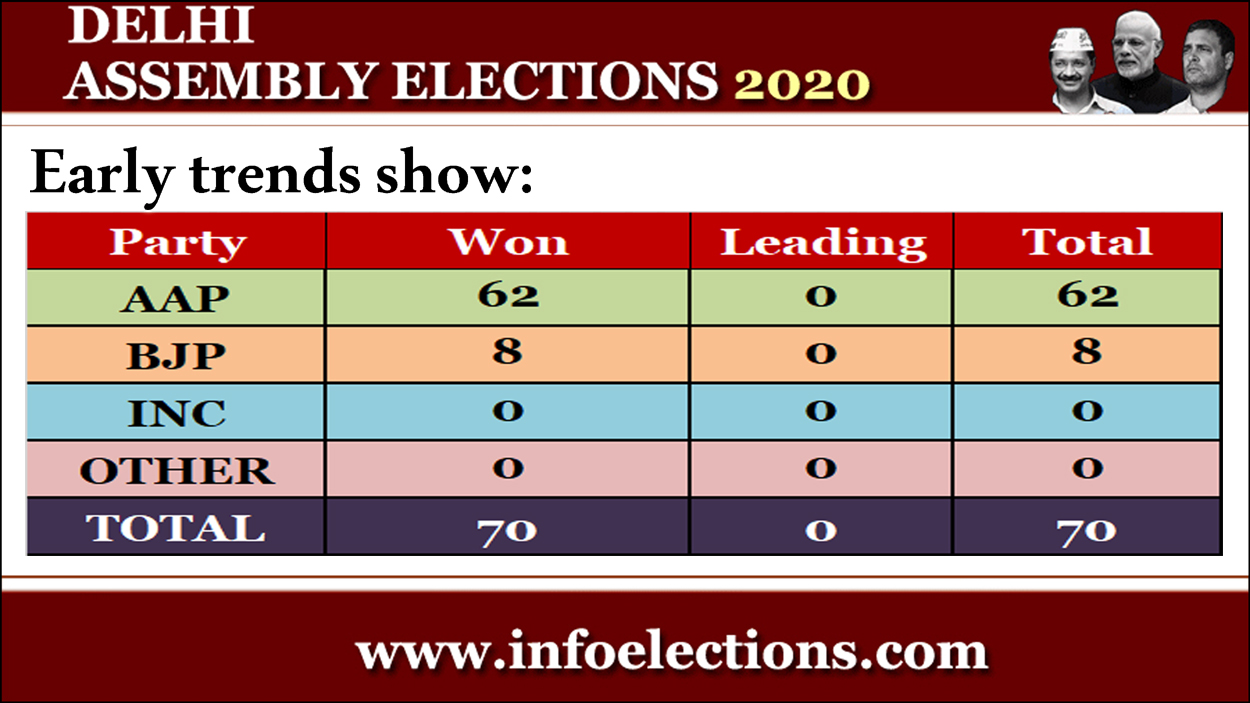 ---
Delhi Assembly Election 2020 Updates
---
Delhi Assembly Election Result Party wise 2015
NCT OF Delhi Result Status

Status Known For 70 out of 70 Constituencies

Party

Won

Leading

Total

Bharatiya Janata Party

3

0

3

Aam Aadmi Party

67

0

67

Total

70

0

70