Manipur Chanakya exit poll Election Survey Result 2017,Chanakya Manipur exit poll, Manipur assembly election exit poll 2016, Manipur Axis exit Poll
Maniput Exit polls have been banned by ECI from 4th Februrary to 8th March 2017 till all 5 states elections are completed
Find Manipur Opinion poll 2017 for assembly election. Manipur Election survey Result shows Who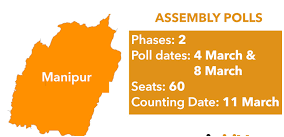 will win in Manipur polls based on Manipur opinion poll Manipur Election Issues. Manipur CM Candidate has yet not been declared
by BJP AAP. Find Manipur Party Wise Constituency Wise opinion poll released by ABP
News-Nielsen, India TV C
voter opinion/Exit poll and India Today cicero opinion/Exit poll.
Chanakya Manipur Exit poll 2017
India Today Manipur Exit poll 2017
In the 2012 Assembly election in Manipur, the BJP drew a blank. However, after the disqualification of two Trinamul Congress MLAs in a defection drama in 2015, the BJP wooed the disqualified MLAs and fielded them on its tickets in the byelections that followed. The two won their seats, giving the BJP a presence with two MLAs in a House of 60.
Manipur Exit polls are showing 2 different results. Although BJP is leading overall if we look at the average
Summary of all Exit Polls Manipur Assembly Elections 2017
Manipur Assembly Election Exit Poll 2017

Party Alliance

News 24 - Chanakya

India Today Axis

India TV -C voter

Poll of Polls

BJP

25-31

16-22

25-31

25

INC

17-23

30-36

17-23

24

Others

9-15

6-11

9-15

11
Manipur Voting on 4th and 8th March. No Exit Polls to be released before 8th March 2017.
All Opinion Polls released till now are mentioned below. Most of latest Opinion Polls show BJP ahead.
Chanakya Exit Polls to be released on 8th March.

As per ECI no Exit Poll between 4th Feb and 8th March 2017.
Summary of all Exit Polls Manipur Assembly Elections 2017
---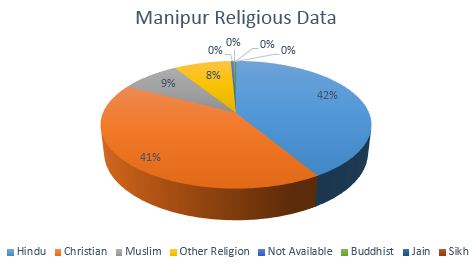 Complete Manipur Election Dates Nominations Polling results Counting 2017
Poll Event

Phase-1 (38 ACs)

Phase-2 (22 ACs)

Date of Notification

08.02.2017 (WED)

11.02.2017 (SAT)

Last Date of Making

Nominations

15.02.2017 (WED)

18.02.2017 (SAT)

Scrutiny of

Nominations

16.02.2017 (THU)

20.02.2017 (MON)

Withdrawal of

Candidature

18.02.2017 (SAT)

22.02.2017 (WED)

Date of Poll

04.03.2017 (SAT)

08.03.2017 (WED)

Date of Counting

11.03.2017 (SAT)

11.03.2017 (SAT)

Date of Completion

15.03.2017 (WED)

15.03.2017 (WED)
Manipur Assembly Elections 2017
Manipur Candidate List Party Wise
24 Oct 16: Simultaneous Elections in UP, Punjab, 3 Other States Likely in Feb-March says ECI.Read More
20 Oct 16: The term of the Uttar Pradesh Assembly ends in May next, the terms of assemblies of Punjab, Goa, Manipur and Uttarakhand will end in March, 2017. Read More
2012 assembly election results for the state of Manipur
Manipur 2012 Assembly Results

Party

Seats

INC)

42

NCP)

1

AITC

7

LJP

1

Manipur State Congress Party (MSCP)

5

NPF

4

Total

60
Manipur Assembly Constituency List: