Tripura Opinion poll 2018 Election Survey Result Who will win Tripura Polls BJP INC CPM CPI TMC ABP News AAJ Tak CSDS CVoter Opinion/Exit poll Constituency Party Wise 2018, CM Candidate
Tripura Opinion poll 2018, Tripura assembly election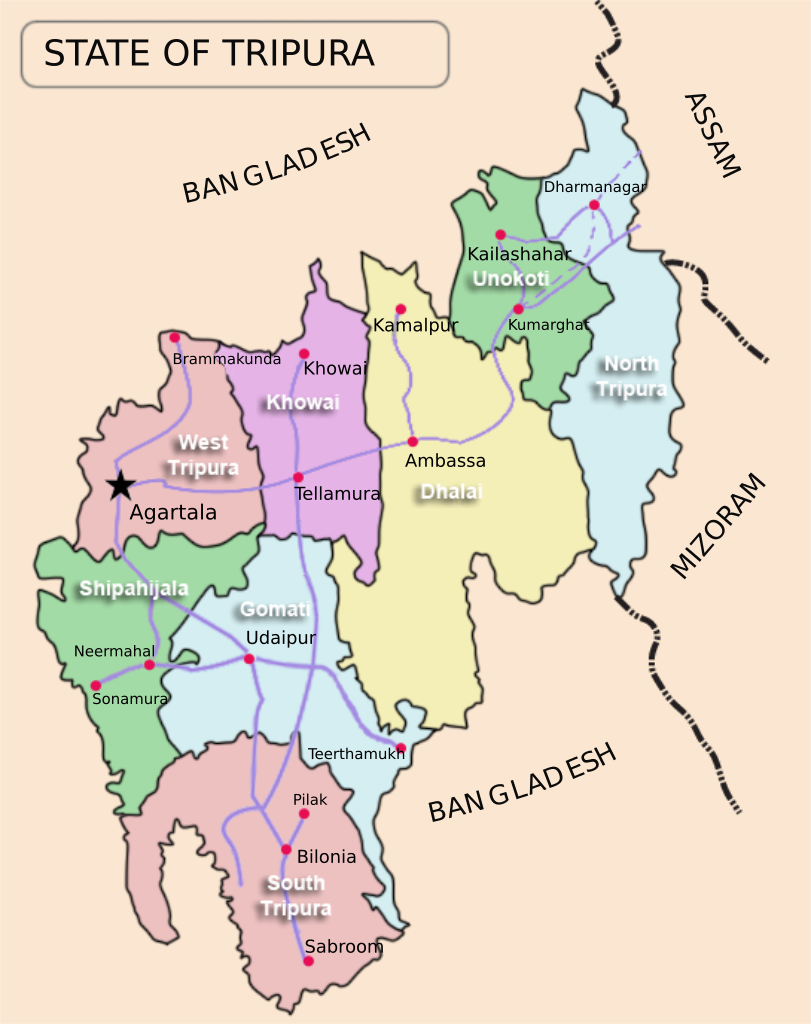 opinion poll 2018, TRIPURA Election survey Result, Who will win in Tripura polls, Tripura Exit poll, Tripura Election Issues, Tripura CM Candidate, Tripura Party Wise opinion poll 2018, Tripura Constituency Wise opinion poll, Tripura ABP News-Nielson C-Voter India today Zeenews NEI online survey
Also Read: Tripura Assembly Election 2018 Live Voting Updates
Tripura Leadtech-Van Guard News Opinion Poll 2018 - 14 Feb 2018
Leadtech-NewsVanGuard found out that majority of the people are voting for BJP in the upcoming elections of 2018 as almost 41% of the people are looking forward to BJP party in all surveyed assemblies.

CPI(M) is the second most popular choice of the people as almost 40% of the people said that they would be voting for CPI(M) in the 2018 elections. It is a big achievement for the BJP to reach 41% vote share in long Left-ruled rule state, people are really looking for a change but it seems more efforts need to put up to defeat the incumbent.

| | |
| --- | --- |
| Party | Seats |
| BJP | 28 |
| CPI(M) | 27 |
| INPT | 0 |
| IPFT | 5 |
| INC | 0 |
| Others | 0 |
NEI TRIPURA ONLINE OPINION POLL AND SURVEY 2018 16TH FEB

An online opinion poll survey conducted by NEI for the state of Tripura says that the Communist Party of India (Marxist) will attain the majority in the Assembly Elections, 2018.

It aimed to extract and analyze the mindset of the people of Tripura, the issues concerning them the most and the response by political parties towards the same.
SAMPLE
The online opinion poll covered all the districts of Tripura,
in which 89.92% Males voted,
while 6.52% Females voted
3.57% of the total voters belonged to the third gender
37.65% of the voters were aged between 18-25
55.69% lay between the range of 26-45
5.88% were above 45 years of age
NEI Tripura Online opinion Poll 2018

Party

Vote%

CPI(M)

39%

BJP

37%

IPFT

13%

Others

11.33%
Satisfaction with the performance of the ruling party [CPI(M)] in Tripura

PEOPLE%

OPINION

16.37%

very satisfied

14.36%

satisfied

53.95%

dissatisfied

15.32%

neutral
News X Jan Ki Baat Tripura Opinion poll 2018 - 7 Feb

According to the News X- Jan Ki Baat opinion poll, BJP-IPFT coalition in Tripura is likely to win 31-37 seats out of the total 60 assembly constituencies in the state.

The survey also predicts that the ruling CPI(M) may get 23-29 seats; while the Congress and other parties may not win any seat in the state.
News X Jan Ki BaatTripura opinion Poll 2018

Party

Seats

BJP+IPFT

31-37

CPI(M)

23-29
Tripura Legislative Assembly election, 2018
The legislative assembly election will be held in 2018 to elect members of the 60 constituencies in Tripura.
The Tripura Legislative Assembly election of 2013 took place in a single phase on 14 February 2013 to elect the Members of the Legislative Assembly (MLA) from each of the 60 Assembly Constituencies (ACs) in Tripura, India.
The previous elections to the 10th Tripura Legislative Assembly were held in 2008. As of 2009, of the 60 ACs in Tripura, 20 are reserved for Scheduled Tribes and 10 are reserved for Scheduled Castes. February 2013 Elections in all polling stations were held using Indian voting machines.
Tripura Elections 2018 Details
Tripura Assembly Election Result 2013
| | | | | | | | |
| --- | --- | --- | --- | --- | --- | --- | --- |
| Constituency | Winner Candidate | Votes | Leading Party | Runner Up Candidate | Votes | Trailing Party | Margin |
| Agartala | SUDIP ROY BARMAN | 21727 | Indian National Congress | SANKAR PRASAD DATTA | 19014 | Communist Party of India (Marxist) | 2762 |
| Amarpur | MANORANJAN ACHARJEE | 19075 | Communist Party of India (Marxist) | NIRANJAN BARMAN | 15053 | Indian National Congress | 4022 |
| Ambassa | LALIT KUMAR DEBBARMA | 18755 | Communist Party of India (Marxist) | BIJOY KUMAR HRANGKHAWL | 17701 | Indigenous Nationalist Party of Twipra | 1054 |
| Ampinagar | DANIEL JAMATIA | 15714 | Communist Party of India (Marxist) | NAGENDRA JAMATIA | 12930 | Indigenous Nationalist Party of Twipra | 2784 |
| Asharambari | AGHORE DEBBARMA | 17826 | Communist Party of India (Marxist) | AMIYA KUMAR DEBBARMA | 10609 | Indigenous Nationalist Party of Twipra | 7217 |
| Badharghat | DILIP SARKAR | 24309 | Indian National Congress | SAMAR DAS | 23666 | Revolutionary Socialist Party | 643 |
| Bagbasa | BIJITA NATH | 17991 | Communist Party of India (Marxist) | JYOTIRMOY NATH | 15059 | Indian National Congress | 2932 |
| Bagma | NARESH CHANDRA JAMATIA | 23600 | Communist Party of India (Marxist) | JYOTISH JAMATIA | 19525 | Indigenous Nationalist Party of Twipra | 4075 |
| Bamutia | HARICHARAN SARKAR | 19744 | Communist Party of India (Marxist) | PRAKASH CHANDRA DAS | 16994 | Indian National Congress | 2750 |
| Banamalipur | GOPAL CHANDRA ROY | 19464 | Indian National Congress | YUDHISTHIR DAS | 13702 | Communist Party of India | 5762 |
| Barjala | JITENDRA SARKAR | 17728 | Indian National Congress | JITENDRA DAS | 17467 | Communist Party of India (Marxist) | 261 |
| Belonia | BASUDEV MAJUMDER | 20585 | Communist Party of India (Marxist) | AMAL MALLIK | 15761 | Indian National Congress | 4824 |
| Bishalgarh | BHANULAL SAHA | 20987 | Communist Party of India (Marxist) | SAMIR RANJAN BARMAN | 19263 | Indian National Congress | 1724 |
| Boxanagar | SAHID CHOUDHURI | 17100 | Communist Party of India (Marxist) | BILLAL MIA | 14579 | Indian National Congress | 2521 |
| Chandipur | TAPAN CHAKRABARTI | 21009 | Communist Party of India (Marxist) | NIRMALENDU DEB | 13380 | Indian National Congress | 7629 |
| Charilam | RAMENDRA NARAYAN DEBBARMA | 16479 | Communist Party of India (Marxist) | HIMANI DEBBARMA | 15138 | Indian National Congress | 1341 |
| Chawamanu | NIRAJOY TRIPURA | 15870 | Communist Party of India (Marxist) | ZAIDAMI TRIPURA | 14375 | Indian National Congress | 1495 |
| Dhanpur | MANIK SARKAR | 21286 | Communist Party of India (Marxist) | SHAH ALAM | 15269 | Indian National Congress | 6017 |
| Dharmanagar | BISWABANDHU SEN | 17991 | Indian National Congress | AMITABHA DATTA | 16147 | Communist Party of India (Marxist) | 1844 |
| Fatikroy | TUNUBALA MALAKAR | 17899 | Communist Party of India (Marxist) | JUGAL MALAKAR | 16034 | Indian National Congress | 1865 |
| Golaghati | KESHAB DEBBARMA | 19181 | Communist Party of India (Marxist) | MANAB DEBBARMA | 14648 | Indigenous Nationalist Party of Twipra | 4533 |
| Hrishyamukh | BADAL CHOUDHURY | 25009 | Communist Party of India (Marxist) | SUSANKAR BHOWMIK | 12580 | Indian National Congress | 12429 |
| Jolaibari | JASHABIR TRIPURA | 24295 | Communist Party of India (Marxist) | BRAJENDRA MOG CHAUDHURI | 14952 | Indian National Congress | 9343 |
| Jubarajnagar | RAMENDRA CHANDRA DEBNATH | 18602 | Communist Party of India (Marxist) | RANADHIR NATH | 15724 | Indian National Congress | 2878 |
| Kadamtala-kurti | FAYZUR ROHAMAN | 14514 | Communist Party of India (Marxist) | ABDUL MATIN CHAUDHURY | 12585 | Indian National Congress | 1929 |
| Kailashahar | BIRAJIT SINHA | 18857 | Indian National Congress | MOBOSHAR ALI | 18372 | Communist Party of India (Marxist) | 485 |
| Kakraban-salgarh | RATAN BHOWMIK | 24947 | Communist Party of India (Marxist) | RAJIB SAMADDAR | 17757 | Indian National Congress | 7190 |
| Kalyanpur-pramodenagar | MANINDRA CHANDRA DAS | 19755 | Communist Party of India (Marxist) | KAJAL CHANDRA DAS | 15975 | Indian National Congress | 3780 |
| Kamalasagar | NARAYAN CHANDRA CHOWDHURI | 19808 | Communist Party of India (Marxist) | DIPAK KUMAR ROY | 14393 | Indian National Congress | 5415 |
| Kamalpur | BIJOY LAKSHMI SINGHA | 19204 | Communist Party of India (Marxist) | MANOJ KANTI DEB | 17690 | Indian National Congress | 1514 |
| Kanchanpur | RAJENDRA REANG | 17186 | Communist Party of India (Marxist) | DRAO KUMAR REANG | 16105 | Indigenous Nationalist Party of Twipra | 1081 |
| Karbook | PRIYAMANI DEBBARMA | 15526 | Communist Party of India (Marxist) | DHARJAROY TRIPURA | 12091 | Indigenous Nationalist Party of Twipra | 3435 |
| Karmachhara | DIBA CHANDRA HRANGKHAWL | 15411 | Indian National Congress | GAJENDRA TRIPURA | 14039 | Communist Party of India (Marxist) | 1372 |
| Khayerpur | PABITRA KAR | 20972 | Communist Party of India (Marxist) | BAPTU CHAKRABORTY | 19675 | Indian National Congress | 1297 |
| Khowai | SAMIR DEBSARKAR | 22692 | Communist Party of India (Marxist) | DIPAK MAJUMDER | 13859 | Indian National Congress | 8833 |
| Krishnapur | KHAGENDRA JAMATIA | 17125 | Communist Party of India (Marxist) | SABDA KUMAR JAMATIA | 11083 | Indian National Congress | 6042 |
| Majlishpur | MANIK DEY | 21304 | Communist Party of India (Marxist) | BIBEKANANDA CHOUDHURI | 18375 | Indian National Congress | 2929 |
| Mandaibazar | MONORANJAN DEBBARMA | 19275 | Communist Party of India (Marxist) | JAGADISH DEBBARMA | 17450 | Indigenous Nationalist Party of Twipra | 1825 |
| Manu | JITENDRA CHAUDHURY | 21320 | Communist Party of India (Marxist) | CHANDI CHARAN TRIPURA | 14424 | Indian National Congress | 6896 |
| Matarbari | MADHAB CHANDRA SAHA | 22178 | Communist Party of India (Marxist) | BIPLAB KUMAR GHOSH | 20868 | Indian National Congress | 1310 |
| Mohanpur | RATAN LAL NATH | 19143 | Indian National Congress | SUBHAS CHANDRA DEBNATH | 18368 | Communist Party of India (Marxist) | 775 |
| Nalchar | TAPAN CHANDRA DAS | 21969 | Communist Party of India (Marxist) | UTTAM DAS | 13862 | Indian National Congress | 8107 |
| Pabiachhara | SAMIRAN MALAKAR | 18504 | Communist Party of India (Marxist) | SATYABAN DAS | 17254 | Indian National Congress | 1250 |
| Panisagar | SUBODH DAS | 15196 | Communist Party of India (Marxist) | RADHIKA RANJAN DAS | 13285 | Indian National Congress | 1911 |
| Pencharthal | ARUN KUMAR CHAKMA | 16601 | Communist Party of India (Marxist) | PURNITA CHAKMA | 15584 | Indian National Congress | 1017 |
| Pratapgarh | ANIL SARKAR | 23977 | Communist Party of India (Marxist) | RANJIT KUMAR DAS | 21845 | Indian National Congress | 2132 |
| Radhakishorepur | PRANAJIT SINGHA ROY | 20140 | Indian National Congress | JOY GOBINDA DEB ROY | 19303 | Revolutionary Socialist Party | 837 |
| Raima valley | LALIT MOHAN TRIPURA | 18527 | Communist Party of India (Marxist) | NAKSHATRA JAMATIA | 15651 | Indigenous Nationalist Party of Twipra | 2876 |
| Rajnagar | SUDHAN DAS | 23942 | Communist Party of India (Marxist) | MANIK CHANDRA DAS | 12545 | Indian National Congress | 11397 |
| Ramchandraghat | PADMA KUMAR DEBBARMA | 19504 | Communist Party of India (Marxist) | ANIMESH DEBBARMA | 11613 | Independent | 7891 |
| Ramnagar | RATAN DAS | 18060 | Communist Party of India (Marxist) | SURAJIT DATTA | 17995 | Indian National Congress | 65 |
| Sabroom | RITA KAR (MAJUMDER) | 21404 | Communist Party of India (Marxist) | PREMTOSH NATH | 16197 | Indian National Congress | 5207 |
| Santirbazar | MANINDRA REANG | 20798 | Communist Party of India | GOURI SANKAR REANG | 17042 | Indian National Congress | 3756 |
| Simna | PRANAB DEBBARMA | 17063 | Communist Party of India (Marxist) | RABINDRA DEBBARMA | 13244 | Indigenous Nationalist Party of Twipra | 3819 |
| Sonamura | SHYAMAL CHAKRABORTY | 18043 | Communist Party of India (Marxist) | SUBAL BHOWMIK | 16517 | Indian National Congress | 1526 |
| Surma | SUDHIR DAS | 18648 | Communist Party of India (Marxist) | SUKHA RANJAN DAS | 16786 | Indian National Congress | 1862 |
| Suryamaninagar | RAJ KUMAR CHAUDHURI | 21613 | Communist Party of India (Marxist) | AVIJIT DEB | 19979 | Indian National Congress | 1634 |
| Takarjala | NIRANJAN DEBBARMA | 17315 | Communist Party of India (Marxist) | RAJESHWAR DEBBARMA | 16108 | Indigenous Nationalist Party of Twipra | 1207 |
| Teliamura | GOURI DAS | 18357 | Communist Party of India (Marxist) | GOURISANKAR ROY | 17044 | Indian National Congress | 1313 |
| Town bordowali | ASISH KUMAR SAHA | 22474 | Indian National Congress | SHYAMAL ROY | 15414 | All India Forward B | 7060 |