Amethi Lok Sabha Elections 2014: Amethi Record 54.24% Polling, Amethi election 2014 live Updates ,Amethi Voting % Live, Amethi General Election 2014, Amethi, General Election 2014, Election 2014, lok sabha election 2014, Ra
Details

Parent Category: Political News
Last Updated:

Thursday, 22 January 2015 20:57
Amethi election 2014 live Updates--
---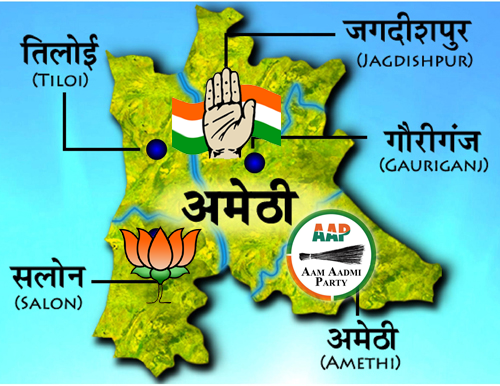 Amethi Record 54.24% Polling
4:05 pm 40% voting in Amethi till 3 pm
In Amethi, the voting percentage is 37.50%.
Amethi, 37.50 percent polling has been recorded so far whereas neighbouring Sultanpur from where Rahul's cousin Varun is contesting 35.60 percent voters have cast their votes.
In Pratapgarh 33.60 percent, while in Faizabad 38 percent, Gonda 33.3 percent, Kaushambi 35.6 percent, Phulpur 33.4 percent votes were cast. Allahabad recorded 33.6 percent voter turnout whereas, Ambedkarnagar 36.8 percent, Bahraich 38 percent, Kaisarganj 37.8, Shravasti 35.7 percent, Basti 41.26 percent, Sant Kabir Nagar 36 and Bhadohi 35.8 percent.Highest turnout was reported from Basti with 41.26 per cent votes.
In Amethi, the voting percentage is 27 per cent.
Rahul Gandhi objects to lotus symbol at a polling booth in Amethi, but did not register complaint with the Election Commission. In Amethi, while Vishwas is banking on the power of "aam aadmi", Irani is trying to cash in on Modi wave and by highlighting "lack of development" in Rahul's 10-year as MP.
10.4% voting has been recorded till 9 am in the constituency.
9:50 am Amethi is voting in strength to chose between Rahul Gandhi, Smriti Irani and Kumar Vishwas.

Click here... 8th Phase of lok sabha election 2014 ..>>>
Click here--Lok Sabha election result 2014
Click here..Campaigning ends for high-voltage 8th phase of Lok Sabha elections.

Indian general election, 2014: Amethi 


Party

Candidate

%

AAP

Kumar Vishwas

INC

Rahul Gandhi

BJP

Smriti Irani

BSP

Dharmendra Pratap Singh
Indian general election, 2009: Amethi

Party

Candidate

Votes

%

INC

Rahul Gandhi

4,64,195

71.78

 

BSP

Asheesh Shukla

93,997

14.54

 

BJP

Ashok Kumar Singh

37,570

5.81

 

Independent

Sri Ram

12,320

2.09

 

AD

Udai Raj Maurya

11,280

1.91

 

Majority

3,70,198

57.24

Turnout

6,46,650