South Delhi Municipal Corporation (SDMC): BJP, Cong set for a battle in mayoral polls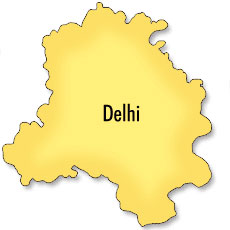 The high-stake Delhi mayoral polls scheduled to take place next week, seem to heading for a two-way contest between the ruling BJP and Congress, even as the saffron party exuded confidence of repeating its electoral triumph for the top municipal posts.
Candidates from both the parties are set to file nominations for the polls, while the Aam Aadmi Party, which staged a stunning comeback to power in last Delhi Assembly polls, has so far not figured on this polling arena.
The erstwhile unified Municipal Corporation of Delhi (MCD) was trifurcated in 2012 into -- North, East and South Delhi Municipal Corporations (NDMC, EDMC and SDMC).
The elections, slated to be held on April 24 will elect new mayors, deputy mayors and members of the standing committees of the three civic bodies. Today is the last date to file nominations.
Also Read:
All three corporations are BJP-led and the party had swept the mayoral polls last year.
"BJP and Congress candidates are both scheduled to file nominations today for the three posts at the north corporation. The final list of candidates would become clear by evening," a senior official of the NDMC said.
The two big parties are also set to enter into a contest in the EDMC as well, which last year elected its youngest mayor Meenakshi.
Meanwhile, party functionaries at AAP, however, have said that the new political party is not contesting the mayoral polls.
"We are fighting the mayoral polls with confidence and fielding candidates for the mayor, deputy mayors and members of the standing committee posts,"Delhi BJP Chief and councillor Satish Upadhyay said.
Upadhyay, former chairman of the SDMC's Standing Committee exuded confidence on BJP's performance in this poll.

The five-year tenure for the Mayor post sees five single- year terms on a rotation basis, with the first year being reserved for women, the second open category, third for reserved category, and the remaining two also being in open category, Director (Press & Information), NDMC, Yogendra Singh Mann said.
The last mayoral poll won by BJP saw, Yogender Chandolia, Khushi Ram and Meenakshi winning the post of mayors for NDMC, SDMC and EDMC respectively.
src:business-standard