South Delhi Municipal Corporation (SDMC): 3 BJP, 3 Cong candidates file nominations for mayoral polls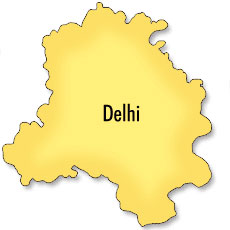 The ruling BJP and Opposition Congress today fielded a candidate each for the post of mayors and deputy mayors for the three municipal bodies, setting the stage for an even contest in the high-stake Delhi mayoral polls later this month. BJP, which has been leading all three corporations for the past few years, had swept the last mayoral polls.
The erstwhile unified Municipal Corporation of Delhi (MCD) was trifurcated in 2012 into North, East and South Delhi Municipal Corporations (NDMC, EDMC and SDMC).

For the mayor position in SDMC, where elections would be held on April 24, BJP councillor and Standing Committee Chairman Subhash Arya will cross swords with Congress councillor and former Delhi mayor Farhad Suri. Suri, a councillor from Nizamuddin is currently the Leader of Opposition in the 104-member House.

In NDMC, where Yogender Chandolia was last year elected unopposed as North Delhi Mayor, BJP's Ravindra Gupta, now deputy mayor, will face Harsh Sharma of Congress. NDMC too is a 104-member House.

In the 64-member House in EDMC, Harshdeep Malhotra of BJP will square off against Congress councillor Rekha Rani. The elections in the EDMC and NMDC are scheduled to take place on April 27 and April 28 respectively.

The Aam Aadmi Party, which staged a stunning comeback to power in last Delhi Assembly polls, has chosen to stay away from on this municipal polling arena.

The five-year tenure for the Mayor post sees five single- year terms on a rotation basis, with the first year being reserved for women, the second open category, third for reserved category, and the remaining two also being in open category, Director (Press & Information), NDMC, Yogendra Singh Mann said.

Last year the mayor polls were held for the reserved category, and so this year it is in the open category. Today was the last date of filing nominations, and the elections to the deputy mayors also are likely to be an even contest between the two parties.

In SDMC, Congress has fielded councillor Indu against BJP's Kuldeep Solanki for the deputy mayor post. In NDMC, Neelam Goel of BJP will face Guddi Devi of Congress, while in EDMC, Asha Singh of BJP is up against Aas Mohamad of Congress.

As per the elections to the three members of the standing committee, two candidates each have been fielded by Congress and BJP, including ruling party's leader Aashish Sood.

In NDMC, current mayor Chandolia, standing committee chairman Mohan Bhardwaj and Leader of Opposition and Congress councillor Mukesh Goel have filed the nominations for the post. Goel had unsuccessfully contested Delhi Assembly polls.

In EDMC, BJP's Manoj Tyagi and Lata Gupta and Congress' Varyanm Kaur, Leader of Opposition, have filed the nominations.