South Delhi Municipal Corporation (SDMC) Mayoral poll to see a close fight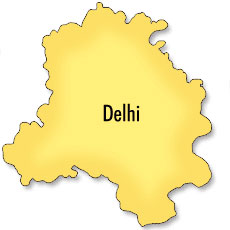 Two of the senior-most leaders in the South Delhi Municipal Corporation (SDMC) are in a close race for the post of Mayor, with the BJP nominating Standing Committee chairperson Subhash Arya and the Congress fielding Leader of Opposition Farhad Suri.
Mr. Arya, a five-time councillor, and Mr. Suri, a former Mayor in the erstwhile unified Municipal Corporation of Delhi, filed their nominations for the April 24 polls on Thursday. The BJP-led Corporation had nearly elected a Congress Mayor last year, when Dharamveer Singh lost by one vote to the BJP's Khushi Ram. The Congress managed to wrest the post of Deputy Mayor, with Praeen Rana besting Bir Singh of the BJP's ally Bahujan Samaj Party by 13 votes.
Mr. Arya said the BJP was "more than confident" of winning the polls for both Mayor and Deputy Mayor this year. "We have the support of other parties and independent councillors, plus we have 50 of our own councillors," said Mr. Arya.
MLAs and MPs whose constituencies are within the corporation's jurisdiction are also entitled to vote in the polls for the Mayor and Deputy Mayor. Last time, the Congress MPs gave the party's chances a boost. This time, the Congress has one Rajya Sabha MP, the BJP has four Lok Sabha MPs and the Aam Aadmi Party has five MLAs who can vote in the polls.
Mr. Suri said: "Our numbers are down from last year, but we got substantial votes from other sections of the House. In a way, they rejected the functioning of the BJP. This time too, we will appeal to all members to vote with their conscience."
The 104-member House is down to 97 councillors as the rest left to contest Assembly polls. With the MLAs and MPs, there will be 107 electors, where the BJP have 50 councillors and the Congress has 35.
Nominations for the North and East civic body polls were also filed on Thursday. The BJP has fielded current Deputy Mayor Ravinder Gupta for the mayoral poll and the Congress had nominated Harsh Sharma. The East Delhi Municipal Corporation mayoral election will see the BJP's Harshdeep Malhotra up against Rekha Rani of the Congress. The BJP is expected to win in the North and East corporations as they have a comfortable margin.