Uttar Pradesh (UP) Caste Religion Wise population DemoGraphics Yadav Brahmin Hindu Muslim Caste Percentage SC ST Census
Uttar Pradesh (UP) Caste/Religion Wise population, Uttar Pradesh Caste wise demographics, Demographics of UttarPradesh, Uttar Pradesh Religion wise population, Uttar Pradesh Population, Uttar Pradesh Population and Census, Religion in UttarPradesh, Uttar Pradesh Basic Information, Uttar Pradesh Hindu Muslim SC ST Yadav Brahmin Population Percentage, UttarPradesh caste list
Details about the population of Uttar Pradesh based on India Census 2011. Uttar Pradesh district wise population, population based on religion in Uttar Pradesh. Get complete demographics about Uttar Pradesh.
Uttar Pradesh Population of UP



Population (2011) Total - 199,581,477

ALSO READ: Uttar Pradesh Assembly Election Dates 2022
ALSO READ: Uttar Pradesh Assembly Election Opinion Poll 2022
Uttar Pradesh UP, is the most populous state in the Republic of India as well as the most populous country subdivision in the world. The densely populated state, located in the northern region of the Indian subcontinent, has over 200 million inhabitants. It was created on 1 April 1937 as the United Provinces during British rule, and was renamed Uttar Pradesh in 1950. Lucknow is the capital city of Uttar Pradesh.
The main ethnic group is the Hindi people, forming the demographic plurality. On 9 November 2000, a new state, Uttarakhand, was carved out from the Himalayan hill region of Uttar Pradesh. Find Uttar Pradesh Caste Religion Wise population, demographics, General Caste List, Yadavs in UP, Dalits, Brahmins in Uttar Pradesh, Uttar Pradesh Hindu Muslim SC ST Yadav Brahmin Population Percentage, UttarPradesh caste list
Uttar Pradesh Caste demographics
Castes of Uttar Pradesh

Yadavs

8.50%

Kurmis

3%

Jatavs

11.50%

Tribals

0.80%

Brahmins

10%

Thakur

8.50%

Christians

0.18%

Others

24%
As per 2011 census, Dalits constitute 20.5% of Uttar Pradesh population.Other Backward Classes (OBCs) constitute 50% of U.P population.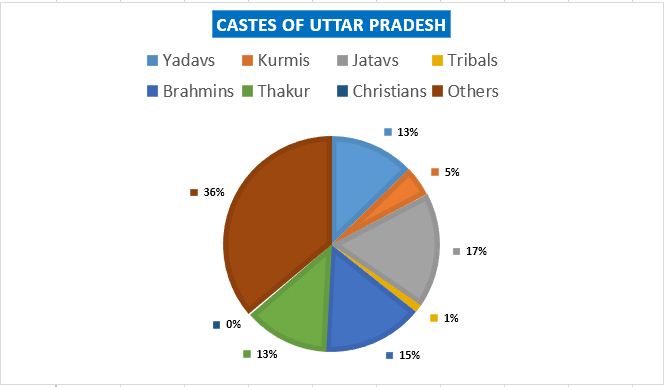 Religion
In U.P. the religion-wise percentage of population is Hindus 85 Muslims 13., Sikhs 0.2, Jains 0.1, Buddhists 0.1, Christians 0.2
Religion in Uttar Pradesh 2011

Religion

Percent

Hindus

79.70%

Islam

19.30%

Others

1%
Population Growth

Census

Pop.

% ±

1951

6,02,74,000

—

1961

7,01,44,000

16.40%

1971

8,38,49,000

19.50%

1981

10,51,37,000

25.40%

1991

13,20,62,000

25.60%

2001

16,61,98,000

25.80%

2011

19,95,81,477

20.10%

Source: Census of India
Distribution of Scheduled Castes by District in Uttar Pradesh
Number

District Name

Population (2001)

Scheduled Caste Population (2001)

Percentage

Scheduled Castes (Largest Three)

1

Agra

3,620.44

7,88,394

21.78

Chamar

(593,263),

Kori

(56,634) and

Balmiki

(51,649)

2

Aligarh

29,92,286

6,34,270

21.2

Chamar (396,997),

Khatik

(57,331) and

Balmiki

(55,414)

3

Allahabad

49,36,105

10,65,097

21.58%

Pasi

(412,466), Chamar (402,3470 and

Kol

(106,164)

4

Ambedkar Nagar

20,26,876

4,95,375

24.44

Chamar (438,182), Dhobi(29,364) and Pasi (7,809)

5

Auraiya

11,79,993

3,26,788

27.69

Chamar (210,649), Dhanuk(38,687) and Kori (22,478)

6

Azamgarh

39,39,916

10,13,801

25.73

Chamar (829,755), Pasi (87,872) and Dhobi (34,343)

7

Badaun

30,69,426

5,24,684

17.09

Chamar (331,011), Balmiki (56,712) and Dhobi (55,713)

8

Bagpat

11,63,991

1,27,813

10.98

Chamar (89,732), and Balmiki (27,232

9

Bahraich

23,81,072

3,42,747

14.39

Chamar (160,679), Pasi (62,426) and Kori (37,979)

10

Ballia

27,61,620

4,54,647

16.46

Chamar (304,224),

Dusadh

(59,649) and

Gond

(33,116)

11

Balrampur

16,82,350

2,26,753

13.48

Kori (92,734), Pasi (48,552) and Chamar (30,585)

12

Banda

15,37,334

3,20,226

20.83

Chamar (213,002), Kori (52,162) and Dhobi (19,783)

13

Barabanki

26,73,581

7,18,897

26.89

Pasi (379,012), Chamar (224,996) and Kori (31.192)

14

Bareilly

36,18,589

4,57,771

12.65

Chamar (250,911), Dhobi (72,628) and Balmiki (55,294)

15

Basti

20,84,814

4,35,082

20.87

Chamar (344,350), Dhobi (43,044) and Khatik (23,523)

16

Bijnor

31,31,619

6,55,806

20.94

Chamar (571,454), Balmiki (42,135) and Bhuiyar(18,353)

17

Bulandshahr

29,13,122

5,88,683

20.21

Chamar (436,047), Balmiki (51,804) and Khatik (37,562)

18

Chandauli

16,43,251

3,99,174

24.29

Chamar (285,302),

Dusadh

(21,573) and

Musahar

(18,752)

19

Chitrakoot

7,66,225

2,01,839

26.34

Chamar (116,878), Kol (39,472) and Kori (17,265)

20

Deoria

27,12,650

4,93,344

18.19

Chamar (290,458), Gond (82,993) and Dhobi (36,687)

21

Etah

27,90,410

4,78,665

17.5

Chamar (285,485), Dhobi (71,764) and Balmiki (40,653)

22

Etawah

13,38,871

3,13,470

23.41

Chamar (190,517), Dhanuk (39,088) and Kori (25,678)

23

Faizabad

20,88,928

4,71,839

22.99

Pasi (175,258), Kori (149,274) and Chamar (90,143)

24

Farrukhabad

15,70,408

2,58,080

16.43

Chamar (126,154), Dhanuk (37,970) and Dhobi (32,031)

25

Fatehpur

[2,308,384

5,78,070

25.04

Chamar (215,829), Pasi (195,629) and Kori (57,796)

26

Firozabad

20,52,958

3,87,047

18.85

Chamar (233,693), Dhobi (41,407) and Kori (33,383)

27

Gautam Buddha Nagar

12,02,030

1,90,022

16.31

Chamar (140,549), Balmiki (28,069) and Khatik (6,529)

28

Ghaziabad

32,90,586

5,93,780

18.04

Chamar (448,862), Balmiki (72,764) and Kori (29,887)

29

Ghazipur

30,37,582

6,49,510

21.38

Chamar (518,794), Dhobi (23,712) and Dusadh (23,600)

30

Gonda

27,65,586

4,33,491

15.67

Kori (195,711), Chamar (71,931) and Pasi (68,873)

31

Gorkakhpur

37,69,456

8,31,070

22.05

Chamar (522,742), Pasi (110,900) and Beldar(74,237)

32

Hamirpur

10,43,724

2,37,902

22.79

Chamar (133,601), Kori (44,258) and Basor(26,251)

33

Hardoi

33,98,306

10,65,848

31.36

Chamar (497,693), Pasi (424,758) and Dhobi (59,039)

34

Jalaun

14,54,452

3,93,307

27.04

Chamar (240,753), Kori (61,470) and Dhobi (30,203)

35

Jaunpur

39,11,679

8,57,883

21.93

Chamar (636,277), Pasi (112,804) and Dhobi (36,207)

36

Jhansi

17,44,931

4,89,763

28.07

Chamar (271,048), Kori (88,814) and Dhobi (40,946)

37

Jyotiba Phule Nagar

14,99,068

2,58,857

17.27

Chamar (224,565), Balmiki (20,674) and Dhobi (6,655)

38

Kannauj

13,88,923

2,56,038

18.43

Chamar etc. (141,819), Dhanuk (42,694) and Dhobi (23,643)

39

Kanpur Dehat

15,63,336

3,88,419

24.85

Chamar (234,591), Kori (44,780) and Dhanuk (37,732)

40

Kanpur Nagar

41,67,999

6,85,809

16.45

Chamar (304,424), Kori (95,008) and Pasi etc. 89,895

41

Kaushambi

12,93,154

4,66,853

36.1

Pasi (283,145)m Chamar (96,207) and Dhobi (36,537)

42

Kushinagar

28,93,196

5,24,149

18.12

Chamar (283,033), Gond (65,886) and Dhobi (51,673)

43

Lakhimpur Kheri

32,07,232

8,20,359

25.58

Chamar (353,143) , Pasi (333,880) and Dhobi (50,960)

44

Lalitpur

9,77,734

2,43,788

24.93

Chamar (138,167),Saharya (44,587) and Dhobi (20,857)

45

Lucknow

36,47,834

7,76,502

21.29

Pasi (334,398), Chamar (229,704) and Rawat (47,396)

46

Mahamaya Nagar

13,36,031

3,36,739

25.2

Chamar (220,953), Karwal/Baheliya (47,324), Dhobi (37,195) and Kori (22,775)

47

Maharajganj

21,73,878

4,24,190

19.51

Chamar (265,168), Pasi(57,353) and Dhobi (54,072)

48

Mahoba

7,08,447

1,82,614

25.781

Chamar (116,164), Kori (24,117) and Basor (20,011)

49

Mainpuri

15,96,718

3,08,390

19.31

Chamar(148,402), Dhanuk(62,125) and Dhobi (40,918)

50

Mathura

20,74,516

4,06,600

19.6

Chamar (302,459), Balmiki (28,951) and Kori (28,868)

51

Mau

18,53,997

4,21,677

22.74

Chamar (265,168), Dhobi (57,353) and Gond (54,072)

52

Meerut

29,97,361

5,52,692

18.44

Chamar (443,200), Balmiki (65,570) and Khatik (11,337), Kori (20,200)

53

Mirzapur

21,16,042

5,66,160

26.76

Chamar (285,801), Kol (123,996) and Pasi (39,515)

54

Moradabad

38,10,983

6,04,253

15.86

Chamar (468,335), Balmiki (57,442) and Dhobi (19,006)

55

Muzaffarnagar

35,43,362

4,78,324

13.5

Chamar (375,600) Balmiki (58,716) and Kori (19,006)

56

Pilibhit

16,45,183

2,50,495

15.23

Chamar (92,574), Pasi (41,941) and Dhobi (37,930)

57

Pratapgarh

27,31,174

6,01,043

22.01

Pasi (286,572), Chamar (244,002) and Dhobi (29,171)

58

Rae Bareli

28,72,335

8,56,749

29.83

Pasi (474,133), Chamar (226,481) and Kori (66,161)

59

Rampur

19,23,739

2,57,365

13.38

Chamar (170,475), Balmiki (26,206) and Dhobi (23,847)

60

Saharanpur

28,96,863

6,29,340

21.73

Chamar (546,674), Balmiki (26,206) and Dhobi (23,847)

61

Sant Kabir Nagar

14,20,226

3,00,902

21.19

Chamar (215,913), Beldar (35,387) and Dhobi (29,537)

62

Sant Ravidas Nagar

13,53,705

2,92,747

21.63

Chamar (184,397), Pasi (70,259) and Dhobi (11,146)

63

Shahjahanpur

25,47,855

4,51,492

17.72

Chamar (194,784), Dhobi (66,941) and Pasi (52,046)

64

Shravasti

11,76,391

2,16,352

18.39

Pasi (89,123), Chamar (53,996) and Kori (33,958)

65

Siddharthnagar

20,40,085

3,37,311

16.53

Chamar (238,032), Pasi (43,062) and Dhobi (41,445)

66

Sitapur

36,19,661

11,53,661

31.87

Pasi (599,413), Chamar (437,085) and Dhobi (59,687)

67

Sonbhadra

14,63,519

6,13,497

41.92

Chamar (179,239), Gond (132,946) and

Kharwar

(excluding

Benbansi

) (64,738)

68

Sultanpur

32,14,832

7,15,297

22.25

Chamar (304,624), Kori (196,096) and Pasi (146,096)

69

Unnao

27,00,324

8,27,255

30.64%

Pasi (396,538), Chamar (290,198) and Dhobi (52,906)

70

Varanasi

31,38,671

4,35,545

13.881

Chamar (308,100), Khatik (31,251) and Dhobi (21,206)