Nagaland NDPP Candidate list 2018 Assembly Elections Complete Final List
Nagaland Candidate list 2018 for NDPP, First Second Third Candidate List of today, Complete Compiled Final Assembly Election, NDPP list on Feb 2018, Nagaland election ticket declare, Nagaland election candidates list 2018, NDPP, Complete, List, 2018, releases, Monday, February
Nagaland NDPP released First candidate list 2018
In their first list of candidates, the NDPP listed 38 candidates.
The Nationalist Democratic Progressive Party (NDPP) said that their candidates incorporated "a combination of experience and youth."

The list has seasoned politicians, experienced civil society leaders, dynamic young faces, accomplished former technocrats and bureaucrats, legal experts and highly capable personalities, NDPP Secretary-General, Abu Metha said while releasing the list.

A press release from the NDPP Media & Communication Committee informed that the Party leader Neiphiu Rio also lauded Prime Minister Narendra Modi and Bhartiya Janata President, Amit Shah for "reposing faith in his leadership and agreeing to have a seat-sharing alliance between the NDPP and the BJP."

The NDPP-BJP alliance would ensure good governance and draw a new roadmap for development under the vision of Modi's development agenda, Rio assured.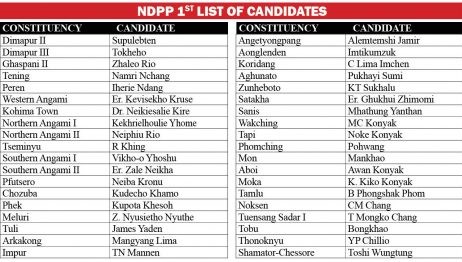 Nagaland Elections 2018 Details
Click on individual constituencies of Nagaland to know to get compiled Past election Results ,swing Margin, Candidates Details, MLA details , Polling Station, Voter List of each assembly.