Nagaland NCP Candidate list 2018 Assembly Elections Complete Final List
Nagaland Candidate list 2018 for NCP, First Second Third Candidate List of today, Complete Compiled Final Assembly Election, NCP list on Feb 2018, Nagaland election ticket declare, Nagaland election candidates list 2018, NCP, Complete, List, 2018, releases, Monday, February
Nagaland NCP released First candidate list 2018
NCP released six candidates list today.
The Nationalist Congress Party (NCP) Nagaland state while releasing their 1st list of candidates also released its election manifesto for the upcoming polls.

NCP Nagaland state president Vanthungo Odyuo told media persons here that the party will field 10 candidates for the polls. Out of 10, six candidates have been finalized in the first phase (see table above). He said that remaining four candidates would be finalized soon in the second phase

The NCP Election Manifesto stated that the party recognized the Naga political issue as a national issue and supports the demand for a peaceful and honorable resolution of the issue.

"The NCP will extend all possible support to the effort of the civil society in Nagaland in the quest for peace and development and to ensure a lasting solution to the long drawn political issue," it stated.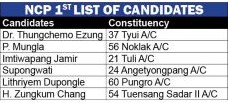 Nagaland Elections 2018 Details
Click on individual constituencies of Nagaland to know to get compiled Past election Results ,swing Margin, Candidates Details, MLA details , Polling Station, Voter List of each assembly.