Punjab Exit poll 2017 Election Survey Result India Today Axis
India Today Axis Punjab Exit poll, BJP leading in Punjab,India Today Axis Exit Poll, BJP SAD ABP News Exit, Latest Punjab Survey Result 2017, Punjab assembly election Exit poll 2017, Punjab India Today Axis Election Survey, Who will win Punjab elections, Punjab India Today Axis Exit poll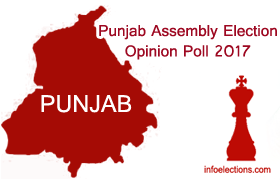 Punjab Exit polls have been banned by ECI from 4th Februrary to 8th March 2017 till all 5 states elections are completed. But Still the The IPac team deployed by Congress which had nearly 1200 volunteers and 500 were positioned at district headquarters gave live updates. IPAC team said We have done better than our initial calculations. We are sweeping Majha, winning Doaba and getting more than half the seats in Malwa," he added.
As per party's post-poll calculations, Congress is winning 38 of Malwa's 69 seats, 18 in Majha and around 12 in Doaba i.e 68 seats out of 117 constituncies as per IPAC team deployed by Congress.
Latest Punjab Opinion poll 2017 and Election Survey Result has been released by Huffpost -CVoter shows AAP winning 63 seats, India Today Axis shows INC winning 62 seats, The week - Hansa also shows INC winning with 50 seats, AAP at 34 and SAD+ at 29. Earlier ABP News CSDS which is showing SAD+BJP winning 54 seats where as it shows INC winning 45 seats. Still Who will win in Punjab polls is tough to answer since just previous opinion poll by lot of older polls by VDP associates and Huffpost - CVoter showed AAP winning.
70% Voting recorded in Punjab. No Exit Polls to be released before 8th March 2017.
All Opinion Polls released till now are mentioned below. Most of latest Opinion Polls show INC ahead.

As per ECI no Exit Poll between 4th Feb and 8th March 2017.

Voting Finished for 117 Constituencies, 1.98 crore voters 1145 Candidates .

Live 2017 Percentage Updates
Summary of all Exit Polls Punjab Assembly Elections 2017
Punjab Assembly Election Exit Poll 2017

Party Ally

HuffPost Exit Poll 2017

AAP

42-51

INC

62-71

SAD+ BJP

4-7

Others

0-2
ALSO READ On Punjab Elections 2017:
Latest Opinion Poll by ABP News - Lokniti shows BJP winning. India Today - Axis shows INC winning with 52 seats and AAP is at second position with 44 seats. Most of earlier /older polls showed AAP winning, INC in 2nd position and SAD-BJP at 3rd.In Reverse Chronological Order we have grouped various opinion polls being shown by various TV Channels and Political Survey Companies. Punjab Elections are due to be held by January - February 2017 in Punjab.
---
Summary of all Opinion Polls Punjab Assembly Elections 2017
Punjab Assembly Election Opinion Poll 2017

Party Ally

Huff. CVoter

(Feb)

India Today Axis (Jan)

The Week - Hansa (Jan 17)

ABP News - Lok niti (Jan 17)

India Today Axis (Oct)

VDP Ass.

(Oct)

ITN

(Aug)

VDP Ass.

(Jul)

Huff. CVoter

(Jul)

AAP

63

42

34

15

44

93

87

100

97

INC

43

63

50

45

52

15

18

3

11

SAD+ BJP

11

13

29

54

19

06

11

13

9

Others

-
1

7

-

5

10

1

1
2