Manohar Parrikar should stop playing 'shadow' CM: Digvijaya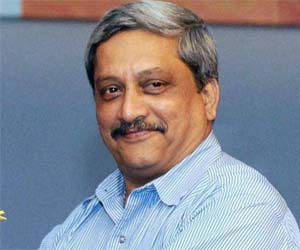 Panaji, (IANS) Defence Minister Manohar Parrikar should stop playing a 'shadow' chief minister of Goa and fully focus on his new role as the minister of a sensitive central portfolio, Congress general secretary Digvijaya Singh said Sunday.
Parrikar's constant presence in Goa despite his elevation as defence minister indicated that the former chief minister may have been absorbed in the union ministry against his wishes, Digvijaya Singh told reporters at the end of a state Congress 'chintan baithak' (discussion meet) here.
"The fact that he is coming to Goa all the time could mean that he was taken to New Delhi against his wishes," Digvijaya Singh said. "Parrikar should not act like a 'shadow' CM. He has got the responsibility of defence minister, he should focus on the defence ministry," he said.
Parrikar has been criticised on the social media as well as by the opposition in Goa for spending several days a week in the state, ever since he was elevated as the defence minister.
The criticism started after Parrikar attended a book release function in Goa on the day a suicide attack in Kashmir killed over a dozen security personnel. Parrikar was in Goa again Dec 12-13, during which he also attended his birthday celebrations in the state capital.