India not overreacting to US treatment to Devyani Khobragade, says Khurshid: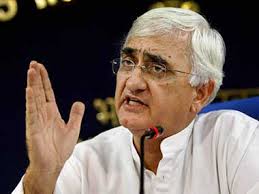 NEW DELHI: Assuring the country of an 'effective' intervention in the Devyani Khobragade case, External Affairs Minister Salman Khurshid on Tuesday said, "We will bring back the woman diplomat arrested in New York and restore her dignity; it is my responsibility." According to-"THE ECONOMIC TIMES"

Outraged Indian MPs have spoken out in parliament against the arrest and alleged ill-treatment of one of its diplomats in New York last week.
'National outrage'
On Wednesday morning, opposition MPs from several parties called on the government to take action against the US.
Mr Jaitley of the main opposition Bharatiya Janata Party (BJP) said India should take its bilateral relations more seriously and "insist on being treated like equals" by Washington.
"Has the US held Vienna Convention in this? Who gave it the right to handcuff Devyani, treat her in this manner?" asked senior BJP MP Yashwant Sinha. BBC NEWS INDIA
1:16 pm: Demand in LS for adopting resolution
A demand has been made in the Lok Sabha for adopting resolution condemning US action against Indian Deputy Consul General.
12:30 pm: India not overreacting, says Khurshid
External Affairs Minister Salman Khurshid said the government will intervene effectively and specifically to ensure that dignity of the diplomat is preserved.
Terming the response received from the US Congressional delegate as positive, Khurshid said India is not overreacting to the treatment meted out by the US to its diplomat Khobragade.
Calling it a conspiracy in which Devyani was virtually trapped into, Khurshid in Rajya Sabha revealed that a complaint was filed in New Delhi against the diplomat's maid and India had written to NYPD to arrest domestic help so that she can be tried here, but no action was taken.
Khurshid further promised to bring back Devyani and restore her dignity, asserting it is his responsibility.
12:22 pm: Omar questions removal of US embassy security barriers
Welcoming withdrawal of privileges to the US embassy officials in New Delhi, Jammu and Kashmir Chief Minister Omar Abdullah has, however, cautioned this should not lead to compromising the security of the US embassy in New Delhi.
Reacting to India's response to the inhuman treatment meted out by the US to an Indian diplomat, Omar Abdullah said on his micro blogging Twitter site, "By all means withdraw all the special privileges bestowed on the US embassy in Delhi. Security has to be above political/diplomatic scraps."
"I'm all for reciprocity but removal of US embassy security barriers is taking things too far. These barriers weren't a privilege, were they?"
12:04 pm: This is routine for America, says JD(U)
Janata Dal United leader and Rajya Sabha MP Shivanand Tiwari said India's former president Abdul Kalam and MP George Fernandes were also mistreated by the US in the past. "This is routine for America...This is a violation of Vienna Convention, but then when has US ever followed conventions?," asked Tiwari.
"America should apologise to the country," added Tiwari.
11:49 am: Who gave US right to handcuff Devyani? asks Sinha
Expressing anger over the arrest and "barbaric" treatment of an Indian diplomat in New York, Bharatiya Janata Party leader Yashwant Sinha asked: "Has the US held Vienna Convention in this? Who gave them right to handcuff Devyani, treat her in this manner?"
He further accused the US of crossing all civilisation norms. India has been insulted in manner in which Devyani has been treated, said Sinha, adding there is a need to take more steps against US diplomats in India.
They treated her like a terrorist, said an irate Sinha.
11:44 am: US insulted Indians on many occasions, says SP
"This incident has taken place only because in the past we haven't put our view forward properly. When it comes to the US, India seems to suffer an inferiority complex and it is very sad," Samajwadi Party national general secretary Ramgopal Yadav said.
The US should apologise for its conduct and the government should not agree to anything less, he said. "If this doesn't happen then we should extend the same treatment to their diplomats," Yadav said.
11:41 am: 'US should stop pretending to be self-appointed Lokpal of world'
Hitting out at the US, Trinamool Congress (TMC) leader Derek O'Brien in the Rajya Sabha said that Washington should stop pretending to be the self-appointed Lokpal of the world. He further demanded that all the privileges given to US diplomats by India should be codified and presented in Parliament to assess what "we give to the US, and what we get in return."
We live in a global village, but we don't need a village headman, he added.
11:35 am: Sitaram Yechury on Devyani's arrest
CPI-M member Sitaram Yechury welcomed the government measures to take action against the US, but added that India has not protested at the right moment.
He added: "You have bent backwards to create situations as per their demands.
Please understand the depth of how much we have bent backwards to them. Please accept that this incident shows the universal values of hypocrisy that the US follows".
11:32 am: Mayawati says Dalit community upset with Devyani's arrest
In the Rajya Sabha, BSP supremo Mayawati stirred a controversy by saying the Centre reacted late as Devyani is a Dalit.
"I know I should not bring caste into this but the overall conduct with this girl was inappropriate. The central government reacted late because she was a Dalit. Had she been from a different higher caste, they would have acted promptly," Mayawati said.
Mayawati's statement was followed by outbursts in the Rajya Sabha. "Why is the Congress party making noise in Parliament? Let's admit she is a Scheduled Caste," Mayawati added.
Hitting out at the US, Mayawati said, "The method of checking the Indian woman diplomat was the most inappropriate."
"When Americans come to India we treat them well, but they mistreat our people...Without further delay, the PM should directly take up the matter," added Mayawati.
11:29 am: Govt to make statement on Khobragade's arrest tomorrow
Reacting to Jaitley's speech, Commerce Minister Anand Sharma said that the government had taken note of it. He added that government would make a statement on Khobragade's arrest tomorrow.
11.20 am: We must launch strongest protest, says Arun Jaitley
Leader of Opposition in the Rajya Sabha Arun Jaitley said India should take its bilateral relations seriously now. Underlining the need to introspect as far as the country's foreign policy is concerned, Jaitley blamed the government's past policy of 'looking the other way' as the reason that allowed such incidents to keep happening.
During a debate on the incident in the Rajya Sabha, Jaitley said that the measures taken over the last 24 hours needed to be continued.
11:15 am: India committed to ensuring security of all diplomats, says Akbaruddin
There is no change in security situation as regards any diplomats in India, including US diplomats, says Foreign Ministry spokesman Syed Akbaruddin.
India is committed to ensuring security of all diplomats, insisted Akbaruddin, adding that the country will provide full safety and security as allowed by the Indian law.
11:00 am: Kirti Azad on Khobragade's case
The US should realise that this subdued government can raise its voice when it comes to the honour of its citizen, says Bharatiya Janata Party (BJP) leader Kirti Azad.
10:30 am: I broke down many times, says Devyani
In an e-mail to her IFS colleagues, Devyani Khobragade said she was not just handcuffed but subjected to strip-search, DNA swabbing and cavity searches.
Khobragade also wrote that she broke down a number of times but tried to maintain her dignity, a newspaper reported.
"While I was going through it, although I must admit that I broke down many times as the indignities of repeated handcuffing, stripping and cavity searches, swabbing, in a holdup with common criminals and drug addicts were all being imposed upon me despite my incessant assertions of immunity, I got the strength to regain composure and remain dignified thinking that I must represent all of my colleagues and my country with confidence and pride," she said.
9:50 am: HRW defends US govt
The US Human Rights Watch has defended the US government, saying that the reports of strip-search raise important questions, but allegations on Deputy Consul General Devyani Khobragade remain.
"The common practice in the US of strip-searching people who the police take into custody raises important human rights questions about treating individuals with dignity and respecting their privacy. But other human rights issues at hand - the allegations that Khobragade took advantage of her domestic worker, remain," said Human Rights Watch in an article.
Taking on Devyani Khobragade, the article said: "Many commentators have leapt to Khobragade's defence, saying she could not be expected to pay her nanny USD 4,500 per month, more than her Indian government salary. But no one has a right to a domestic worker. But if you cannot afford to pay your nanny, you shouldn't hire one."
9:20 am: US agrees to review Khobragade's detention procedure
Amid rising tensions over the arrest and "barbaric" treatment of an Indian diplomat in New York, the US stuck to its guns saying it acted "appropriately" and demanded restoration of security for its missions in India.
Even as it spoke of a "broad and deep friendship" and an "important relationship" with India, US officials on Tuesday expressed no regret, leave aside an "unconditional apology" demanded by India over the arrest and alleged strip search of Devyani Khobragade.
Reacting to a slew of retaliatory measures taken by India in response to the treatment of Khobragade, India's deputy consul general in New York, State Department spokesperson Marie Harf said "an isolated episode" should not "impact the bilateral relationship."
According to Indian officials, Khobragade, 39, was strip-searched, cavity-searched and swabbed for DNA after her arrest in New York on charges of visa fraud last Thursday, then confined with hardened drug criminals before being released on a USD 250,000 bail. India's national security adviser Shiv Shankar Menon has called the treatment "despicable and barbaric".
"We understand that this is a sensitive issue for many in India," Harf said.
"Accordingly, we are looking into the intake procedures surrounding this arrest to ensure that all appropriate procedures were followed and every opportunity for courtesy was extended."News by "zeenews"