Taxation system is burdening common man and BJP has solutions to India's problems says Narendra Modi: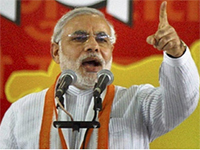 New Delhi: Gujarat Chief Minister and Bharatiya Janata Party's prime ministerial candidate Narendra Modi said he felt that the 2014 General Elections will be a game-changer for the nation.
Sharing the dais with yoga guru Baba Ramdev at the Talkatora Stadium here, Modi acknowledged that people's participation could turned the upcoming Lok Sabha elections into a mass movement. 

"The polls in 2014 will destroy all past poll traditions, it's the first time an election has become a people's movement," he said. Sources-"Zee news"
Modi stressed that there was a need to reform the taxation system of the country.
"Taxation system is burdening common man. Reform is needed and BJP is working on it. We can find solutions for every problem and small efforts can bring big changes. The expectations from BJP and me are very high, we will try our level best to fulfil them," he said.
While refering to the crackdown on Ramdev's agitation at the Ramlila Maidan in June 2011, Modi said, "Ramdev knows political leaders very well, he knows how they receive him in the airport in the day but commit atrocities at night.
Don't trust mere words, go on a person's track record, not tape record. 2014 polls will destroy all past poll traditions. It's the first time an election has become a people's movement.
Modi went on to say, "I am not pessimist and the word 'disappointment' is not there in my life."
"We have to learn from China and focus on skill development. We have to increase our productivity to increase our GDP. This election is being fought on the agenda of development. Previous elections were about castes and other issues," he further said.
Modi also slammed the government for opening meat houses saying, "Government opened meat houses pinning hopes on meat exporting. Are live animals more important to farmers or meat?" He also claimed that now sand was also being smuggled out of India.
"Government banned auction of mineral belts, and I refused to distribute Gujarat's resources without auctions. Way to end corruption is that the state must be progressive and policy driven. Implementation must be good and country does not need promises, it needs conviction," he said.
"We do not need men from Mars to develop India, we have the talent here itself and the task of the government is to take people under its confidence and work for their benefit. We support technology, science because we have to stand up to the world and will answer them in whatever language the world understands," Modi stressed.
Modi also backed the Indian languages saying, "We must take pride in them but we should communicate in the languages of the world too. We shouldn't feel ashamed of not being able to communicate with people from outside India."
In the event, Ramdev also took a dig at the Union government for targeting Modi over the 2002 Gujarat riots saying, "If Modi is 'maut ka saudagar' then Pt. Nehru is 'maut ka maha saudagar'."
Stepping up the attack on the Congress, leader of Opposition in the Rajya Sabha, Arun Jaitley said, "Government at the Centre has no faith in the state governments and a political change is the first change the country needs today."
Support from Modi also came from an unexpected quarter, team Anna member, Kiran Bedi tweeted, "Hearing NaMo!Extent of his hands-on experience in Governance is unmatched! Country needs this experience desperately to recover lost time!"
Modi also congratulated ISRO for the successful launch of GSLV-D5 from Sriharikota using an indigenous cryogenic engine.News By 'IBNLive'