Details

Category: Telangana News
Last Updated:

Thursday, 22 January 2015 20:54
How Narendra Modi made BJP soften stance on Telangana.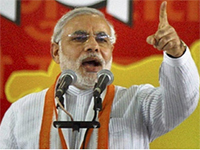 A phone call from the BJP's prime ministerial candidate Narendra Modi to party leaders on Sunday may have inspired the principal opposition's decision to allow passage of Telangana Bill in the din. Modi's phone call after his meeting with TDP chief Chandrababu Naidu in Chandigarh on Sunday prompted the three-hour long meeting of the BJP's parliamentary board at veteran LK Advani's house that evening.
It was at this meeting that the BJP started toying with the idea of softening its stand that bill should not be passed without a structured discussion in Parliament. On Tuesday, it finally decided to allow the passage of the bill even in a din, but only after raising concerns of Seemandhra. Advani had been opposed to this view throughout and wanted a thorough discussion.
Also Read: BJP to Discuss List of Candidates on Feb 20

In the Rajya Sabha on Wednesday, the BJP will move four amendments to address 'concerns' of Seemandhra. "It is not the BJP's intention to block the legislation. We would like the government to accept our amendments but if they don't, we may still support the bill," the senior leader said.
Also Read..List of MLA of Andhra , List of MLA Haryana,  List of MLA maharashtra, Opinion Poll ,  Election Result , Political News
At his meeting with Modi on Sunday, Naidu had stressed that public statements by BJP leaders were sending conflicting signals in the state. Naidu wants pre-poll pact with BJP and felt that latter's stand on Telangana will have bearings even on TDP's electoral fortunes in its stronghold Seemandhra. The TDP chief cautioned that the party could end up antagonising the people of Seemandhra and leave the entire Telangana region in the Congress' lap.
"Congress is playing double game. If we had opposed the passage in din, government would have blamed us for blocking the bill. Passage of the bill was not possible without BJP's supoprt," Swaraj told reporters. She also spoke in the LS about the injustice done to Seemandhra region — a position that also addresses the TDP's concern—and demanded compensation for the entire state. "The government should come out with concrete measures to address the concerns of Seemandhra and other regions of Andhra Pradesh," BJP chief Rajnath Singh said.
source:http://www.hindustantimes.com/