Punjab

India Today Axis Opinion poll Election Survey Result 2017,India Today-Axis

Punjab

Opinion poll,Punjab

assembly election opinion poll 2016,Punjab

Axis Opinion Poll
According to Various Punjab Opinion Polls published by Various Survey agencies and TV Channels Following are the Opinion Polls for Punjab Assembly Elections 2017:-
31 Jan 2017: Latest Poll by India Today - Axis shows INC Wining
Axis poll shows INC is winning with 63 seats and AAP is at second position with 42 seats. Read Complete Poll details here
India Today - Axis Pre Poll Survey

Party wise Seat Projection

Party

Vote %

Seats Projected

INC

37%

60-65

AAP

34%

41-44

SAD+BJP

24%

11-15

Others
15%
0-2
Total
-
117
ALSO READ: India Today-Axis Opinion Poll: UP, Uttarakhand, Punjab surgical strikes over war -- Most of Uttar Pradesh, Uttarakhand and Punjab overwhelmingly support surgical strikes to deal with Pakistan-backed terror, but remain largely wary of a full-scale war with the neighbour, according to a poll by Axis-My-India for the India Today Group.88 per cent in Punjab rated surgical strikes as the best measure against Pakistani terror.
Axis poll shows INC is winning with 52 seats and AAP is at second position with 44 seats. Read Complete Poll details here
India Today - Axis Pre Poll Survey

Party wise Seat Projection

Party

Vote %

Seats Projected

INC

33%

49-55

AAP

30%

42-46

SAD+BJP

22%

17-21

Others
15%
3-7
Total
-
117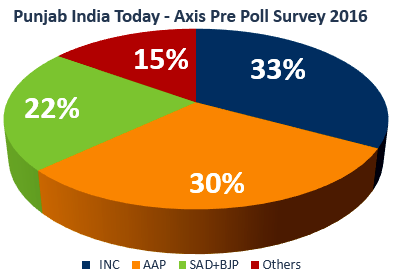 AMARINDER SINGH NEXT CM?
PUNJAB NEXT CM?

Captain Amarinder Singh

33%

Parkash Singh Badal

25%

Sukhbir Singh Badal

3%

AAP candidate

16%

Bhagwant Mann

8%

Gurpreet Singh Ghuggi

3%

HS Phoolka

1%

Sucha Singh Chhotepur

1%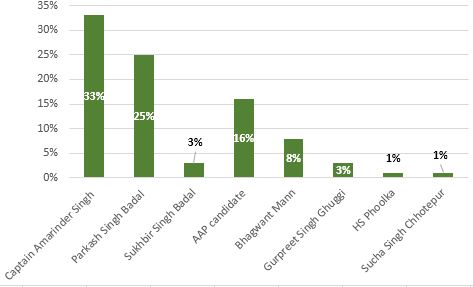 In further boost for the Congress, the opinion poll says almost one-third of the state's voters (33 per cent) want Captain Amarinder Singh to return as Chief Minister. Singh was Punjab Chief Minister from 2002 to 2007.
The survey found that only 25 per cent of state's voters want incumbent Parkash Singh Badal of the Akali Dal to remain in power. Also, 58 per cent of the respondents rated Badal's performance as bad, while 29 per cent were satisfied with his tenure.
The incumbent Chief Minister's son as well as his deputy, Sukhbir Singh Badal, was picked by just three per cent of the voters as their next Chief Minister.
Kejriwal, who many believe is likely to desert Delhi if his party wins Punjab, was picked by just 16 per cent of those surveyed as their best bet.
The other names considered by those surveyed include Sidhu and AAP MP Bhagwant Mann tied at 8 per cent, Gurpreet Singh Ghuggi (3), HS Phoolka (1), and Sucha Singh Chhotepur (1).
THE DRUG MENACE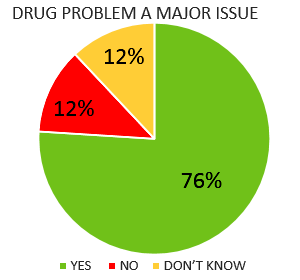 DRUG PROBLEM A MAJOR ISSUE

YES

76%

NO

12%

DON'T KNOW

12%
With agricultural production on the decline and lack of employment opportunities, Punjab has been battling drug addiction for a long time, especially among its youth.
A whopping 76 per cent of those surveyed by India Today-Axis said drugs is a major issue in the election next year. When asked who is responsible for the menace, an overwhelming 80 per cent of the respondents blamed the politicians mainly in the government.
Only a negligible minority (4 per cent) said the issue is the creation of the opposition, while one per cent blamed the media for making it a big deal. Fifteen per cent of the voters didn't know who to blame for the problem.
Punjab's drug menace also reflects in the response to the question on what is the biggest election issue: 35 per cent of those surveyed said it's employment, while 39 per cent want more development in what used to be one of India's most prosperous states.
Other Imp. Links:
THE AAP FACTOR
That the AAP has already made its presence felt in Punjab will be an understatement. Since its landslide victory in Delhi last year, the party has been running an aggressive campaign to be seen as a viable alternative in Punjab against the Akali Dal-BJP combine and the Congress.
When asked if the AAP has given the best model of governance in Delhi, 36 per cent of the respondents said they were impressed. While 18 per cent were not sure, nearly half of those surveyed (46 per cent) were not sure of the AAP's performance in Delhi.
Also, one-fifth of the respondents (21 per cent) said the rebellion within the party in Punjab might hurt its chances while an equal number of people (22 per cent) said it will not matter. The majority of those surveyed were not sure which way the rebellion would go.
The AAP has had its share of turmoil in Punjab. From losing Navjot Singh Sidhu despite multiple claims of the cricketer-turned-politician joining the party to charging veteran Sucha Singh Chhotepur with corruption and forcing him to quit, the party has had a bumpy ride in the state.
PM MODI'S PERFORMANCE
Both the Akali Dal and the BJP face a curious anti-incumbency in Punjab. While the former is the leading coalition partner in the state, the latter is not only an ally, but also forms the government at the Centre.
It is for this reason that Prime Minister Narendra Modi's performance also becomes a decisive factor in Punjab this year, and the BJP has little to be happy about here. While 39 per cent of those surveyed said Modi's performance has been good, 31 per cent said it was bad. Only five per cent rated it 'Very good'.
When asked if Modi has fulfilled his election promises, almost half the voters (49 per cent) ticked 'Not at all', 32 per cent said 'very few', while only 12 per cent were satisfied with the government at the Centre.
THE RULING COMBINE
It was perhaps for this reason that a significant 45 per cent of the respondents said the BJP should break its alliance with the Akali Dal and fight the election on its own. One-fourth of the voters wanted the alliance to continue, while 29 per cent of them were not sure.
Summary of all Opinion Polls Till date for Punjab Assembly Elections 2017
Punjab Assembly Election Opinion Poll 2017

Party Alliance

India Today Axis (Oct)

VDP Ass.

(Oct)

ITN

(Aug)

VDP Ass.

(Jul)

Huff. CVoter

(Jul)

AAP

44

93

87

100

97

INC

52

15

18

3

11

SAD+ BJP

19

06

11

13

9

Others

5

10

1

1
2