Punjab Assembly Election SAD Candidate List 2017, Punjab SAD Vidhan Sabha Contesting Candidate, Punjab Election candidate list, Complete SAD candidate List 2017, Punjab election ticket declared, Punjab election Complete Candidate List 2017, SAD releases candidate List for Punjab, SAD Punjab Election Candidates List Constituency Wise, Punjab Vidhan sabha election 2017, Punjab assembly election candidate list 2017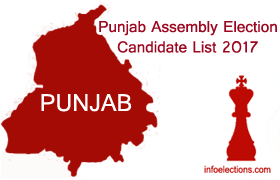 Find First list of SAD candidates who are contesting in Punjab Vidhan Sabha Election 2017 from the different assembly constituencies of Punjab.
Punjab deputy chief minister and Shiromani Akali Dal (SAD) president Sukhbir Singh Badal declared here on Wednesday that "99% of halqa (constituency) in-charges of the party will be our candidates for the assembly elections".
SAD declared candidates for 94 seats out of the 94 on 16th Nov , 28th Nov and 05th December. BJP would contests the remaining 23 out of the total 117 seats.
| | | |
| --- | --- | --- |
| AC No. | Constituency | Candidates |
| 4 | Gurdaspur | Gurbachan Singh Babbehali |
| 6 | Qadian | Sewa Singh Sekhwan |
| 7 | Batala | Lakhbir Singh Lodhinangal |
| 8 | Sri Hargobindpur | Mr. Manjit Singh |
| 9 | Fatehgarh Churian | Nirmal Singh Kahlon |
| 10 | Dera Baba Nanak | Sucha Singh Langah |
| 11 | Ajnala | Amarpal Singh 'Bony' |
| 12 | Raja sansi | Veer Singh Lopoke |
| 13 | Majitha | Bikram Singh Majithia |
| 14 | Jandiala | Dr Dalbir Singh |
| 19 | Amritsar South | Gurpartap Singh Tikka |
| 20 | Attari | Gulzar Singh Ranike |
| 21 | Tarn Taran | Harmeet Singh Sandhu |
| 22 | Khem karan | Virsa Singh Valtoha |
| 23 | Patti | Adaish Partap Singh Kairon |
| 24 | Khadoor Sahib | Ravinder Singh Brahmpura |
| 25 | Baba Bakala | Mr. Malkiat Singh |
| 26 | Bholath | Yuvraj Bhupinder Singh |
| 27 | Kapurthala | Paramjit Singh Pamma |
| 28 | Sultanpur Lodhi | Upinderjit Kaur |
| 30 | Phillaur | Baldev Singh Khaira |
| 31 | Nakodar | Gurpartap Singh Wadala |
| 32 | Shahkot | Ajit Singh Kohar |
| 33 | Kartarpur | Satpal Mall |
| 37 | Jalandhar Cantt | Sarabjit Singh Makkar |
| 38 | Adampur | Pawan Kumar Tinu |
| 41 | Urmar | Arvinder Singh Rasoolpur |
| 42 | Sham Chaurasi | Bibi Mohinder Kaur Josh |
| 44 | Chabbewal | Sohan Singh Thandal |
| 45 | Garhshankar | Surinder Singh Bhullewal Rathan |
| 46 | Banga | Sukhwinder Singh 'Sukhi' |
| 47 | Nawan shahr | Jarnail Singh Wahid |
| 48 | Balachaur | Nand Lal |
| 50 | Rupnagar | Daljit Singh Cheema |
| 51 | Chamkaur Sahib | Nirmal Singh |
| 52 | Kharar | Mr. Ranjit Singh Gill |
| 53 | S.A.S. Nagar | Tejinder Pal Singh Sidhu |
| 54 | Bassi Pathana | Darbara Singh Guru |
| 55 | Fatehgarh Sahib | Didar Singh Bhatti |
| 56 | Amloh | Gurpreet Singh 'Raju' Khanna |
| 57 | Khanna | Ranjit Singh Talwandi |
| 58 | Samrala | Santa Singh Umaidpur |
| 59 | Sahnewal | Sharanjit Singh Dhillon |
| 60 | Ludhiana East | Ranjit Singh Dhillon |
| 61 | Ludhiana South | Hira Singh Gabria |
| 62 | Atam Nagar | Gurmeet Singh Kular |
| 66 | Gill | Darshan Singh Shivalik |
| 67 | Payal | Isher Singh Meharban |
| 68 | Dakha | Manpreet Singh Ayali |
| 69 | Raikot | Inder Iqbal Singh Atwal |
| 70 | Jagraon | Amarjit Kaur Sahoke |
| 71 | Nihal Singh Wala | SR Kler |
| 72 | Bagha Purana | Teerath Singh Mahla |
| 73 | Moga | Mr. Barjinder Singh |
| 74 | Dharamkot | Tota Singh |
| 75 | Zira | Hari Singh Zira |
| 77 | Firozpur Rural | Joginder Singh Jindu |
| 78 | Guru Har Sahai | Vardev Singh Maan |
| 79 | Jalalabad | Sukhbir Singh Badal |
| 82 | Balluana | Parkash Singh Bhatti |
| 83 | Lambi | Parkash Singh Badal (Punjab CM) |
| 84 | Giddarbaha | Hardeep Singh 'Dimpy' Dhillon |
| 85 | Malout | Mr. Darshan Singh Kotfatta |
| 86 | Muktsar | Kanwarjeet Singh 'Rozy' Barkandi |
| 87 | Faridkot | Parambans Singh 'Bunty' Romana |
| 88 | Kotkapura | Mantar Singh Brar |
| 89 | Jaitu | Suba Singh Badal |
| 90 | Rampura Phul | Sikander Singh Maluka |
| 91 | Bhucho | Mr. Harpreet Singh |
| 92 | Bathinda Urban | Sarup Chand Singla |
| 93 | Bathinda Rural | Mr. Amit Ratan |
| 94 | Talwandi Sabo | Jeet Mohinder Singh Sidhu |
| 95 | Maur | Janmeja Singh Sekhon |
| 96 | Mansa | Jagdeep Singh Nakai |
| 97 | Sardulgarh | Dilraj Singh Bhunder |
| 98 | Budhlada | Nishan Singh |
| 99 | Lehra | Parminder Singh Dhindsa |
| 100 | Dirba | Gulzar Singh |
| 101 | Sunam | Gobind Singh Longowal |
| 102 | Bhadaur | Balvir Singh Ghunas |
| 103 | Barnala | Surinderpal Singh Sibia |
| 104 | Mehal Kalan | Ajeet Singh Shant |
| 105 | Malerkotla | Mohammad Owais |
| 106 | Amargarh | Iqbal Singh Jhundan |
| 107 | Dhuri | Hari Singh (Preet Tractors) |
| 108 | Sangrur | Parkash Chand Garg |
| 109 | Nabha | Kabir Dass |
| 110 | Patiala Rural | Satbir Singh Khatra |
| 112 | Dera Bassi | NK Sharma |
| 113 | Ghanaur | Harpreet Kaur Mukhmailpur |
| 114 | Sanour | Harinder Pal Singh Chandumajra |
| 115 | Patiala | Gen JJ Singh |
| 116 | Samana | Surjit Singh Rakhra |
| 117 | Shutrana | Vaninder Kaur Loomba |
Here are the nine candidates:
Jaitu: Suba Singh Badal

Bassi Pathana: Darbara Singh Guru

Baghapurana: Tirath Singh Mahla

Mansa: Jagdeep Singh Nakai

Malerkotla: Mohammad Owais

Dirba: Gulzar Singh

Sunam: Gobind Singh Longowal

Sham Chaurasi: Mohinder Kaur Josh

Budhlada: Dr Nishan Singh
Also Read:
| | | | |
| --- | --- | --- | --- |
| S.no | Dist. Name | AC name | Candidate name |
| 1 | Amritsar | AJNALA | Amarpal Singh Bonny |
| 2 | Amritsar | RAJA SANSI | Veer Singh Lopoke |
| 3 | Amritsar | MAJITHA | Bikram Singh Majithia |
| 4 | Amritsar | AnARI | Gulzar Singh Ranike |
| 5 | Bathinda | RAMPU RA PHUL | Sikander Singh Maluka |
| 6 | Bathinda | BATH IN DA URBAN | Sarup Chand Singla |
| 7 | Bathinda | TALWANDI SABO | Jeet Mohinder Singh Sidhu |
| 8 | Bathinda | MAU R | Janmeja Sinh Sekhon |
| 9 | Barnala | MEHAL KALAN | Ajeet Singh Shant |
| 10 | Barnala | BHADAUR | Sant Balvir Singh Ghunas |
| 11 | Fazilka | BALLUANA | Parkash Singh Bhatti |
| 12 | Ferozpur | ZIRA | Hari Singh Zira |
| 13 | Ferozpur | FEROZPUR RURAL | Joginder Singh Jindu |
| 14 | Ferozpur | GURU HAR SAHAI | Vardev Singh Maan |
| 15 | Farid kot | FARIDKOT | Parambans Singh Romana |
| 16 | Faridkot | KaT KAPURA | Mantar Singh Brar |
| 17 | Fatehgarh | FATEHGARH SAHIB | Didar Singh Bhatti |
| 18 | Fatehgarh | AM LOH | Gurpreet Singh @ Raju Khanna |
| 19 | Gurdaspur | GURDASPUR | Gurbachan Singh Babehali |
| 20 | Gurd aspur | QADIAN | Sew Singh Sekhwan |
| 21 | Gurdaspur | BATALA | Lakhbir Singh Lodhi Nangal |
| 22 | Gurd aspur | FATEHGARH | NirmaI Singh KahIon |
| 23 | Gurd aspur | DERA BABA NANAK | Sucha Singh Langah |
| 24 | Hoshiarpur | URMAR | rvinder Singh Rasoolpur |
| 25 | Hoshiarpur | CHABBEWAL | Sohan Singh Thandal |
| 26 | Hoshiarpur | GARHSHANKAR | Surinder Singh Bhullewal Rathan |
| 27 | Jalandhar | PHILLAUR | Baldev Singh Khaira |
| 28 | Jalandhar | NAKüDAR | Gurpartap Singh Wadala |
| 29 | Jalandhar | 5HAHKOT | jit Singh Kohar |
| 30 | Jalandhar | ADAMPUR | Pawan Kumar Tinu |
| 31 | Jalandhar | KARTARPUR | Seth Satpal Mall |
| 32 | Jalandhar | JALANDHAR CANTI | Sarabjit Singh Makkar |
| 33 | Kapurthala | KAPURTHALA | Paramjit Singh Pamma Advocate) |
| 34 | Kapurthala | SULTANPUR LODHI | Dr. Upinderiít Kaur |
| 35 | Ludhiana | KHANNA | Ranjit Singh Talwandi |
| 36 | Ludhiana | SAHNEWAL | Sharanjit Singh Ohilion |
| 37 | Ludhiana | LU DHIANA EAST | Ranjit Singh Dhillon |
| 38 | Ludhiana | LU DHIANA SOUTH | Hira Singh Gabria |
| 39 | Ludhiana | GILL | Darshan Singh Shivalak |
| 40 | Ludhiana | DAKHA | Manpreet Singh Ayai |
| 41 | Ludhiana | 5AMIRALA | Santa Singh Umaidpur |
| 42 | Ludhiana | RAIKDT | Inder Iqbal Singh Atwal |
| 43 | Ludhiana | TAM NAGAR | Gurmeet Singih Kular |
| 44 | Ludhiana | PAYAL | ISher Singh Meharban |
| 45 | Ludhiana | PAGRAON | Bibi AmarJit Kaur Sahoke |
| 46 | Mansa | SARDULGARH | Dilraj Singh Bhunder |
| 47 | Muktsar | GIDDAR BAHA | Hardeep Singh Dimpy Dhillon |
| 48 | Muktsar | MUKTSAR | Kanwarjeet Singh Barkandi |
| 49 | Maga | DHARAMKDT | Jathedar Tota Singh |
| 50 | Maga | NIHAL SINGH WALA | S.R.Kler |
| 51 | Patiala | PiATIALA RU R.AL | Satbir Singh Khatra |
| 52 | Patiala | GHANAUR | Smt Harpreet Kaur Mukhmailpur |
| 53 | Patiala | SANDUR | Harlnder Pal Singh Chandurnajra Maîra |
| 54 | Patiala | SAMANA | Surjit Singh Rakhra |
| 55 | Patiala | SH UTRANA | Bibj Vaninder Kaur Loomba |
| 56 | Patiala | NABHA | Kabir Dass |
| 57 | Rapar | ROPAR | Dr. Daljeet Silngh Cherna |
| 58 | Rapar | CHAMKAUR SAHIB | Justice (Retd) Nkmal Swngb |
| 59 | SAS Nagar | DERA BASSI | N.K.Sharma |
| 60 | SAS Nagar | BANGA. | Dr.Sukhwinder Singh (SukhO |
| 61 | SAS Nagar | NAWAN SHAHR | Jarnaill Singh Wahid |
| 62 | SAS Nagar | BALACHAUR | Ch. Nand lai |
| 63 | Sangrur | LEHIRA | Paminder Sinqh Dhindsa |
| 64 | Sangrur | SANGRUR | Parkash Chand Garg |
| 65 | Sangrur | lÄMARGARH | Iqbal Singh Jhundan |
| 66 | TarnTaran | ITARN TARAN | Ham-meet Singh Sandhu |
| 67 | TarnTaran | KHEM KARAN | Virsa Singh Valtoha |
| 68 | TarnTaran | PATTI | S Adaiish Pratp Singh Kairon |
| 69 | TarnTaran | KHADOOR SAHIB | Ravinder Singh Brahmpura |