Details

Category: MP News
Last Updated:

Thursday, 22 January 2015 20:48
India will progress if Rahul Gandhi leads in 2014, says Scindia.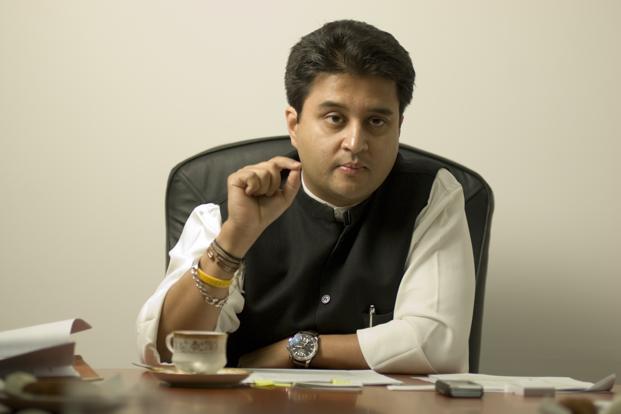 Bhopal, Sep 11 : Minister of State for Power Jyotiraditya Scindia on Thursday voiced his support for Congress vice-presidentRahul Gandhi as his party's prime ministerial candidate for the Lok Sabha polls, saying it will be beneficial for the country if he leads in 2014.
"As far as the issue of Rahul Gandhi (being the Prime Ministerial candidate for 2014) is concerned, the Congress Party will take a decision and Rahulji will himself take a decision," Scindia told media here.
"But being a youth of this country, I feel that if Rahulji leads this nation it will be beneficial for every youngster and every citizen of the country because he thinks about the country," he added.
Scindia, who is the chairman of Madhya Pradesh Congress poll campaign committee, had earlier expressed confidence that the Congress Party would win this year's assembly elections in the state.
Union Home Minister Sushil Kumar Shinde yesterday said Rahul Gandhi would be the ruling party's candidate for the Prime Minister's post in 2014.
"Rahul Gandhi is our candidate for the Prime Minister's post", Shinde told media in New Delhi, while asserting that the same has been conveyed earlier also.
The Home Minister's remark came just days after Prime Minister Dr. Manmohan Singh said that he was ready to work under Rahul Gandhi's leadership.
Dr. Singh had earlier on Saturday said Rahul Gandhi would be an ideal choice for the Prime Minister's post after the 2014 general elections.
"I have always maintained that Rahul Gandhiji would be an ideal choice for Prime Minister's post after 2014 elections," Dr. Singh said onboard Air India One, when asked if he would be looking to run for a third term in office.
"I would be happy to work for the Congress party under the leadership of Mr. Rahul Gandhi," he added during his media interaction while returning home from the G20 Summit in St. Petersburg.
Rahul Gandhi yesterday kicked off his party's election campaign in Rajasthan, and said the country can witness development only when the government concentrates on the welfare of the common man, tribals and poorer sections of society.
Addressing a rally in tribal-dominated Udaipur region, he said instead of "Aadhi roti khayenge Congress ko jitayenge (Will eat half a roti and vote for the Congress) the new war cry should be, "Poori roti khayenge, 100 din kaam karenge, dawaiee lenge aur Congress ko jitayenge" (Eat full roti, work for 100 days, receive free medicines and vote for Congress).
Gandhi highlighted welfare schemes on food security and land acquisition that his party has just pushed through Parliament and accused the opposition, chiefly the BJP, of being anti-poor.
"The opposition wants that infrastructure should be developed - roads and airports should be developed...we say that infrastructure should be built, but the country will only progress when labourers and people contributing towards development have sufficient food to eat," he said.
"One person came and made fun (of us)... No matter how much you criticise us, we won't accept it... we are fighting for the poor people in the country. I want to crush my dreams and make your dreams mine," he added without naming Gujarat Chief Minister Narendra Modi.
The assembly elections in the four states of Delhi, Madhya Pradesh, Chhattisgarh and Rajasthan are being seen a semi-final ahead of the 2014 Lok Sabha polls.
source:yahoo.com