Details

Category: MP News
Last Updated:

Thursday, 22 January 2015 20:48
EC to monitor daily expenses of MP assembly poll candidates.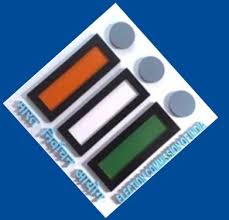 Bhopal: An election expenses monitoring system would be set up to monitor day-to-day poll expenses of candidates during Assembly polls to be held in Madhya Pradesh this year.
 The Election Commission has asked candidates to maintain a daily account of their election expenses and the details would have to be presented within 30 days of announcement of election results, according to an official release issued here today. At least one Election Commission nominated official would be deployed in every district to monitor election expenses, the release said.
From the date of notification of election by the District Election Officer (DEO), one Assistant Expenditure Observer (AEO) would be appointed in every constituency.
AEOs would be appointed from among officers from central services or the Income Tax Department, the release said.
Preference would be given to officers from the Income Tax Department, Central Excise and Audit, besides officers who have experience performing accounting-related tasks in central services and public sector undertakings, the release said.
Election expenditure observers would be provided with vehicles, local SIM cards and space in the office of the district returning officer in order to coordinate with all teams, nodal officers and election observers.
One or more video teams would be deployed in every Assembly constituency and each team would comprise one employee and one videographer. If required, more teams could be deployed on the recommendation of election observer.
An Assistant Expenditure Observer would personally inspect videography of sensitive incidents and public rallies.
More than one team would be deployed for recording if several rallies and public meetings are held the same day. Video monitoring teams would work under the direction of the Assistant Expenditure Observer.

 At least one accounting team comprising one employee and one assistant clerk would be appointed in every district, the release said.
source:zeenews.com